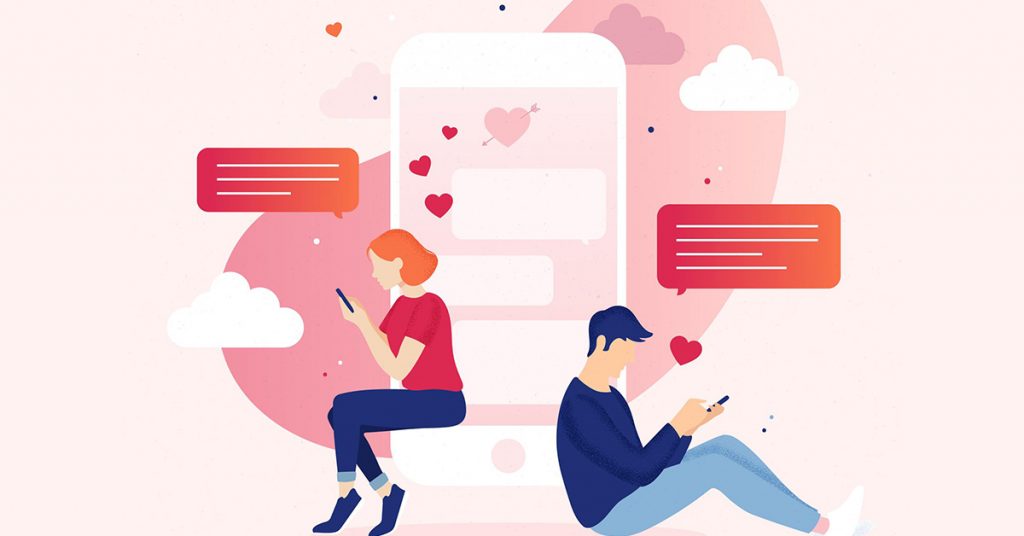 The definition of 'love, at first sight, has totally shifted. Swiping and scrolling are the most used methods these days. Whether a person is searching for a Chat, Meet, Casual Dating, LTR (Long Term Relationship), or even Courtship, the popularity of dating apps/websites has altered how people express their love. After all, how relaxing it is to discover a great match who is just a swipe away.
Tinder and Bumble continue to top the rankings, according to recent polls. The dating app development business in the United States alone is expected to generate $3.2 billion in sales by 2020. When the income is restricted to a particular area of activity, this is a sizable sum. So, if you're thinking of developing a dating app, you're on the correct track.
Choosing the correct route, on the other hand, is insufficient. A business developing an Internet dating application should be well-versed in the dating industry. The most important factor to consider is the expense of developing dating applications such as Tinder and Bumble. This post will explain the different financial limitations that you must consider before carrying out a dating mobile app development for your convenience.
The internet dating market is projected to expand at a rate of more than $4320 billion per year by 2024. Many businesses view creating a dating app as a way to get market traction. But the issue on everyone's mind is how much it costs to develop a dating app comparable to Tinder.
As a mobile app development firm, we are happy to share our knowledge and assist you in creating an interesting and addicting dating app that may help you make money while providing a fantastic experience.
Let's take a look at the primary reason why these dating apps are so popular.
The social dating app enables users to discover a match for themselves and then set up a date with the match using the app's talking function. Tinder needs a Facebook ID to log in so that location and interests may be utilized to locate the ideal match.
Making an app like Tinder is difficult, and if you are considering doing so, it should have distinct features. We can assist you since we have been in this business for over a decade and can assist you in creating a distinctive dating app.
Hire our top-rated mobile app developers and obtain this software for between $35k and $50k. To find out the precise pricing and other details, see the datasheet. First and foremost, let us examine the functioning of the leading dating app development firms.
The functioning of dating applications such as Tinder and Bumble
Tinder has transformed the way people date on the internet. Tinder has revolutionized online dating with the left and right swipe options for like and dislike, as well as the detection of geographical closeness.
Companies such as Bumble, Happn, Hinge, Hitwe, and others strive to collect information about an individual's geographic location. These businesses utilize Facebook user data to build their recommendation systems. Furthermore, they notify the user anytime a perfect match is available in the user's geographical vicinity.
Thus, features such as swiping/scrolling, real-time conversation, GPS tracking, and user anonymity are critical to have in a dating app. In-app payments and social network integration may improve both the dating app and the website.
It is not essential to add all of these elements, but we are concentrating on them since they are practical and well-liked by the public.
The expense of developing a dating app like Tinder or Bumble.
Tinder and Bumble may have an easy-to-use design, but that doesn't imply their job is. Many complicated activities are taking on in the background, which must be managed on a continuous basis by experts. All we want to emphasize is that you should not base your decision on the convenience of use and simplicity of dating apps since many factors must be addressed while developing them.
Select the best platform for Dating App Development.
Dating app development may be carried out for both Android and iOS. Working on Android will need you to put in 250 to 300 hours. Working on iOS, on the other hand, would equate to a range of 200 to 300.
Web portal creation in the style of Tinder
Tinder and Bumble-like applications have a database backend that holds all of the users' information. The number of hours required to create a web portal ranges between 110 and 150, depending on your needs and the developer's efficiency.
The Design of a Dating App
Prototyping and framing are combined in design. It is one of the most important elements of mobile app development design and is aimed at enticing customers. Dating applications require special attention to design elements, which may easily take a designer 90 to 120 hours to complete.
App testing for dating sites
Before releasing an app, quality assurance testing is required. For this, you'll need testers on your team who can handle last-mile logistics and quickly bring up flaws before the app goes live. Dating mobile app development testing may take more than 100 hours, and much longer if the development process is subpar.
As a result, dating app development like Tinder or Bumble may take between 550 and 700 hours on average. If the cost of development is $12 per hour, the cost of a dating app may vary between $6600 and $8400. Please keep in mind that the cost of advertising is not included in this figure.
However, this is not a set fee since the cost of mobile app development per hour varies based on the experts you employ. In addition, if you wish to add more features, the price may rise. This figure is intended to give you an approximate estimate of how much money you'll need to spend in developing online dating applications like Tinder and Bumble.
Conclusion
This is all you need to know about developing a high-quality dating app. Get in touch with us today to get a custom price for your dating app development.