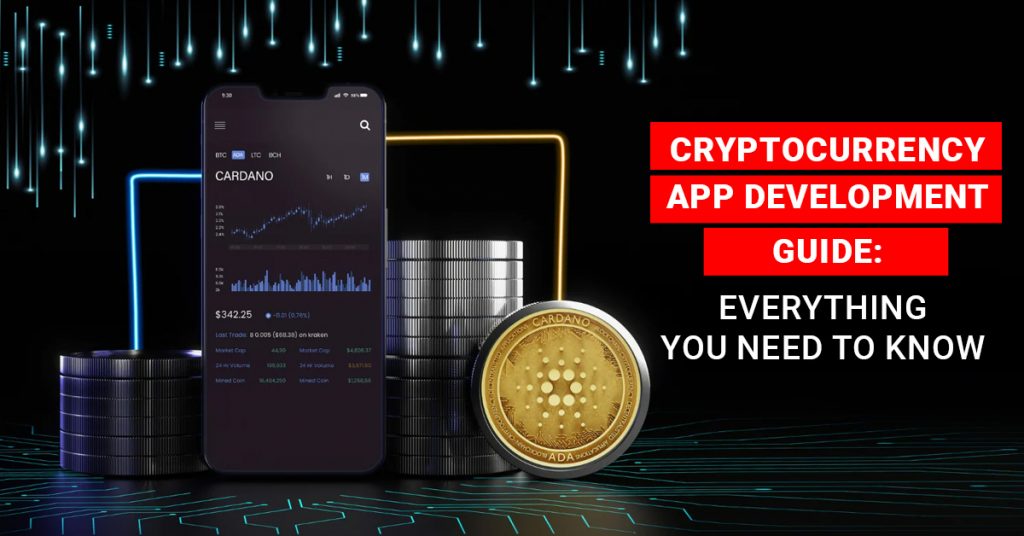 Cryptocurrencies have been rising in popularity over the years, and many businesses are looking for methods to capitalize on this trend. However, one method to accomplish the above is to create a cryptocurrency app. Furthermore, this blog will cover everything you need to know about bitcoin app development, such as the fundamentals of the Blockchain App Development and the benefits of using the same.
What Exactly Is Blockchain Application Development?
Blockchain technology is the foundation of cryptocurrencies, providing a secure and transparent method of recording transactions. A Blockchain is essentially a decentralized ledger that records all network transactions. However, each block in the chain carries a distinct cryptographic code that links it to the previous block, resulting in an unbreakable chain of records.
The process of creating applications that utilize Blockchain technology occurs as Blockchain app development. However, these apps can range from simple digital wallets to more complex systems that support trading, lending, and other financial operations.
What Are the Most Important Features of Cryptocurrency Apps?
There are various essential characteristics to consider while designing a cryptocurrency app, including:
Digital Wallet: A digital wallet is the most important feature of cryptocurrency software. However, users can utilize it to store, send, and receive cryptocurrency.
Trading: Another important function of cryptocurrency apps is trading. On the app, users may purchase and sell cryptocurrency without any kind of difficulties.
Security: When it comes to cryptocurrency apps, security is crucial. To protect the security of user data, you should incorporate features such as two-factor authentication, bio-metric authentication, and encryption.
Real-Time Exchange Rates: The value of cryptocurrencies fluctuates rapidly. However, real-time exchange rates within the app can assist users in making educated decisions.
Push Notifications: It can be employed to notify users of price changes, new currencies, and other critical updates.
What Qualities Should You Look for in a Mobile App Development Firm?
If you want to create a cryptocurrency app, you should collaborate with a mobile app development company that has experience creating Blockchain apps. Here are a few factors to think about while choosing a development partner:
Experience: First off, you must look for a company that has developed cryptocurrency apps in the past. Moreover, they should have a track record of successful projects as well as a thorough understanding of the current Blockchain technologies.
Development Methodology: A decent mobile app development company should have a well-defined development methodology. However, they should be able to give you with a clear development plan that includes a time-frame and milestones for the project.
Communication: It is essential while working with a development team. So, you will have to look for a company that is open and receptive to your requirements.
Cost: When designing a cryptocurrency app, cost is always a factor. Hence, you have to look for a provider that has clear pricing and works within your budget.
Post-Launch Assistance: Creating a cryptocurrency app is only the beginning. Moreover, you will need to look for a provider that offers post-launch assistance, such as maintenance and updates.
Cryptocurrencies are set to stay, and creating a cryptocurrency app is a great way to cash in on this trend. When creating a bitcoin app, it's vital to collaborate with a mobile app development business that focuses in Blockchain app development. So, it would be good to seek a Mobile App Development Company with a well-defined development strategy.
What Are the Advantages of Developing Cryptocurrency Apps?
There are many benefits to developing cryptocurrency apps, including:
Increased Security: Blockchain technology provides a high level of protection, making data manipulation and theft difficult.
Decentralization: Cryptocurrencies are decentralized, which means they are not controlled by any government or financial organization. Moreover, this increases their accessibility to people all over the world.
Lower Transaction Fees: Since cryptocurrency transactions have lower transaction fees than traditional financial transactions, they are a more economical option for those who want to send money over the world.
Transparency: Blockchain technology facilitates the recording of transactions in a transparent manner, making it easier to track the flow of money.
Comprehend Additional Important Factors about Cryptocurrencies
Monetization Strategies: Once you've created your bitcoin app, you'll need to think about how you'll monetize it. However, you may explore charging users for premium services, taking a commission on trades, or giving advertising space within the app as monetization techniques.
Regulatory Considerations: Cryptocurrencies are still a relatively new technology, and many countries across the world are still figuring out how to regulate them. When creating a bitcoin app, you must evaluate the regulatory climate in your target market and verify that your app conforms to any applicable rules and regulations.
Integrations with Other Services: Users will most likely wish to combine cryptocurrency apps with other services they use. To make your app more useful and user-friendly, you must consider connecting it with major payment gateways, social media sites, or other relevant services.
Education and Support: For those who are unfamiliar with the technology, cryptocurrencies can be complex and confusing. However, you should consider incorporating educational resources and support features into your app to assist users in understanding how to utilize it properly.
Different Sorts of Cryptocurrency Apps: While digital wallets and trading platforms are the most prominent, there are several more types of cryptocurrency apps you may consider developing. Moreover, you could, for example, create a charity app that allows users to donate cryptocurrencies to non-profit organizations, or a gaming app that accepts cryptocurrencies as in-game currency.
These are some additional things you must also be aware of if you would like to avail of Blockchain App Development services. However, we are also providing the same services at the affordable rates and make sure to exceed the users' expectation by delivering on-time solutions. In addition to this, we have a team of highly skilled Blockchain developer and professionals who are well-versed. With their help and support, you can meet your requirements and take your business to the next height.