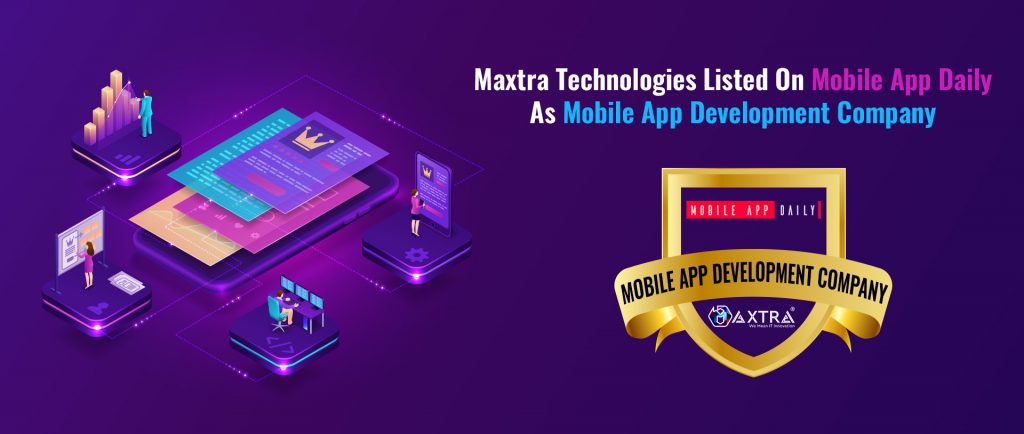 A leading mobile application development business has been identified by Mobile App Daily as Maxtra Technologies – a well-known supplier of IT solutions. The award highlights the company's dedication to offering clients all over the world creative and superior mobile app development solutions.
For the most recent information on trends and developments in the mobile app market, go to Mobile App Daily. Businesses looking to connect with skilled and dependable mobile app developers will benefit greatly from its extensive database of mobile app development providers. The fact that Maxtra Technologies is listed on Mobile App Daily speaks volumes about the company's strong reputation in the sector.
Here Are Some Benefits Of Being Listed On Mobile App Daily
Improved Transparency:
Mobile App Daily, a reputable source for the most recent data and trends in the mobile app industry, offers a thorough directory of firms that specialize in developing mobile apps. This directory is a helpful tool for companies looking to collaborate with seasoned and reputable mobile app developers. Having a listing on Mobile App Daily can greatly improve a business's visibility and draw in more potential customers.
Enhanced Business Opportunities:
Being listed on Mobile App Daily can enhance business opportunities because more potential customers are likely to learn about a company's services and get in touch with them to learn more or ask for a quote.
Positive Publicity:
Mobile App Daily regularly lists leading mobile app development companies providing additional exposure and positive publicity. This can enhance a company's reputation in the market and raise brand recognition.
Reliability and Confidence:
Mobile App Daily exclusively features top mobile app development firms with an excellent track record. Having a firm featured on Mobile App Daily might help potential customers identify a company's reliability and dependability.
Possibilities for Networking:
Being listed on Mobile App Daily can open doors for networking with other mobile app development companies and professionals in the field. Potential partnerships and collaborations that benefit both sides may result from this.
A Few Words Said By Mr. Shivendra Dwivedi, CEO Of Maxtra Technologies
Mr. Shivendra, CEO of Maxtra Technologies, said, "We are delighted to be acknowledged by Mobile App Daily as a top mobile app development business. This recognition is a testimonial to the dedication and commitment of our team of talented designers and developers, who work diligently to provide our clients with cutting-edge mobile app solutions."
Maxtra Technologies provides a variety of mobile app development services, including cross-platform, iOS, and Android app development. A range of industries, including healthcare, finance, education, and others, have benefited from the expertise of the company's team of developers and professionals while creating mobile applications.
According to Mr. Shivendra, Maxtra Technologies wants to assist its customers in leveraging mobile technology to encourage development and commercial growth. "We are committed to offering our clients the most innovative and high-quality mobile app solutions available."
The mobile app development process at Maxtra Technologies is intended to be transparent and collaborative, with regular contact between the client and development team to make sure the finished result matches the client's expectations. To keep the mobile app updated and completely working, the company also offers ongoing maintenance and support services.
Additional Statement Made By Officials
According to Mr. Shivendra, a successful mobile app development project depends on a strong client-developer team partnership. "Our staff closely collaborates with each customer to make sure the mobile app is tailored to their particular needs and goals," says the statement.
The company's ranking on Mobile App Daily is a significant accomplishment and testimony to Maxtra Technologies' commitment to offering clients all around the world the best mobile app development solutions. Maxtra Technologies is positioned to maintain its status as the leading mobile app development business by placing a strong emphasis on innovation, quality, and customer satisfaction.
About Maxtra Technologies
About Maxtra Technologies: Maxtra Technologies is a top provider of IT solutions with a focus on digital marketing, web development, and mobile app development. Maxtra Technologies is dedicated to offering customers all around the world innovative and top-notch solutions. It has a staff of skilled engineers, designers, and digital marketers.
Maxtra Technologies also provides ongoing customer support along with maintenance services to ensure that the mobile app remains up-to-date and fully functional. The company's team of customer support professionals is available 24/7 round the clock to address any issues or concerns that clients may have, ensuring that their mobile app remains a valuable tool for their business.
Working with Maxtra Technologies has several benefits, one of which is the company's dedication to leveraging cutting-edge tools and technology to createpractical mobile apps. Swift, Kotlin, React Native, and other programming languages and frameworks have all been used by the company's developers in the past.
Visit www.maxtratechnologies.com for more information about Maxtra Technologies and its mobile app development services.