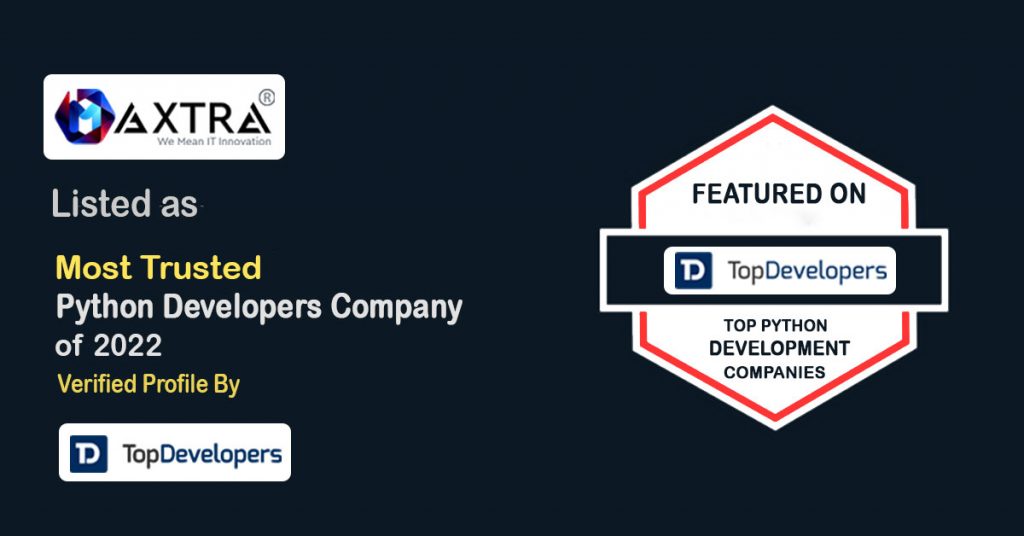 Maxtra technologies have delivered exceptional software solutions to national and global clients since the day of its establishment. Our team of python developers adeptly plans the development process to provide our clients with robust outcomes. 
They are experts in deploying the high-level dynamic programming language to build the apps. Maxtra technologies believe in coding flawlessly and to make sure about improved productivity of the client's business.
We at Maxtra understand the project requirements to assign development tasks to our competent developers. Our motive is to deliver futuristic and best-in-class solutions for our esteemed clients. Over time, we have gained experience in major technologies to deliver top-notch services.
Python developers at Maxtra specialize in designing and building the most efficient app solution to enhance the efficacy of businesses of all sizes. Usually, the startup and medium-sized businesses need effective strategies to grow and hence we intensively take care of such factors. We are a team of dedicated python developers who are focused on creating and delivering revolutionary digital solutions. 
Maxtra team usually initiates by sharing the client's business challenges with concerned professionals to evaluate the guaranteed solution. We work with a view that every project of our clients is a vital milestone to lead them to the journey of success. Maxtra team believes in making the proactive approach to find the actual needs to fuel the innovation for their client's business.
Read More:-Top Developers – World Class Cross Platform App Development Company
The Expertise of Our Python Developers:
Python developers at Maxtra technologies have expertise at an exceptional level. They know how to build a business-centric solution for accelerated growth in the competitive market. We evaluate finely evaluate what a startup or medium-sized companies need.  
Our python developers possess the polite gesture to listen to their clients. They believe in leaving no possible opportunities to make a robust platform. Apart from these, the team at Maxtra technologies has potential for the following aspects:
They are experts at creating custom web applications based on python. Our Python developers know the value of the security factors and build the most proficient Python web applications. 

They have the motives to deliver a high-performing platform or effective management of their client's project. 

Our Python developers have dedicated professionals who simply work honestly and use their full expertise in developing a robust solution.

We also help out our clients in shifting the existing application to python as per their needs. Our skilled python coders know how to deal with such requirements easily without any hassles.

Maxtra team is efficient at empowering the iOS, Android & web applications to provide you with secure access to the well-documented services. 

Further, you can see that our Python full-stack developers include the utilization of the Python libraries to develop the excellent app solution to manage the Machine Learning and AI-based projects.

We hire python developers who can identify and extract large unstructured data. They follow this process to structure the format with the help of Scrapy modules, Panda's library, and Matplotlib library.

Apart from these, python developers working at Maxtra technologies offer a personalized experience to the approaching clients. Another thing you can observe is that we also believe in helping our client manage their budget and hence our development services are available at affordable prices.
Read More:-Software World Ranks Maxtra Best Mobile App Development Companies in South Africa 2021
Development Strategies Implemented By Maxtra Technologies:
Maxtra technologies have achieved the proud moment of getting listed as a Top python developer by dint of its hard work and proactive approach with dedication. However, we successfully made this possible with our valuable strategies for the development process. We strictly focus on how we are going to initiate. That is the important subject as result completely depends on this subject. Our Python developers are highly keen to conduct research and improve their expertise for the deliverance of the most efficient software. 
Maxtra team follows the basic rules for developing the solutions based on python. Since Maxtra technologies believe in working with the right people to build a team of skilled Python developers. The best part of our strategy is that we make placed based on an efficient sprint roadmap for effective collaboration. 
We follow zero-error rules by creating a well-organized platform for communication with our development team members. Everyone has his or her task assigned and all of them work with full concentration and dedication to shape the dream technology for their clients. Our team of python developers works through innovative ideas to realize the trouble explanation phase. Further, it includes elaborated conceptualization to create the desired kind of app solution.
Read More:-Maxtra Recognized As A Top Blockchain Developer in South Africa
Why Choose Maxtra Technologies As Your Python Development Partner?
Maxtra technologies have secured its place at the top position and made it recognized as a leading Python development partner. We have gained a huge number of clients across different regions of the globe so far. It is all about the effort and dedication that we offer to approach clients. We at Maxtra technologies start working through project-based strategies to ensure the best solution aspects. The basic things matter a lot in the development process. 
Each factor is crucial for our customer delight. Once we begin with the development process of the app based on python, we simply accomplish the task as per the stipulated deadlines. However, our team of python developers conducts the full testing process of the app to find it functional and make sure about zero absence of technical flaws. Another factor that makes us outstanding is:
We strictly follow the deadlines and work with an experienced team of python developers.

We take care of including the innovative and user-friendly interface while developing the app solution. 

Further, our team of developers makes sure that all included steps to develop the app solution match the industry standards to maintain the benchmark.

Maxtra team executes the result-driven and performance-oriented development approach to help their clients get expected profits to form the business project.

We regularly research to know the market strategy and find the needs of the customers over changing time. 

We provide our customers with access to the support service team 24/7 hours. Our client's convenience is the top priority.