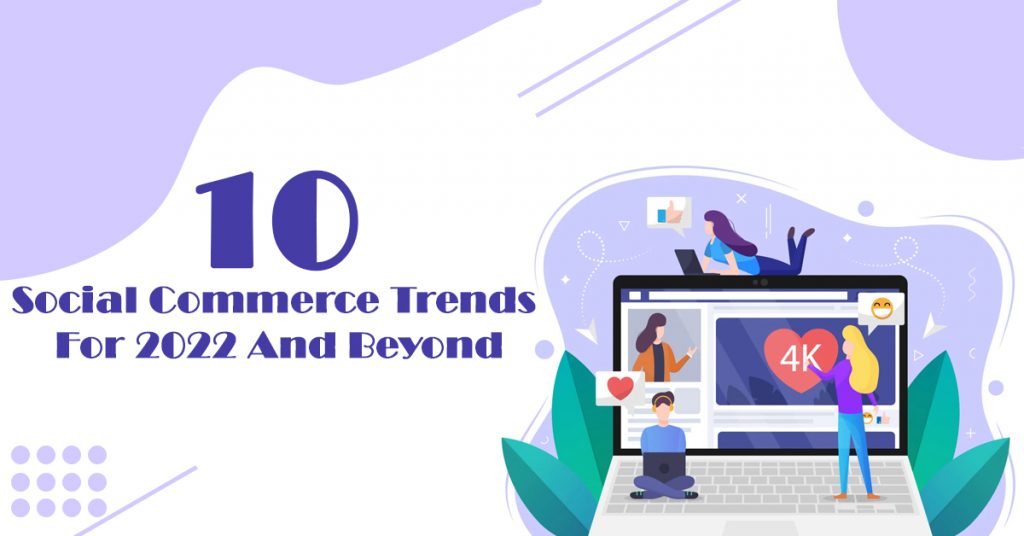 The unprecedented outbreak of Covid-19 has changed the globe in ways that no one could have predicted. Many people are turning to internet retailers to meet their basic needs, such as food, cleaning supplies, and a place to stay, due to the current state of emergency, car limitations, and the possibility of contracting a virus when out and about. Due to the epidemic, several companies were forced to shut down or significantly increase the amount of money they spent on their internet presence.
According to eMarketer, all areas across the world have seen double-digit eCommerce growth over the previous several years. More and more online merchants are vying for a slice of the lucrative pie that is expected to continue to develop and expand in the near future, making eCommerce the most lucrative business.
As a result, we've compiled a list of the top 10 eCommerce trends we think will take off and have a significant influence on global e-commerce over the next few years as per a leading e-commerce app development company in India.
10 Social Commerce Trends for 2022
Headless E-commerce
"Decoupling" the front-end experience from the back-end infrastructure is referred to as "headless commerce" in the context of an eCommerce system. You may use headless commerce to decouple your online shop from the systems and engines that fuel your online company.
In order to link your consumer touchpoints to your back-end processes, you need a storefront application programming interface. Although the development of headless and API-driven technology seems to take more time and work, the advantages it provides suggest that this is a trend that will continue to rise in the future and will lead to further developments from an e-commerce app development company India.
Shopping on the go
Mobile commerce portals developed by an e-commerce app development company India have grown tremendously in the last few years, and the change to m-commerce is a given. Mobile devices currently account for more than half of all internet traffic, and m-commerce is predicted to account for 72,9 percent of all eCommerce sales worldwide by 2021.
The convenience, localization, and ubiquity of mobile purchasing have propelled it into the eCommerce market. Since the m-commerce trend is growing and will no doubt continue to do so over the coming several years, your company may be missing out on a large number of potential customers if it does not provide a mobile-friendly eCommerce experience.
Read: How Covid-19 Is Impacting Ecommerce Business?
Online shopping with the feel of visiting a physical business
While the spread of Covid-19 has impacted our purchasing habits, it has also spurred retailers to come up with new solutions to bridge the gap between in-store and online shopping.
Thanks to these new and improved approaches, clients may now shop for their desired products in a variety of ways. Another benefit of using chatbots in your customer service is that it allows you to cut the amount of time and money your employees spend on customer support by managing thousands of client inquiries instead of just answering them.
The term "social commerce" is used more commonly now
A social commerce model built by an e-commerce app development company in India is one where items and services are sold directly on social media platforms such as Facebook, Instagram, or TikTok, rather than being sold online.
Many e-commerce retailers are looking at social media as a possible income source because of the enormous number of people worldwide who use social media. It's no wonder that social media will continue to impact eCommerce trends and inspire online businesses to embrace a shopping-focused social media strategy, given how pervasive it has grown in our everyday lives.
Personalization of e-commerce
It's all about creating personalized shopping experiences for consumers by using different marketing methods, such as content publication, product suggestions, and customized offers based on the user's browsing history, purchase history, and personal data. Because of Covid-19's buying habits, eCommerce personalization is becoming more vital to both attract new consumers and enhance sales and repeat purchases significantly.
In a nutshell, AI-powered websites are an excellent way to keep clients happy. In addition to providing consumers with the most relevant items and offers, it also fosters a closer relationship with them by sending them personalized messages and using email marketing to promote to them. Your e-commerce personalization is growing smarter and wiser as AI advances.
Read: Types of eCommerce Business Models: Traditional and Innovate New Ones to Consider
There are a variety of payment methods available.
In the near future, consumers will be able to choose from a variety of payment choices, including contactless payments, in order to speed up the checkout process. Offering a broad range of payment options on your eCommerce site is a smart strategy to enhance conversion rates for clients who are buying using cinematic devices, including smartphones and tablets, even before the heyday of online shopping. We know that eCommerce is going to grow over the globe, and transactions are going to happen in more ways than ever before.
Retailing in a multi-channel fashion
An increasing trend in eCommerce is combining both online and offline channels as a means of diversifying sales strategy, particularly once brick and mortar retail firms recognize how damaging it can be to lose their physical presence due to inescapable causes. An e-commerce app development company in India can help you in building a multi-channel retail environment.
New approaches to commerce that not only provide consumers many alternatives for buying but also combine them to create a smooth experience across varied channels for customers are called omnichannel. Customers in the eCommerce business will see omnichannel shopping as a major trend in the next years since it takes into account the whole purchasing experience across all of your store's platforms.
Video is a powerful tool for promoting products and
In order to enhance awareness, engage viewers, and increase sales, video marketing is a common marketing strategy. Only 61 percent of firms in 2016 used video in their marketing, but Wyzowl's research shows that by 2021, that number will rise to 86 percent and that 84 percent of those polled had purchased a product or service after viewing a video.
It's clear from these numbers that video marketing is on the increase. Your brand's video may engage and educate people, and at the same time become a valued marketing approach that is anticipated by prospective buyers, by presenting consumer-generated ideas and relevant information.
Pay later and buy now! (BNPL)
For those who want to buy something now and pay for it later, short-term financing is an option that enables clients to do just that. Consumers may divide the cost of purchase into many payments, but they don't pay any interest or fees when using this payment method instead of a conventional credit card payment.
In light of the fact that younger generations are abandoning conventional credit cards in favor of Affirm and Amazon, it is expected that this eCommerce trend developed by an e-commerce app development company in India will increase significantly over the next few years.
Responsibility to the environment and the community
People's attention to environmental and social concerns has increased during the last several years. 57% of customers are prepared to modify their buying habits if it may help lessen negative environmental consequences, and 71% are willing to pay a premium for businesses that can give traceability, according to a survey by IBM.
As more people purchase online, they are becoming more conscious of the environmental impact of the eCommerce sector, and they are looking for businesses that are committed to global sustainability. A rise in eco-consciousness among today's consumers has a direct effect on the duty that internet businesses have to face in order to maintain environmentally acceptable operations.