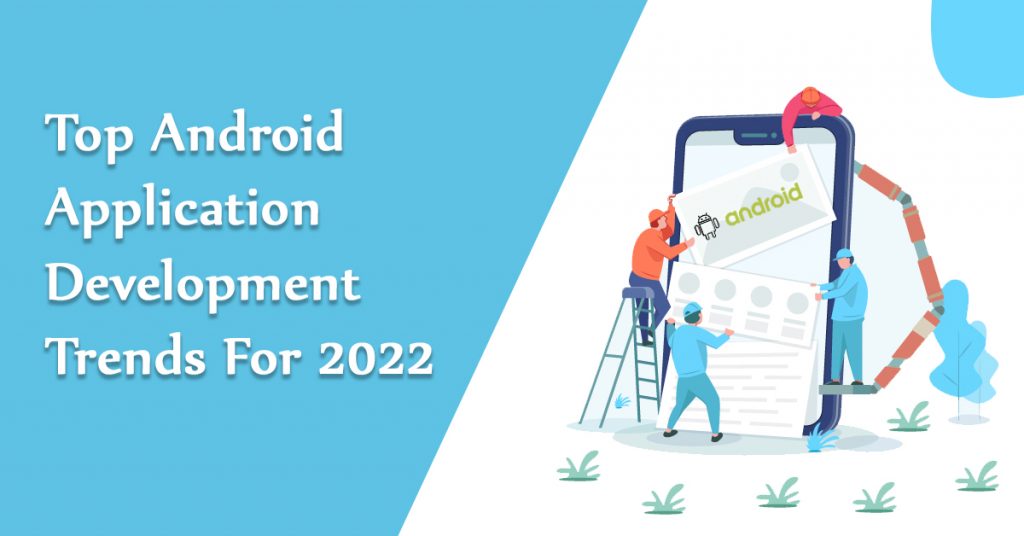 Brands are increasingly interested in mobile app development. A website alone is no longer enough for companies in today's world to generate income. Customers expect them to be available at all times while they are with them. 
They're able to do this because of the tools available via mobile apps. Most individuals are drawn to Android because of the enormous number of users who use the operating system. In this article, we'll discuss the top Android app development trends to keep an eye on in 2022. 
The odds of producing and releasing a successful app are greatly increased because of this enormous user base. However, even having a huge number of viewers does not imply success. Here are the top app development trends for Android app development through an Android Application Development Company in 2022.
For The Year 2022, These Are The Top Android App Development Trends. 
You need to take in mind the user's viewpoint, demands, and current market trends while you're designing your product. If you don't know what's going on in the industry, you might be in for a rude awakening. 
Instant Apps
An much anticipated component of Android OS, Instant Apps, developed by an Android Application Development Company have finally been launched. Instant applications don't need users to download the whole program before they can use it. If they enjoy it, they may get the whole program from the play store and use it for free for a few days. 
Occasionally, the app may not function properly on your device. In order to avoid this, it's a good idea to try it out first. In paid applications, this functionality is essential. Providing information will allow customers to assess whether or not the fee is worth it. 
Instant applications, on the other hand, don't take up any space on your phone, therefore they're much better. Instant app features are already available in a number of Android apps, and this is only expected to grow in the future. 
It's all about Blockchain. 
Blockchain technology has the potential to fundamentally alter the course of human history. It is a cutting-edge technology that offers several advantages, including transparency, privacy, and speed. 
Blockchain technology is used in a variety of ways in Android apps. Decentralized apps may be created as one method. Using blockchains like ethereum and others, these apps store their data and perform other functions. 
There is a big advantage to using blockchain technology through an Android Application Development Company. It is impossible to remove data from the chain after it has been added. As a result, if you want to design blockchain software that prioritizes privacy, blockchain is the way to go. 
Demand for blockchain technology is expected to increase in the coming years as people become more concerned about privacy. By 2026, the blockchain technology industry is anticipated to be worth $52.5 billion. For stock apps, payment apps, and medical applications where data tampering is critical, blockchain technology is being used. 
Developing Natively 
Multi-platform application development through an Android Application Development Company from a single codebase is difficult. Time and money are wasted by having a different codebase for each OS's application. As a result, native development is becoming more and more popular. 
Using native development, a single codebase may be used to operate on various platforms. This simplifies the development process and allows you to reach a broader audience. Native app development is dominated by frameworks like flutter and react-native. It is because of these languages that the apps appear the same on both Android and iOS. 
Having an app for both Android and iOS clients is a need for every business, but creating two distinct apps may be expensive and time-consuming. In order to execute the same application across various platforms using a single codebase, enterprises are resorting to native app development. 
The Internet of Things 
Android apps and mobile phones are some of the simplest methods to operate IoT models' devices and apps. It is possible to connect amongst machines utilizing the Internet of Things (IoT). In addition, machines may be controlled by the touch of a user's finger. 
By 2030, the IoT market is anticipated to be worth $1 trillion. Such installations necessitate the requirement for an application capable of handling such an extensive number of linked devices. 
In the future years, Android development in the area of IoT is expected to grow at a rapid pace. If you want to construct a lucrative niche-related Android application, you should not skip out on this trend. 
There will be a slew of smart home, factory, sports, health, and other industry IoT applications as consumers learn more about the technology. Android's overabundance of functionality makes it an ideal platform for managing massive factories and other interconnected equipment. 
Machine Learning and Artificial Intelligence 
Cloud computing has made it simpler than ever before to incorporate machine learning and artificial intelligence into any application. AI and ML-enabled applications are in great demand since these technologies have opened new vistas for every business. 
In the next few years, AI and machine learning technologies are expected to grow to $126 billion. This also applies to their use in software development and other media. 
With the help of AI and ML, android apps may be made more user-friendly and even more insightful. AI and ML may help Android app developers discover what their app is missing and how to improve it. 
Your Android app built through an Android Application Development Company may benefit from neural networks if you have access to cloud computing. Because this neural network does not use a lot of power, its advantages outweigh its disadvantages. 
Apps for Mobile Commerce 
The average daily smartphone use time for Android users is close to three hours. Today's smartphones are very capable, allowing them to do almost any task. Shops and other business establishments are also a good option. 
Increasing numbers of people are taking use of mobile commerce apps to purchase on the go. App developers and enterprises alike have found new avenues to grow because of this development. 
The use of Android apps allows companies to engage with their consumers and create more income via m-commerce. Because of the advantages of native app development, many e-commerce companies are now serving both Android and iOS customers. 
M-commerce apps will prosper due to their advantages over websites and web-based applications in terms of speed, size, and manageability. Furthermore, the OS-provided security makes Android apps the best option for m-commerce transactions.