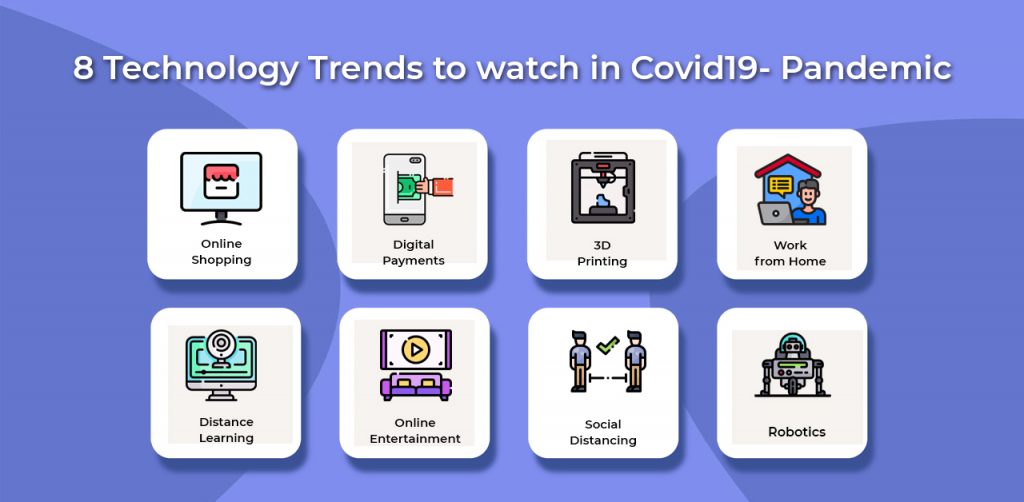 Every dark cloud has silver linings. But if we go deeper and introspect the dark cloud of Corona has many silver linings. Though some may find this ironic. As it has devastated millions of human lives and shattered the world economy which no one has ever imagined.
The COVID-19 pandemic has accelerated major technology trends, including digital payments, telehealth, and robotics.
These technologies help reduce the spread of the containment of Coronavirus.
Technology can make society more resilient in the face of pandemics and other threats.
During the COVID-19 pandemic this includes digital payments, telehealth & robotics are among the top services. In India, we have witnessed and gone through a transformational phase- digital revolution post DEMONETIZATION. This time will be one more addition to that. Today when everything seems to be working in a way that reflects the pandemic nature of technology.
Digital & Contactless Payments
When zero contact and no physical touch became prevalent,.The urge to purchase online products has exponentially risen around the world. It'll continue to render happy hours through online orders & delivery. In China, late 2002 SARS LED to the tremendous growth of BUSINESS-TO-BUSINESS and BUSINESS-TO- CONSUMER online marketplace platform. In the coming years, robot deliveries will take place which needs to establish a protocol for ensuring sanitized delivery.
Yes, when keeping the norm from the distance to experience digital and contactless payments. Now don't wonder when a delivery boy would deliver zero contact. Consignment. When we hold cash in hand, the palms may get infected. For that central bank in China,US & South Korea by implementing various measures so that banknotes are sanitized. This has become a global reform especially when you want to facilitate cashless transactions.
Remote Work Culture
Companies worldwide are harnessing the benefit of WFH. Using various Virtual Private networks, VoIP, virtual meetings, cloud technology enables the environment to operate and manage work from home. Though people still do not hold in medical and manufacturing options as they have little option.
That'll continue to be a trend post-COVID Lockdown and quarantine phase. Yet working remotely brings some problems to both –employers and employees. This way employees feel lonely and perhaps lack work-life-balance.
Distance Learning Methodology
It seemed like it was stuck in the pipeline and needed a push to rapidly spread on the world stage. No one wants education to be affected by quarantine measures. So, this seems to be the key which renders great excellence. Even kindergarteners are seen busy having online education. Things that looked ridiculously impossible earlier now are grabbing headlines. Using augmented reality 3D printing, and artificial-enabled robot teachers. Creating an economic pressure on parents – who need to stay at home to watch children with decreased productivity.
Telehealth Counselling 
As no one wants to be contaminated with corona infection. So consulting a doctor online is a viable option for many.It holds the key especially for those people undergoing any sort of diagnosis. You get similar advice from the doctor you would have gotten a physical. Wearables personal IoT devices may still prove essential primary care. Medical services are one of the living in the same jurisdiction. This makes telehealth services accessible for everyone. Based on f patient's diagnosis, the chatbot makes initial changes.
Online Entertainment
These quarantine measures have reduced in-person interaction significantly, with human creativity in the party online. This is why streaming of concerts is gaining traction across the globe..It gives a major surge for industries that offer virtual tours. Countries like the United States are thinking of releasing online movies.
Robotic and Drones
COVID-19  realizes the world how heavily we rely on human interactions to make things work. Labor-intensive businesses, such as retail, food, manufacturing, and logistics are the worst hit.
COVID-19 provided a strong push to roll out the usage of robots and research on robotics. In recent months, robots have been used to disinfect areas, and to deliver food to those in quarantine. Drones have walked dogs and delivered items. It provides sufficient training and social welfare to the labor force for changes. Robots are used to disinfect areas and deliver food to those who are in quarantine. Drones are moving cameras that provide aerial pictures that help in determining the containment zone.
Robotics & Drones
This allows you to rely on human interactions to make things better. It is widely popular in businesses like retail, food, manufacturing, and logistics, which are the worst hit. To check the compliance in these areas provides you with the logistics business. and the worst-hit. This way you can roll out the usage of robots, food, manufacturing, quarantine. Drones are like watchdogs that capture aerial pictures.
As per the reports suggested which predict manufacturing jobs will be replaced by robots in the future, at the same time, new jobs will be created in the process. It provides sufficient training and social welfare to the labor force.
Supply Chain 4.0
The COVID-19 pandemic is creating disruptions to the global supply chain. Everything is affected by its distancing or quarantine orders, some factories are completely shut down.
Following the distancing and quarantine orders,a layoff situation for industries." A chakka jam situation".The demand for food and personal protective equipment soar, some countries have implemented different levels of export bans on those items. Heavy reliance on paper-based records,a lack of visibility on data, and lack of diversity and flexibility ensure the existing supply chain system is vulnerable to the pandemic.
Cloud computing, Core technologies are said to be the Fourth Industrial Revolution, Big Data, cloud computing, Internet-of-Things ("IoT") and blockchain are building a resilient supply chain management system for the future by enhancing the accuracy of data and sharing.