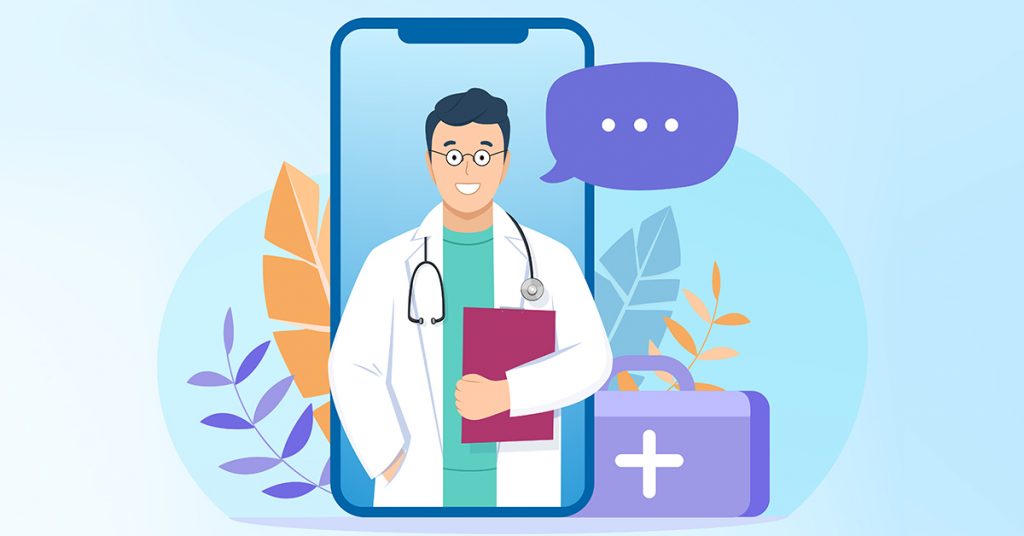 Over the years, the healthcare industry has seen a sea change in terms of simplifying customized medical services globally. Additionally, the effect of digitization has resulted in better methods of diagnosing and treating chronic and acute diseases. 
In July 2018, the Allure Group became the first nursing home in Brooklyn to deploy a remote monitoring system that monitors patients' vital signs and movements through sensors embedded in beds and pillows. 
Other noteworthy developments include Digital Health, a concept created by the Healthcare Information and Management Systems Society (HIMSS), which combines digital technology with health-related services to improve healthcare delivery efficiency. This discipline is anticipated to pave the door for more accurate and customized therapy. 
The difficulties that traditional healthcare services encountered during the pandemic 
At the start of 2020, as the pandemic spread, the healthcare sector faced a number of difficulties, including an insufficient capacity to offer non-contact methods of treatment, patient monitoring, and flexible medication distribution to distant and other places worldwide. Other urgent concerns included the following: 
The production of large amounts of patient data necessitated improved data storage and organizing needs. With an increasing number of devices connecting to the cloud from a single healthcare institution, AI-driven algorithms and cloud data centers and healthcare app development may be advantageous. 
Protecting patient data from network hackers is also important for preserving patient-doctor confidentiality, data security, and avoiding patient information from being mishandled. Adopting the Internet of Things into healthcare procedures would also need hospitals and clinics to upgrade or redesign their current software infrastructures. 
While the idea of digitization advances at a breakneck pace, linked devices continue to be reengineered to increase efficiency, reduce costs, and generate better results. In the healthcare industry, elements such as processing power and wireless capabilities continue to exploit the Internet of Things' potential. 
Implementing the Internet of Things in the healthcare sector 
The IoT app development, which is at the heart of today's digital revolution, has had a particularly significant effect on the healthcare industry, spawning what is now often referred to as the Internet of Medical Things. 
The Internet of Medical Things (IoMT) healthcare app development is a network of interconnected medical devices, equipment, software applications, health services, and systems. Its development is being attributed to an increase in the number of linked medical devices capable of producing, collecting, evaluating, and sending health data to a cloud repository or internal servers through connection networks. 
A study performed by researchers at UCLA and Cedar Sinai Medical Center shows the capability of concurrently monitoring and recording the heart rate of individuals with cardiac disease. This results in fewer patient visits, which results in cost savings. 
According to Goldman Sachs, IoT app development will save the healthcare sector $300 billion per year by reducing expenditure on patient monitoring. Additionally, the integration of equipment and sensors simplifies hospital workflow management, resulting in an efficient increase in patient care even in distant areas. 
Integrating IoT app development through healthcare app development into medical care has the potential to result in more effective, safer, and easier patient care. From medical device implantation to smart sensors, the IoT may help speed up healthcare delivery by enabling medical professionals to spend less time on logistics and more time treating patients. 
Several notable consequences of integrating the Internet of Things as healthcare app development in the medical sector are detailed below. 
Collecting, monitoring, and reporting on data 
The effect of IoT app development on healthcare has resulted in substantial advances in patient care in areas such as data collecting, reporting, and health status monitoring. The ability to report issues in real-time through mobile apps has facilitated more rapid and efficient treatment. Medical equipment connected through Bluetooth, Wi-Fi, or cellular networks is capable of transmitting data to both the patient and clinician. This kind of data facilitates decision-making and may substantially reduce human error. 
Affordability and accessibility 
Delivering medical care through linked equipment and mobility solutions simplifies and lowers the cost of patient care. Additionally, this aids in increasing workflow productivity. Healthcare app development that uses IoT technology will improve patient connection and data exchange. Additionally, tracking and detecting sickness has become more convenient and time-efficient. 
Prescription medication delivery that is efficient 
Automation enables efficient delivery of prescription medicines on a large scale and on a planned basis. Automating the distribution of over-the-counter medicines and bottled medications reduces the need for human monitoring, allowing physicians to concentrate on more urgent problems. 
Additional advantages of IoMT 
Advocating for IoMT in healthcare offers a number of advantages. Among the benefits are increased efficiency, lower costs and quicker per-patient implementation. Additionally, advantages such as remote patient monitoring, automated medication management, and better diagnosis and treatment are available. 
The elements that contribute to the Internet of Things' development in the healthcare industry 
Emerging economies in areas such as APAC are anticipated to provide new market possibilities for IoT healthcare providers. Other reasons such as decreased patient care costs, advancements in artificial intelligence technology, and the growing use of IoT solutions may also provide profitable possibilities for market participants over the next five years. In healthcare, popular IoT use cases include the following: 
Patient Monitoring through the Internet 
Remote patient monitoring enables the automated tracking of healthcare metrics such as blood pressure, heart rate, and temperature from patients undergoing observation in healthcare facilities, obviating the need for face-to-face contact between patients and physicians. Data gathered through sensors included in the monitoring device may be sent to a software program that can be utilized to make treatment selection decisions. 
Monitoring of blood glucose 
IoT app development-enabled glucose monitoring devices may readily replace the requirement for a patient's glucose levels to be manually recorded. These smart gadgets solve these issues by continuously and automatically monitoring glucose levels and alerting patients when levels are abnormal. 
Wearables That Are Connected 
Smart wearables, also known as linked wearables, are a popular kind of Internet of Things (IoT) technology for personal usage. They assist in monitoring, analyzing, and delivering customized warnings to its users.