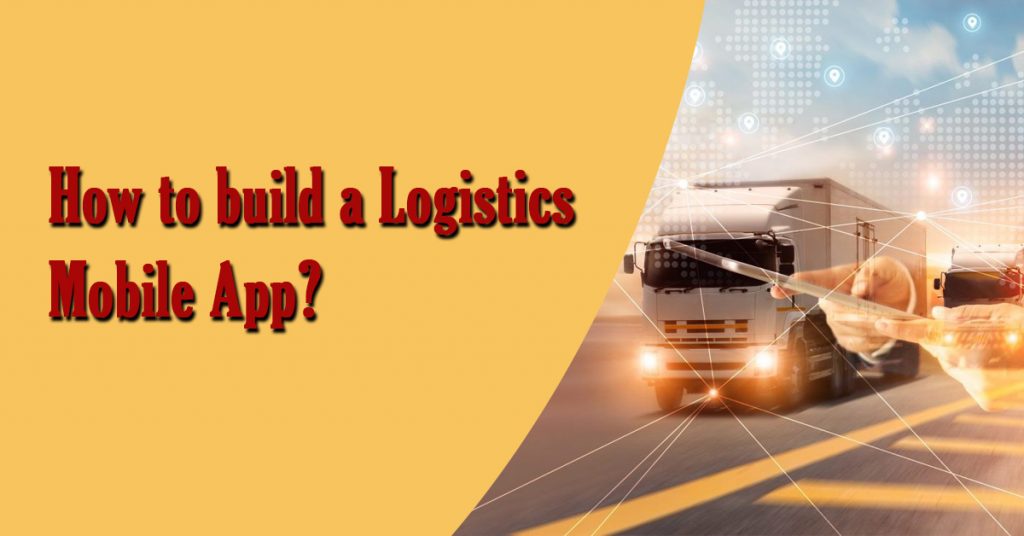 While hundreds of mobile logistics applications based on SaaS or ready-made on the market are accessible, their customization is generally not a possibility or it can be shown clearly that it requires substantial time and money to execute the customization. 
There is a great need for customized logistics app development services. But to get the most of the mobile application logistics services, you need to have a mature plan regarding the app features you want and a solid knowledge of the various phases in app development. 
Logistics is one of the most valuable commodities in businesses where time and time predictions are exact. Mobile logistics applications built through logistics app development company India may save businesses the time that they need to do particular activities. 
Custom-designing a mobile logistics app through a logistics app development company India is not, however, a simple job since certain functionalities have a significant development cost. For example, the development and integration of the country's full-scale map may cost several thousand dollars because of the geofencing and tracking needs. 
App Development Guide for Logistics 
Develop The Kind of Logistics App 
Given that logistics operations include many departments, applications are used to differ depending on end-users, purpose, and needs for functionality. The first step of logistics app creation is the knowledge of the kinds of logistics applications that can and need to assist various parts of operations. 
In order to improve operations, large fleet operators must monitor data relating to each vehicle in their fleet. Fleet managers may utilize mobile applications to monitor the fleet information, record, save and manage it in real-time. The transportation logistics management system enables fleet owners to monitor trends in fuel consumption, maintenance, service costs, and many other indicators, providing a thorough overview of the entire cost of operating the fleet. 
On-Demand Mobile Applications For Logistics 
Empty kilometers is one of the major issues for the logistics industry. If transactions are well handled, losing prospective business prospects is bad for the logistics company. If cars can carry more cargo, the turnover for the business will rise. Logistic services thus want to make sure that there are no losses of revenues with different kinds of on-demand mobile applications. 
Mobile applications on-demand built by a logistics app development company India link the drivers of the logistics business with cargo shippers. A typical mobile on-demand app includes a shipper application (customer), carrier app (drivers), and an admin panel. 
Mobile Apps Warehouse 
The company also includes the logistic activities of warehousing. They need to ensure that all products are securely kept and do not need to be sent on time. Warehouses are confronted with numerous difficulties, including loss of products, misplacement of the cargo, delays in finding the products, etc. 
Logistics companies must embrace contemporary mobile apps that actually mobilize the administration of the warehouse. Third-party APIs may power these logistics applications to let you detect RFID tags or bar codes. These applications improve the efficiency of the warehouse workers and reduce problems like cargo error. 
I hope that you now have a decent understanding of the many uses of mobile logistics applications. Each of these three logistics applications has a distinct function. Your IT expert may provide you a complete mobile application logistics solution depending on your needs. 
Proposal Request
You will have to request a response from logistics app development company India to get the RFP if you complete your first draft requirements on the basis of the information above. Your aim is to locate the finest app developer with significant expertise in the creation of mobile logistics apps, who can provide your solution at a cheap cost while maintaining the highest level of quality. A few logistics app development company India promise to provide the solution at very low costs might mislead you at this stage. You get an ROI-centric solution from the appropriate mobile app developer. 
Detailed Business Plan Sign NDA and Share 
You must remember that until you sign an NDA with the technological firm, you may refrain from disclosing sensitive information about your business concept. All information must not be shared with individuals who are not yet your technology partners. You may arrange a meeting or call to discuss the specifics of the project if you trust a technological partner. You will submit information about your logistics app, users, app features, etc. you intend to create. The technology service provider provides you with a preliminary estimate of project costs on the basis of specific needs. 
Get A Raw Assessment 
At this time, the precise final cost of the app development will be very difficult to acquire, but a general cost estimate should be obtained. There is plenty of technical information and needs to be amended according to your financial size. Thus, businesses that promise to create a whole application for a stupidly cheap cost should be avoided. 
Project duration, team composition, technology, and hourly rate also need to be included in the cost estimations. Choose an appropriate business for your project based on your evaluation of its suitability. Recalling again that the technology solution provider is suitable for your project and that not only is the cost of development. There are many more considerations. 
MVP Launch and Discovery Phase 
If you choose your technology partner for the creation of mobile apps, the development process will begin with a two to six weeks exploration and beginning stage. The development team will question you about the business logic, end-users, features, and objectives of the app during the exploration phase. The team will produce a project definition document based on this information, which will show the objectives, user flow, features, and many other things connected to the app. A prototype app is then provided by the development team. The prototype consists of multiple displays that display the app's design components. 
Advance features included
Based on feedback collected from drivers, users, and administrators, you may use sophisticated capabilities, like document digitization, built-in messaging, real-time tracking, bar code scanning, and much more to make sure your application is iterated and accessible.