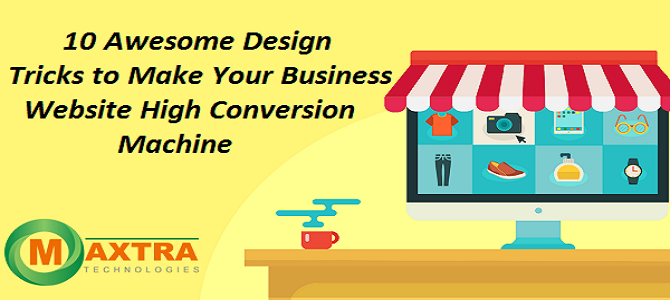 Every business needs a high-converting website. Having a good marketing team, excellent product, and services, great stories to tell won't shed good results until you have a good website design to present it all to your target audience.
If your website is not good enough that cannot make your audience feel connected with your brand, you will not be able to maximize conversions.
Here are 10 awesome design tricks to make your business website high conversion machine:
You should always try to keep the website design as simple as possible because simplicity is a perfect strategy to win your customers.
The most fundamental thing to create a highly converting website is to understand your audience and their preferences well.
Be sure to have the landing pages for every section of your website. For example – if you have multiple products, you must have landing pages for each product. It will help segment your audience.
Always remember to make use of superior-quality images that can appeal to your audience. And, these images should reflect your business story.
Avoid using distractions especially unnecessary popups that will just increase the number of user clicks. They are most likely to leave without performing the desired action.
Use minimalistic designs to kill the impact of negative space on your website. You can also use white space while creating content.
Never forget to make your website mobile-friendly since most of the users prefer mobile to search the information, shop, paying bills, etc.
Use the right colors that can evoke emotions for the story your brand wants to convey to the target audience.
Keeping the website loading time lowered to improve your visitor's experience. More quickly your website will load; higher will be the conversion rate.
Make use of elements that encourage consistent branding for your business.
If you are looking for responsive website design services, you can go for Maxtra Technologies. It is the best web design company in India. The expert designing team can help you transform your website into a high conversion machine.