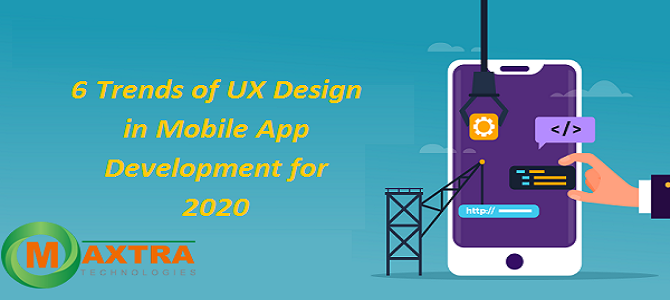 2020 is approaching near. Another year is set to bring new possibilities for every business to grow. To gain a competitive edge, you must stay updated with the technological trends as well especially the ones that may have an impact on your existing website i.e. the UX design trends in the mobile app development industry.
The trends of design have already marked a remarkable growth in 2019. We all know that it is just a few second's games for the customer to decide the worth of an app. If an app tends to take the time or have a complex interface, most of the users are likely to uninstall it. Nobody will like to waste their phone space for such apps. It's significant for the mobile app development services providers to be aware of and comply with the modern-day trends to ensure maximum audience reach.
Let's quickly look at the 6 Trends of UX Design in Mobile App Development that you must watch for in 2020:
Minimalism and optimum use of white space help businesses to make an uncluttered approach and maintain a competitive edge. This trend will continue to grow in 2020 since visual hierarchy is gaining traction. Also, it helps to improve the speed as well as the performance of your website. In simple words, the minimalistic mobile app design will work for you as well as your audience.
Most of the people today are looking forward to Siri, Google Assistant, or Alexa performing daily tasks such as finding information, entertainment, control smart appliances, etc. Businesses need to collaborate with the traditional approach and voice searches to ensure maximum ease and convenience to the users.
AI has already made its way in various aspects of web design such as chatbots that are used to provide seamless assistance to visitors. The use of AI is also extended to offer personalized experiences to the user. For the businesses that haven't considered implementing AI, it's alarmingly high time to take the initiative.
Gestures replacing the traditional buttons have made navigation much easier. The best example to understand the reach of this trend is our mobile phones. Aren't they easily accessible just over a thumb? Scrolling and swiping have become interaction gestures. Businesses need to upgrade their apps with such navigation-friendly gestures.
To make the mobile app more interactive, animojis are getting popular. The best ones are designed for keeping user interest and intent. Also, short and quick ones are considered good in terms of encouraging users to take actions and decisions.
The newest trend in mobile app development is full-screen designs that enable users to experience frameless screens. This enhances the visual impact of the product as well as videos. Make sure you keep the app designs such that your users can leverage frameless experience.
If you want to know more about these trends, you can contact Maxtra Technologies mobile app development team. We are a leading UI and UX Design service providers. We ensure that your mobile app gets maximum traction through out-of-the-box designs, interactive interface, and simplified navigations.