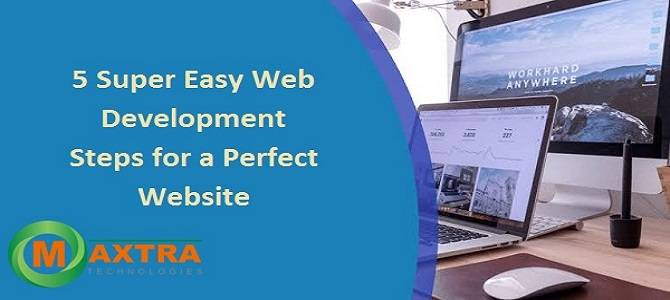 Whenever we look at a website, the first thing that appeals to us is the design of the website. It won't be wrong to say that design can make or break your brand's first impression before your potential customers.  This is why web development holds the most weight in creating a successful business interface online.
Startups and new business owners can make the best of this advice by hiring professional web design services. But this doesn't mean any less advantage for existing players. They can give their website a smart upgrade with more relevant and responsive web designs.
In an effort to save time for the busy entrepreneurs, here are 5 super easy web development steps that can help them get a perfect website built:
The first step is quite obvious and a basic step that we must follow is planning. Before you reach out to any reputed website development service provider, make sure what exactly you want from the website.
The second step calls for research especially if you want your website to be unique and specific. If you don't have time to invest in research, you can simply go for reliable and professional web design services and detail them your ideas.
Your job doesn't end there. You must communicate with your web development team or agency to understand whether the design and development are in a progressive direction.
After development, you must test your website or put other teams on this task. It is very important to test your website to ensure that your customers have a swift shopping experience.
Keep upgrading with the new trends of web design and development. Staying up-to-date ensures improved customer experiences while keeping you ahead of your competitors.
Now that you have the step-wise guideline to get a perfect website for your business, you should give your website upgrade a quick thought.
For more information about web development and responsive website design services, you can get in touch with the experienced development team of Maxtra Technologies. They will help you understand the real improvements your website needs and will guide you with a relevant solution accordingly.