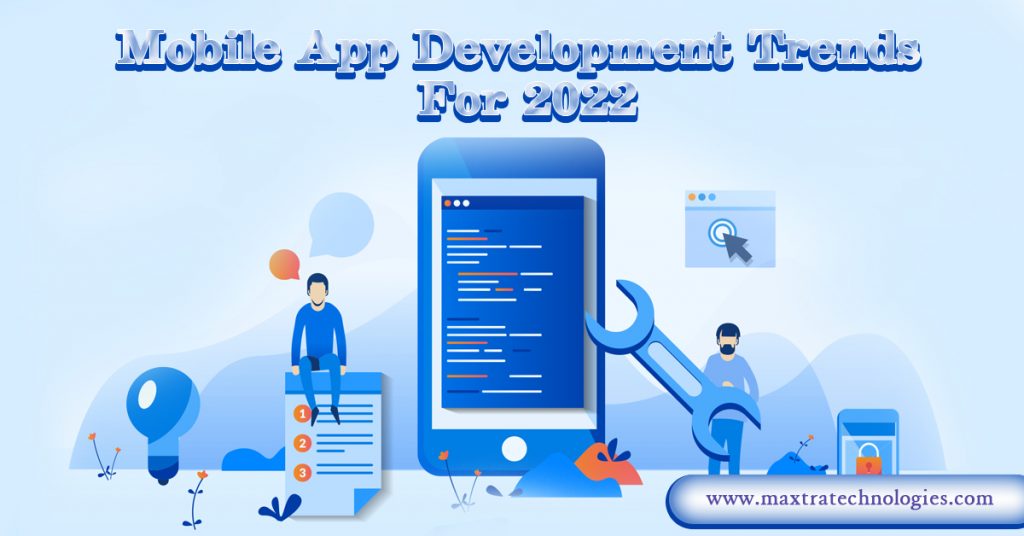 Google Play and the Apple Stores each have over 5 million applications available at any one moment. While better and more creative solutions are constantly in demand, so is the need for additional applications. 
App development for mobile devices is expected to increase by 2022 as the globe adopts newer technology and people's views toward mobile apps shift generally speaking. As many once-trendy mobile applications and technology become the norm, new ones emerge, and every participant in the business must stay up. 
For the year 2022, we'll look at some of the newest mobile app development trends and how they'll affect business and society.
X Mobile App Development Trends to Look for in 2022
Apps Dependent on Blockchain
Despite its age, blockchain technology is most well-known in the cryptocurrency world, where it underpins almost all digital assets developed by a mobile app development service.
Decentralized databases are the fundamental idea underlying blockchain technology, and this is what is making it an emerging trend in mobile app development. With these decentralized databases, there is no need for a single service provider or business to serve as a gatekeeper. 
This makes applications that rely on this technology more secure since only a small group of people can alter the databases to get access to private user information. 
When it comes to developing mobile apps through a mobile app development service, security is becoming more important, and by 2022, blockchain technology will be integral to the creation of the vast majority of them.
Foldable Device App Development
Smartphone manufacturers are turning to folding technology in an effort to offer their customers bigger screens without expanding the overall size of their mobile devices. 
There will be an increased need for a mobile app development service to build applications that are suited for folding displays when major firms like Samsung release new types of foldable smartphones. 
There will be more space for a mobile app development company to add controls and data, making their applications even more immersive and complex when foldable devices emerge.
5G Dependent Apps
It's impossible to discuss current mobile app development service trends without mentioning 5G. 5G has been around for a while but hasn't yet become mainstream in many areas, but it will be available to a far larger population by 2022 when it finally does. 
The next generation of mobile technology, 5G, will replace 4G as the industry standard. With speeds up to 100 GBs, the technology claims to be 1,000 times faster than 4G. Because of the network's reduced latency, users will experience more smooth connections. 
A Mobile app development company will have many options with higher 5G connection rates. As 5G becomes more widely accessible, the development of applications that depend on technologies like AR and VR, which need quicker connections to function correctly, will receive a much-needed boost.
AR Integration in Mobile Apps
Mobile AR app development through a mobile app development company has been on the rise over the last several years, and that trend is expected to continue until 2022 when the technology is still a long way from being mainstream. 
Its integration into the business sector allows sellers and service providers to engage with consumers in a more customized manner, making it a top mobile app development trend. 
Using augmented reality, companies may build experiences or display tales that best represent their company. 
A mobile app development service will have to come up with more creative features and functionalities as more companies adopt AR to provide their customers with the most immersive experience. 
In 2022, virtual reality augmented will continue to play a significant role in the creation of mobile apps across a range of industries, from retail to engineering and real estate.
Beacon Technology
Mobile app development by a mobile app development company has been gaining momentum using beacon technology, which is not new. All indications point to this technology being much more popular in the year 2022. 
This innovation connects the internet and offline worlds. Beacons help companies better understand their consumers by revealing how they engage with physical shops through mobile apps. 
Beacon technology allows you to track things like how many times a customer enters your business using information like that.
Mobile Commerce
Making transactions or offering services through a mobile device is referred to as mobile commerce. It is not to be confused with e-commerce, which takes place through mobile websites, which uses native mobile applications. 
M-value commerce is expected to reach $22 billion by 2022, after years of steady development. Native applications will become more important in the mobile app development business as the market expands and more people want to buy online. 
M-commerce, one of the most promising developments by a mobile app development company, affects almost every industry with a retail presence. In 2022, m-commerce mobile applications will become increasingly popular as customers move to the ease of making purchases on their phones.
IoT App Development
Old technology known as the Internet of Things (IoT) has been used in manufacturing operations where machines work together to achieve a common objective. With each new mobile application release, this is a new trend in mobile apps that customers can expect to see. 
Things such as computers and household appliances may connect and work together to keep the house operating well or accomplish any other desired end objectives with the consumer version of the Internet of Things. 
Messages/commands may be sent and received over the internet by any equipment or system in the Internet of Things (IoT). 
In the next years, the IoT system will include an increasing number of devices, such as smartphones and wearables. With their inclusion, customers will have access to even more advanced controls for their equipment and appliances.
PWAs
In this way, PWAs are more like a mix of an app and a website. Mobile app development trends to watch in 2022 include those that address the most common shortfalls of native apps and web pages. 
Because of this, these applications are less reliant on the internet and load considerably quicker. The best part is that they'll take up less space and will be automatically updated, both of which help app users greatly.