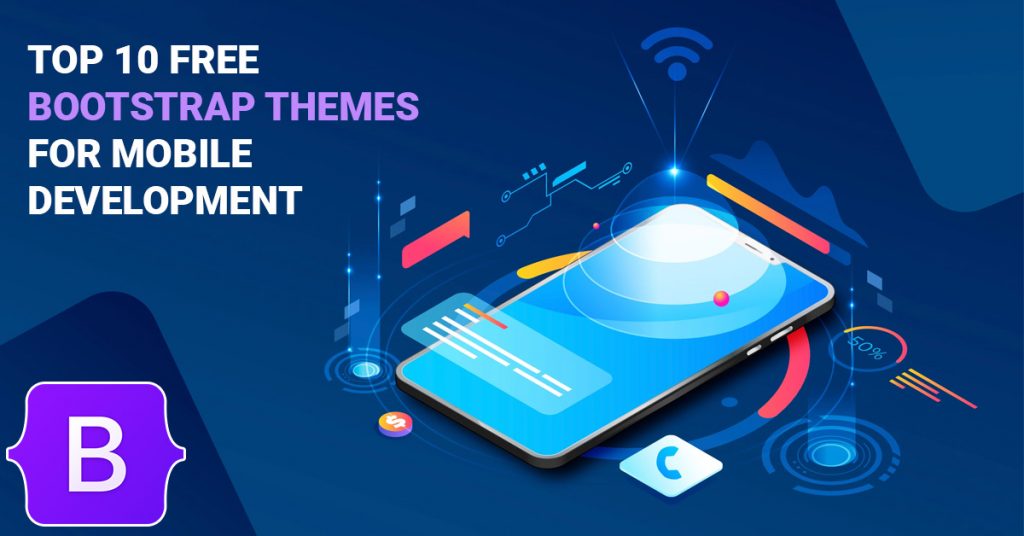 The mobile development process is an exigent task but do you think, by using the free bootstrap themes; you can make it somewhat easier? The use of bootstrap these are helping designers and developers to develop highly responsive websites today. You may find it as the popular CSS framework combined with a collection of syntax for template designs. Since it holds the basic factors required for building the responsive mobile.  
 The availability of such open-source CSS framework Bootstrap consists of multiple adaptable and reusable pieces of code. Therefore, you can see that the best mobile app development companies use bootstrap themes to create Mobile Apps. 
 The bootstrap theme has become one of the most trending frameworks as it consists of various benefits. The most important aspect you can find is the ease of its utilization. Another thing is that it has a responsive grid system along with customizable features. Mobile app developers choose it because it is capable of maintaining cross-browser compatibility.
 The selection of the bootstrap theme reduces the complexities that usually appear while working on the development of the front end of the application. The demand for the bootstrap theme has increased as is an open source framework; you can change the themes as per the needs of the project. There are numerous free bootstrap themes available in the current day. You can find some of them with your efforts and concrete zeal. 
Read More:-Key Essential Features of a Social Media App
Explore Different Types of The
Free Bootstrap Themes:
 You can find different kinds of free bootstrap themes that you may use for the development of the Best Web design. Most companies involved in providing the Best Web design Service usually choose this free framework for letting their clients have enhanced Web design to meet the purpose of their business. By using the free open-source, even budding companies may have the most efficient mobile app solution. You can find some of these free bootstrap themes:
A Simple Sidebar Bootstrap Theme
:
If you want the use of the A Simple Sidebar then you can choose these specific these. It is usually an idea for the small screen. You can find Simple Sidebar as the best option for the development of the mobile app. Apart from these; you may opt to include other features as well to make the app highly responsive and appealing. However, if you focus on cluttering this, then it might not help you anymore.
Material Kit:
this Specific theme is outstanding for those who have a material design business. You must know that material kit is an expert at following Google's material design principles. It consists of two customized Plugins along with three pages of examples. You can find this bootstrap these as free versions to create an impressive presentation of the application. One important thing is that this is also available in the paid version.
House Press Grid
:
It is not helpful only for static sites but also for dynamic sites. You can find it as the free bootstrap theme available with more than 200 installs. It serves as the most efficient bootstrap for the development of the mobile app and consists of a three-column theme. You can look for the menu available on the top that can help you get the mini magazine site.
Read More:-Why is Social Listening Important?
Virtue:
If you choose this particular theme you can come across various custom options with fonts, layouts, and sliders. Virtue serves the most effective personal and business purposes. Further, you can use this for making your search engine optimized operative effective for the n expected results. This is why; an app based on Virtue is always friendly in terms of its utilization.
Barts:
It exists as a simple bootstrap theme; businesses can use it for the creation of personal portfolios as per the requirements. The most appreciable aspect is that you can opt for it instant creation of an app with a simple design to meet your business requirements.
Texas:
It is available in different layouts on the homepage, thus you can find a collection of nine pages. If you want to have a mobile app for launching a business, you can choose it instantly. Later, you can initiate to have the design of the business app according to your business niche and choice. 
Nantes
:
It is the latest with the light weighted theme and is useful for all kinds of mobile applications. This specific these have multiple features that can help you find the path for a successful mobile app with a great appearance. You can look for a responsive template that would turn your business highly lucrative. Apart from these, Nantes turns the app responsive to draw the attention of many users which finally helps you generate profits from your business.  
Agency:
This bootstrap theme is available as a stylish and responsive framework. It consists of a single-page design that helps budding businesses a lot. You can find it helpful for all browsers and platforms and hence it is the best theme. You can come across the custom collapsing and navigation features. These consist of the active classes, and a smooth scroll of the page. All these factors make your mobile app completely useful for your business.
Hyperspace
:
You can experience various good aspects of this particular theme. It is based on simple designs and useful side navigation. Further, it offers sufficient space for the content and requires making aware of the business objectives. It consists of predefined elements like headings, lists, images, buttons, and tables.
Kross Single-Page Template:
It is available as a bold template and allows businesses to develop the app for smooth scrolling. Thus, you may choose it for resume, and homepage templates.
Read More:-10 Ways To Grow Your Business With Facebook
Conclusion:
 You can find the above Free Bootstrap Themes and chooser any of them as per your choice. Since this is the age of the internet you need to initiate, having the perfect app for accessibility and connectivity to the market is essential at all costs. Thus, you can once take a look at the helpful theme for the bootstrap that may prove to be efficient for your overall business productivity.