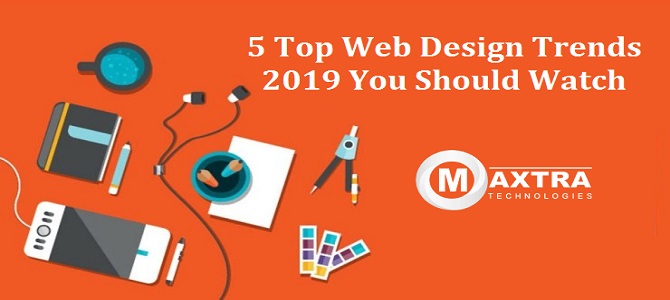 What are the best methods to get users' attention? What is engaging them the most?
Web designers have a strange relationship with trends. On the one hand, when they follow the crowd, they may feel that they are not able to demonstrate enough creativity.
On the other hand, trends can say a lot about user preferences – what people like what they hate – and ultimately help designers create web pages with better adoption rates?
The surfer is a visual creature, and the visual design has a significant impact on how one grasps things.
Let us start right away with ruling website design trends of 2019
1- THE ILLUSTRATIONS
Illustrations can turn an average website into a truly unique site, something that identifies and communicates the brand's message and has the power to appeal to us.
Illustrations have become one of the most important trends of the web. They can bring out your design of the lot and establish a real emotional relationship with visitors. The illustrations are a versatile tool; for Hero sections, for feature descriptions, or even as a subtle icon in the navigation bar.
Two types of illustrations are popular among web designers: hand-drawn illustrations and three-dimensional illustrations.
2 – THE BRIGHT COLORS
There is a reason why so many graphic artists strive to use bright, vibrant colors: They give visual interest to a layout. The user's attention is a precious resource, and one of the most effective ways to get attention is to use colors that stand out. The bright colors used for the background can capture the visitor's attention and contribute to a truly memorable experience.
The use of bright colors to create fascinating and unusual designs appeals to the imagination of the designer and gives him plenty of room for improvisation.
3 – GEOMETRIC PATTERNS
Graphic designers can use infinite geometric shapes and patterns to create beautiful ornaments. This technique works just as well for digital products. Designers can use SVG images and high-resolution PNGs with geometric patterns as backgrounds. Such backgrounds are scalable, so you will not have to worry about their appearance on small and large screens.
Geometric shapes are associated with modernism because they do not overload the presentation and give sites and applications a more structured and organized look.
4 – THE USE OF GRADIENTS AND DUOTONES
Gradients are a versatile tool that works in virtually all types of design. Designers often use gradients to give their work a little more depth. Trends in modern graphic design dictate the use of large, striking and colorful gradients that help designers make a good impression.
When it comes to gradients, you have a lot of creative freedom. For example, one can experiment with different types and colors, using radial gradients, linear gradients, and so on.
The duotone effect has been made popular by Spotify. They built a strong identity for its brand and decided to use duotones in its design.
In simple terms, duotones are filters that replace whites and blacks in a photo with two colors. Duotones can match almost any image to the brand of your business; simply use the primary color of your brand as a duotone filter.
5 – TYPOGRAPHY IN THE SPOTLIGHT
For most designers, content must always go first in the design process. A design must value the message that the creators of the product want to convey to their users. Bold typography helps designers achieve this goal. An imposing text, dominating on the screen, puts the written content in the center of attention.
Bold fonts have a functional purpose – they make it easier to read the text.
CONCLUSION
Should we follow the trends? As a company, you must hire professional web design services to keep a spark of creativity in your website.