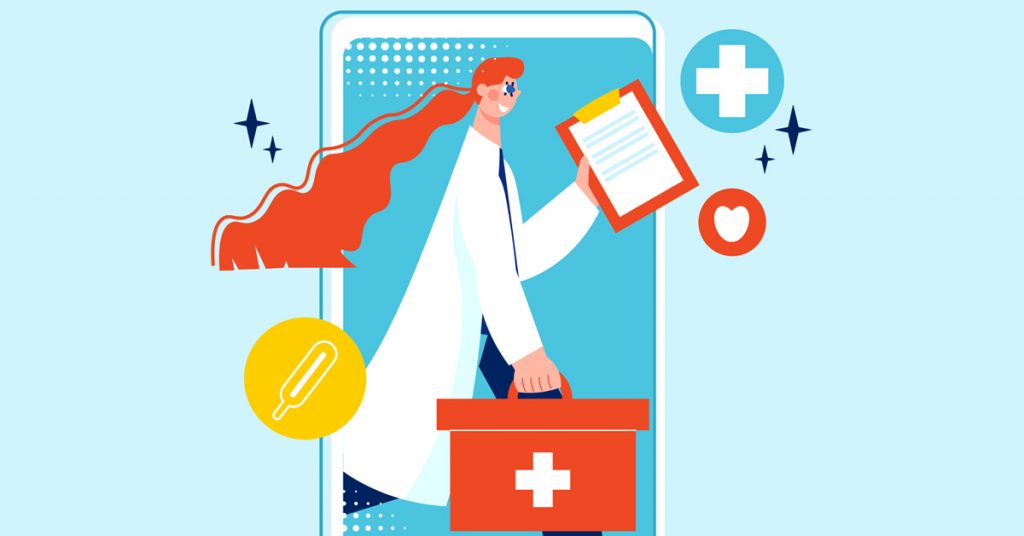 Digital technology has allowed healthcare providers to offer patients across the globe more focused and effective therapies. As the crisis in COVID-19 continues to create a new normal, it is vital that healthcare stakeholders grasp the digital health environment. 
In the first half of 2020, digital health activities were unprecedented: record venture financing levels of $5.4 billion; megadeals such as the $18.5 billion purchase from Livongo by Teladoc Health; and faster delivery of virtual healthcare such as telehealth and remote monitoring. 
This article provides an overview of healthcare app development or mobile app development and its potential for development, providing insight into how investors, patients, and incumbents engage with the ecosystem. We will also analyze COVID-19's effect on digital health and offer strategic advice for health sector enterprises. 
What Are The Biggest & Most Rapidly Expanding Digital Health Markets? 
As of 2019, the healthcare app development industry represents about $350 billion with numerous possibilities to compete across different sub-categories, and technology marketplaces in each valuable body are projected to increase by at least 8 percent annually. 
The majority of digital mobile app development companies are understandably developing solutions that directly affect the treatment of patients. Approximately 49% of our digital healthcare firms come within the care category (that is: more effective therapy, remote assistance for patients or, treatment for patients)— a market of $157 billion (as of 2019) representing 45% of the total digital healthcare industry. 
Companies in this area either deliver new, digital technologies like Livongo for diabetes, or utilize technology to expand patient access to care solutions, such as Teladoc (providing remote patient assistance) telemedicine, or Pillpack online drugstore (supplying therapies to patients). In this category, each value pool is projected to increase at least 10% year by 2024. 
The combination of huge market sizes and strong growth rates makes competitive care supply pools a fascinating proposal for businesses interested in healthcare app development, but patient care is not the only potentially lucrative option for digital health enthusiasts. 
Supported by major pharmaceutical firms' significant interest, the R&D category is by market size the largest single market value pool ($109 billion in 2019). Many businesses in this value pool provide precision medicine solutions to allow quicker discovery of drugs (such as Tempus) or AI-enabled patient recruitment as well as decentralized or virtual trials solutions to enhance the efficiency of clinical trials (for example, Medable and TrialSpark). 
This industry, however, is relatively mature compared to other digital health sectors pertaining to mobile app development and is projected to rise at a slower pace of 8% annually than other value pools, which usually expand at 10% or more per year. 
However, there is a growing potential in value pools in the categories Finance and Operations. This includes Progyny, which organizes the advantages of fertility packages for employers, and CoverMyMeds, which focuses on improving operational efficiency by offering back-to-back solutions for automating the prior authorization procedure. 
Not only do two value pools in this category command the highest compound annual growth rate (CAGR) in digital health (there is an estimated CAGR of 18 percent for "Optimize the Financial Model" and a CAGR of 15 percent annually to "Enhanced Operational Efficiency"), but companies in these two value pools are also generally valued at Avera. 
As of 2019, the Finance and Operations sector had an estimated $26 billion market value, 7% of total digital health, but only 12% of digital health firms competed in this area. That said, this expanding industry may well suit non-traditional digital health enthusiasts with a compelling value offer for improving financial results. 
How Do Digital Health Businesses Usually Show Value? 
One of the main value suggestions provided by healthcare app development is the cost reduction of healthcare mobile app development. Based on the 2018 statistics on health care expenditures, we predict that digital health treatments alone may save approximately US$500 billion if completely implemented. However, although many solutions may have a substantial effect on the cost of care, certain value pools are more immediate and quantifiable than others with regard to cost reductions. 
The three value pools in the care delivery category, offering more effective therapeutics, remote assistance, and therapy for patients, have the most quantifiable potential for cost reductions for the United States, for a total of about $270 billion. Technologies in these pools of value (including remote care, digital therapy, and illness management systems) offer reduced methods of delivering or managing treatment. Both payers and patients thus benefit from lower costs connected with the provision of care. 
Similarly, technology (such as workflow automation and tools for care coordination) that enhances operational efficiency may directly boost the productivity of health stakeholders by lowering US healthcare expenditures by approximately $180 billion. Companies in the operational efficiency-value pool will more likely save costs as a result of technical developments than new clinical developments, which may explain why about half of the CEOs we have noticed in this valuable pool are from non-medical industries, usually in the technological sector. 
Pharmaceutical firms, in particular in regions severely impacted by COVID-19, are most likely to be harmed by interruptions and delays in clinical studies. Tools to improve drug R&D processes by providing virtual trial support or collecting real-world evidence are thus most probably desired. 
However, payers already face significant financial constraints associated with sustaining lengthy, high-volume stays and logistic difficulties in guaranteeing patient access to treatment. Solutions that improve the financial model and intercept illnesses via screening may thus provide the greatest assistance for payers managing big populations of patients. Companies that provide patient treatments could also get renewed attention from payers trying to reduce health care costs through innovative health-centric mobile app development.
Conclusion 
Digital healthcare app development technologies are helping to fulfill the long-awaited goal of the medical sector: to reduce costs while simultaneously improving patient outcomes – a result that is of particular importance considering the effect of the COVID-19 epidemic. By firmly choosing which value pools and prioritizing tactics, healthcare investors and businesses may flourish successfully in the fast-growing digital health area and enhance patient healthcare around the globe.