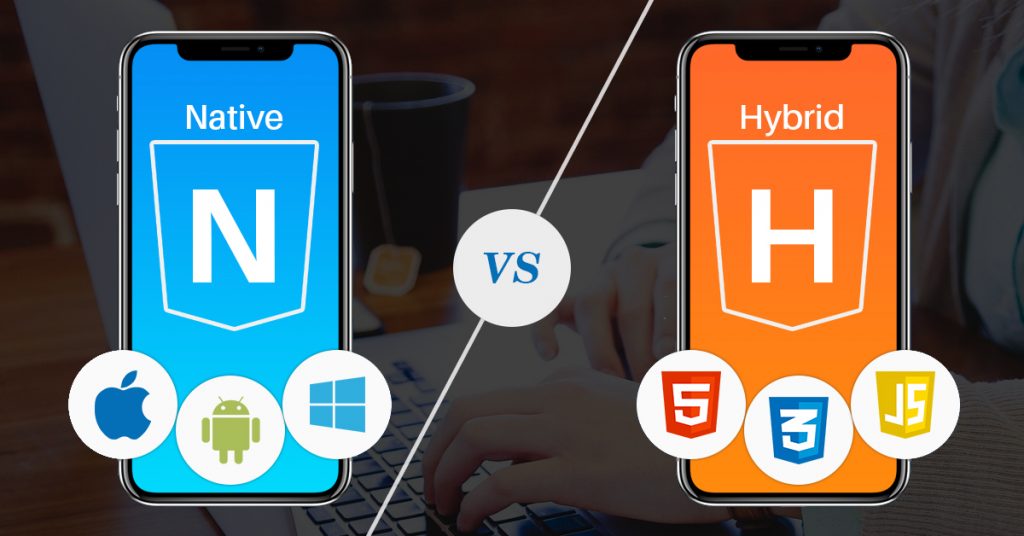 Costing for long is said to be a critical factor in mobile app development.This has long been presumed as a great denominator that defines the budget allocation of any company. Sometimes it appears like 'digging the earth'. The deeper you dig, the more things you get. But it is the cost of execution that becomes a deciding factor in making a selection. Similarly, world-across mobile app developers are making a penetration into the market with distinct tech innovation to bemuse the whole world.
For an IT Company developing a mobile app is like manufacturing & designing  different shoe with the same leather. Apart from costing they find themselves in a dicey situation which one they look for —hybrid or native app ?
So are you falling in the same category? Today we'll discuss a key point that differentiates between  –Hybrid vs Native Mobile App.
Hybrid Apps are those apps that are manipulated using the latest arrivals in the market with the existing one. A  blend of both the new and the older one. It has essential factors like cost & efficiency which helps in managing the app.For extensive reasons, mobile app development is critical when it comes to app development. It possesses the same element from native apps.
Major Advantages of Hybrid Apps:
Reducing Development time & Cost- Plays a critical role  which substantially reduces development time & cost in comparison to other apps as it reduces the need for iOS or android app.
Reusing the code of the web app art- As this is written once this substantially reduces considerable time & money compared to native apps which reduces the time & cost in comparison to other apps.This is written once and deployed on a variety of platforms.
Native Apps are those apps which are often  being used in the same form (patent form). Usually, run on a particular form or device. By all measures, Mobile App Development Cost is a defining factor for companies. As a native app is built  using a particular device and OS. It gives you the ability to use device-specific hardware and software.
Advantages of Native Apps :
You can have rich experience with native apps as it is  interactive, ingenious, intuitive, that run smoothly in terms of producing input or output
Native development allows developers to access the full feature set of the operating system
Native apps are often known for their time bound delivery performance compared to hybrid applications.
The user experience of native apps is far more satisfying than hybrid apps. As they don't have to  bear with two different app development.To the user, the flow is more natural because  each mobile operating systems  follow specific UI guidelines & standards
It is the operative system of the device which approves the respective system that guarantees efficacy.
A native app should work in correlation with the  respective operating system which assures quality, security, and device compatibility.
Disadvantages of Native App
Native apps use complex  programming languages which ask for experienced developers.
Expenses are more costly upfront for native apps compared to hybrid apps.
Native apps are not always a best choice for the simplest of applications.
Advantages of Hybrid App Development
Hybrid apps often don't need a web browser like platform
These apps have access to a device's internal APIs and hardware device
This requires only the codebase  which is needed for hybrid apps.
Disadvantages of Hybrid App Development
User often complain about the speed issue with Hybrid apps as it is slower than the native apps. With hybrid app development, you're dependent on a third-party platform to deploy the app's wrapper.
With more customization, the app takes away  hybrid development, which is often costly and requires more money  to be saved  with native app development.
A native app is a smartphone application developed specifically for a long mobile -operating system (Objective -C or Swift for iOS vs java for Android )
Since the app is developed with a mature ecosystem following the technical user experience, guidelines of the OS which gives a swift advantage "feels right".
On the other hand, app applications are, at their core, websites packaged into a native wrapper.
Even though there are several factors that impact the cost of the app — the technology that the app is based on makes the most impact as it decides
 Platform
Back-end services
Type of app development firm
Post  Development Costs
Let's take a look at the development costs for both, native and hybrid apps along with their advantages and disadvantages.
While going through this piece  Which is an economic — Hybrid or Native App ?
When it comes to implementation both hybrid and native app development ask for the same energy & efforts .Using hybrid app development, you learn to manage the issues that perhaps occur because of hybrid or native app.
It requires the same amount of effort  which makes this a favourable choice. With hybrid app development, you may have to tackle new challenges like  issues that occurred with the stem from both native systems and hybrid systems. Sometimes, working between the two systems makes fixing bugs a difficult task.
The disadvantage of having to work with a third-party hybrid wrapper is the dependency on a cross-platform development tool such as Xamarin or Cordova. Every time the UI kit releases new features, you need the right  set of tools for having impeccable app development. When you develop a hybrid app, there's an added layer that you don't have control which may increase the bugs.
Hybrid app development  facing the problem of bugs is a natural phenomenon that creates the same latest features that have been released for a particular operating system, which negatively impacts the development cost and the timeline.