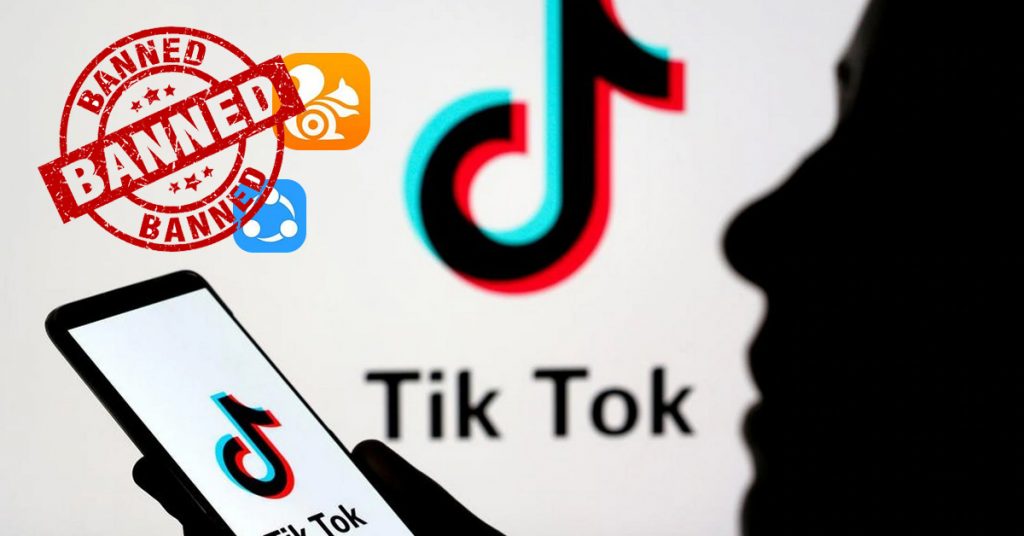 In a milestone move by the Indian government, the recently announced ban on 59 Chinese apps has shaken many in India, as well as in China. The Indian government instated this ban owing to national security concerns and the unscrupulous business practices deployed by the Chinese apps in the way they process user data.
With the growing border tensions among the two nuclear-armed adversaries, this ban did not come as a surprise. The recent border clash among the armed forces of both the nations further added fuel to the fire and has driven the Indian government to hit China economically.
List of Banned Chinese Apps
The 59 Chinese apps banned by the Indian government are as follows:
  TikTok
  Shareit
  Kwai
  UC Browser
  Baidu Maps
  Shein
  Clash of Kings
  DU Battery Saver
  Helo
  Likee
  YouCam Makeup
  Mi Community
  CM Browsers
  Virus Cleaner
  Apus Browser
  ROMWE
  Club Factory
  News Dog
  Beauty Plus
  WeChat
  UC News
  QQ Mail
  Weibo
  Xender
  QQ Music
  QQ Newsfeed
  Bigo Live
  Selfie City
  Mail Master
  Parallel Space
  Mi Video Call – Xiaomi
  WeSync
  ES File Explorer
  Viva Video
  Meitu
  Vigo Video
  New Video Status
  DU Recorder
  Vault – hide
  Cache Cleaner DU App Studio
  DU Cleaner
  DU Browser
  Hago
  CamScanner
  Clean Master
  Wonder Camera
  Photo Wonder
  QQ Player
  We Meet
  Sweet Selfie
  Baidu Translate
  V Mate
  QQ International
  QQ Security Center
  QQ Launcher
  U Video
  V Fly Status Video
  Mobile Legends
  DU Privacy
As you can see, the list of the banned apps in expansive. The government stated that these apps are a threat to India's free cyberspace as these apps transmitted user data to servers that are located outside India's sovereign borders. This move can prove to be a big blow to China's silk route ambitions as it eradicates these companies valuations to a huge extent.
What This Ban Means For TikTok and Other Companies
This milestone move comes as a result of the military standoff between India and China. This move narrows down the growth of Chinese tech companies and significantly hampers their revenue prospects. Additionally, this move can also embolden other governments around the globe to follow similar footsteps and ban other Chinese apps in their countries.
In India alone, TikTok's download stands at 611 million, that represents around a third of its entire user base. This will also have a profound effect on ByteDance's (Parent company of TikTok) $110 billion valuation. The USA is also scrutinizing the app's practices and it would be fair to say that we can expect a similar route from the USA as well.
What does This Ban mean For Start-ups In India?
18 out of 30 unicorn start-ups in India have Chinese funding in some way or the other. The ban leaves out the payment giant PayTm and India's most valuable start-up, Byju's, that have Ant Financial & Tencent as their primary investors.
This rising anti-China sentiment among the Indian population could lead to a decrease in the capital flow from the PRC and may hurt Indian start-up's growth trajectories. The ban is eventually meant to hurt the bottom line of the Chinese economy but at the same time, it can have serious implications on the value of Indian start-ups as well.
TikTok's management admitted that they are in the process of complying with the government's ban and asserted that no data of any Indian customer has been shared with any foreign entity, including the PRC government.
When TikTok was banned for a week in 2019, ByteDance stated that it was losing more than INR 3.7 Crore per day, as a result of the ban. It is certain that this figure might have witnessed an increase owing to further penetration of the app.
Is the Ban Easy to Enforce?
Technology experts across the board are of the opinion that banning the apps won't be easy. Enforcing a ban of this scale would require significant efforts from Internet service providers to ban the IP's and Proxies associated with the apps and would also require Google and Apple to remove the respective apps from the Play Store & the App Store.
The experts also stated that even if these apps are removed from the respective app stores, users can still download the apps from the web. This can prove to be a security concern for users who may download malicious apps from the web and pose a tremendous risk to their security.
Since the apps are now removed from the app stores, users that are still using them may be prone to vulnerabilities that can hugely compromise with the user data security. Therefore, banning apps might prove to be half-thought out move that may affect the Indian start-up ecosystem on the whole. Investors from both nations are also stating that with the absence of Chinese apps, there would be a huge effect on the competitive sphere in the social media ecosystem.
Conclusion
India is in a process of tightening its digital borders and preventing any possibility of digital colonization. Although the ban is a signature move in India's security interests, it must not be ignored that the Chinese apps flourished an era of ingenuity and promoted a landscape of competition on the digital ecosystem. It must also be kept in mind that we need to develop alternatives for the Chinese apps for users who are now looking for alternatives.