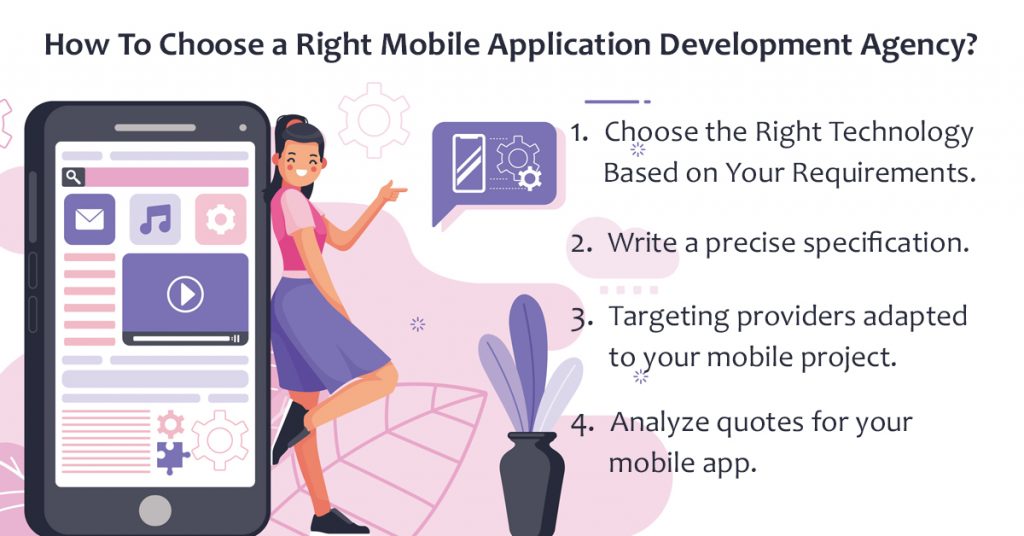 Who has not ever been disappointed by one of its providers? The risks are real to fall on a person unreliable and whose skills are poor. If you want to create a mobile application, you will need to find a provider, and if possible, the right provider, that is to say, who will be able to offer you a finished product that meets your expectations … and on time.
To find the right mobile application development agency, you will need to start by choosing the mobile technology that best fits your needs and budget. Then, begin the serious things: writing specifications, targeting, and evaluation of providers, analysis of quotes, etc.
Let's have a quick look through all the factors:
Choose the Right Technology Based on Your Requirements:-
Choose the technology for your mobile application before choosing the provider.
Before you even look for a provider, you need to determine the technology for your mobile application Of this initial choice depends in fact largely on the choice of the provider. For a simple reason: the developers, agency or freelancers, do not master all mobile technologies and all computer languages. A developer who designs mobile web applications will not necessarily be able to develop a native application, and vice versa. In addition, costs and development time vary from one technology to another (native applications are the most expensive and the longest to develop). A variety of options that you have are:
Native mobile application
HTML mobile application
Hybrid mobile application
Write a precise specification:-
To receive relevant proposals and quotes from your potential providers, it is imperative to write a precise specification. In fact, for the mobile application that your provider will develop to meet your needs and expectations, you still need to correctly and precisely specify these needs and expectations. Since the specifications have a legal value: they can be opposable in case of a delivery note in accordance with the original specifications.
The specifications (we can also, more informally and for less technical documents, speak of brief) must include some key elements on your objectives, your needs, the operation, and the content of the application. Specifically, you will need to address your business activity, the purpose of the application, market and target, primary and secondary competitors, brand identity and graphic identity, sources of inspiration (graphic and functional), organizational structure application and functional model, main functionalities, objectives and scope of the mission that you entrust to the service provider, work organization and deadlines, maintenance conditions. To be sufficiently complete, your specifications must be at least 5 or 6 pages long.
Targeting providers adapted to your mobile project:-
How to find a provider for your mobile application? There are many ways to "find" the right provider, the rare pearl. One of the methods is to consult freelance platforms like Freelancer or Elance. On these platforms, you can target the freelancers that interest you by technology and business. Reviews and customer reviews are often very helpful in ensuring the competence of service providers.
In general, providers are very responsive. To avoid having an influx of proposals, specify your needs and the professional qualities required.
A third, very relevant solution is to target providers who have worked on mobile apps that inspire you.
Evaluate the seriousness and professionalism of the selected providers
It is always difficult to evaluate a priori the skills and professionalism of a provider, whether in any field of activity elsewhere. To reduce the risk of falling on a careless and incompetent provider, here are some good practices to implement:
First, ask the right questions and analyze the answers you are given in return. This topic has already been mentioned in an article devoted to the choice of SEO provider. Asking the right questions involves working well on your file upstream, at the drafting of the specifications. Questions that are too general or poorly formulated will not yield revealing answers, which may be corrected. Examples of typical questions: What technologies do you master? What are the weak points of my project? Do you think this feature can be implemented? If yes, how? How long can you do the work (breaking down the tasks)?
To analyze the answers, do not hesitate to call on someone in your personal or professional circle who knows a little about mobile applications. You can also do research on the internet downstream to check the relevance of the answers provided by the provider.
Also ask about the provider's background: what work has he already done? What mobile apps has he already developed? Are they of quality? Have they been designed in the state of the art? If you are not able to judge for yourself the quality of work, do not hesitate once again to call a professional web to ask him his opinion.
You can also get in touch with former clients of the provider in question to ask them whether they are satisfied or not with the service provided: has the result been in line with their needs and expectations? What is the provider's way of working? Does it respect deadlines? Overall, is he a serious person in his job? The answers will be more or less subjective, hence the interest of asking the opinion of several customers.
Analyze quotes for your mobile app
Following your call for projects, you will receive quotes. The quality of these quotes is an important criterion that must be taken into account to decide between providers. A quality quote is a quote that clearly answers your problem and shows, at least, a fine understanding of your project. This is the basis. An estimate too general, which could have been sent in the same form to other customers, and which in any case does not take into account your specifications is prior to rejection. Also, pay attention to the level of detail and accuracy of the quote proposal.
It's a sign of seriousness. Cost items should be detailed as finely as possible. If no precision is provided on the various cost items (encryption to the big), it probably denotes a lack of professionalism. Do not hesitate to ask for clarification on all lines of the quote that you do not seem clear enough. For example, contact the service provider and ask them to explain all the lines of the quote out loud. Opaque and improperly technical quotes are to be considered with suspicion.
A key point often neglected: that of maintenance. The quote must include information on "after-sales service", guarantees, any additional costs in case of problems, etc. For these elements to be present in the estimate, you must make them appear in your specifications. Finally, do not let yourself be swayed by the price. The best quotes are not necessarily the cheapest quotes. It is often the other way round: too attractive quotes in terms of price are often those of the less talented providers. At the risk of stating the obvious, quality pays.