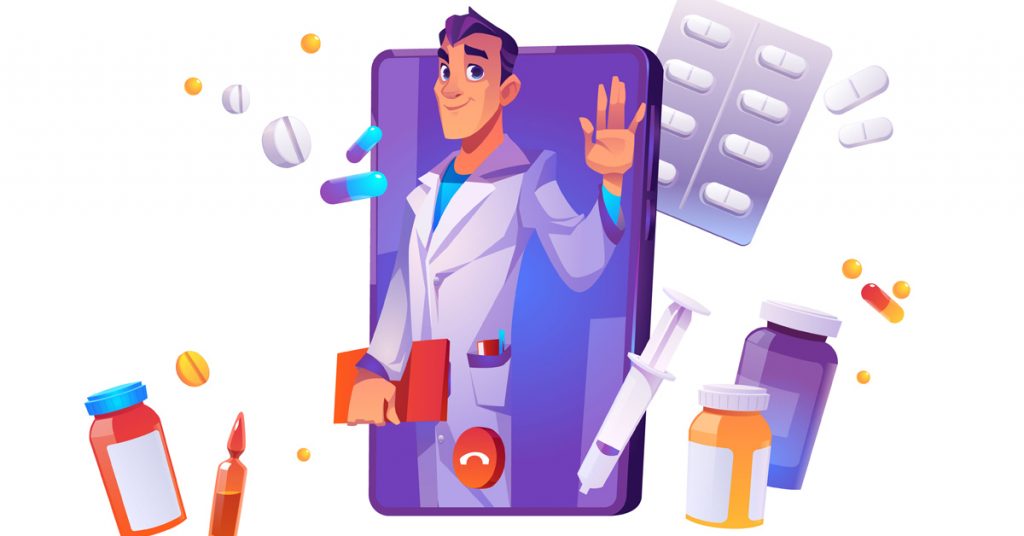 Health Insurance Portability and Accountability Act (HIPAA) – this name will ping you depending on your occupation. And it may be a little nervous if the job involves the implementation of telemedicine applications for the US market. 
The development of a HIPAA-compliant telemedicine platform is a complex, business-based research operation, utterly essential for protecting confidential data that HealthCare apps handle and prevent high fines and reputable harm. This has given rise to a specialized mobile app development company that now also functions as a healthcare app development company.
What is HIPAA Compliance on Telemedicine
Bill Clinton, the US President, signed in 1996 a HIPAA, a set of rules and regulations designed to define and process confidential medical records (known as protected health information). It was a significant step in maintaining online data processing security and a huge challenge for software production firms. 
Any information that can be used to classify patients or clients in the HealthCare facility is protected health information that comes under the jurisdiction of HIPAA. Examples of PHI are most visible are the names, phone numbers, addresses, photographs, insurance, health history, and medical examination reports.
We may not have adequate experience to address the social and physical security issues. However, we are well-equipped to have useful guidance in the field of information security and device robustness. A healthcare app development company or a mobile app development company can integrate the features that are required in a HIPAA compliant app.
Features of a HIPAA Compliant Telemedicine App
Developing a HIPAA-compliant app through a healthcare app development company is a complex method that calls for rigorous review and testing. While the enforcement strategy will vary based on the requirements of the individual software, some HIPAA compliance guidelines are standardized and mandatory for any HealthCare application.
Encryption
The first, last and most significant privacy security resort is data encryption. And if the information is taken by a third party, they will not be able to use the data if reliable data encryption is carried out. 
With the implementation of video and audio conferencing on modern telemedicine systems, it is important to ensure that these data are also encodable when transmitted. This is possible to ignore because it is impossible to intercept audio or video or because it can impair the output of the software. 
However, both the patient and organization will suffer enormously from leakage of audio or video information. A healthcare app development company or a mobile app development company can help you in easily developing a HIPAA compliant telemedicine app that is secure.
Secure network connection
It is necessary to encrypt the files, but not enough to secure them. Another really critical part of telemedicine and HIPAA partnerships is a stable link. 
This could lead to the contact between patients and physicians using the safe in-app link, which is not a choice for skype, email, SMS, or other third-party providers (when they don't give the security requirements for HIPAA). 
Some companies provide special arrangements to include the protection and legal liability required for the transmission of HIPAA-complying data. Microsoft, for example, will deliver BAA doctors (business associate agreement). Furthermore, being based on a third-party provider does not make many entrepreneurs happy. 
The use of stable in-app message solutions is also popular for telemedicine platforms. In addition to the benefit of providing full ownership of in-app connections, such a solution reduces costs relative to third-party providers in the long term.
Robust data security measures
A healthcare facility would not require temporary details in the future. For example, findings of certain studies that are of little significance after a certain amount of time or reports about people that have died or are not using your services longer. 
Removal of that information as soon as it's outdated is a good practice, which saves you space on servers and makes managing and maintaining datasets simpler. You can also check databases for duplications of data that could arise as a result of device glitches, inadequate maintenance, lack of back-end architecture, or just human errors.
Unnecessary device copies of the information not only confuse servers, but they can also simplify the use and finding of places to access the data that should not be available. The construction of trustworthy database infrastructure and intuitive and fluid user flows will considerably reduce the risk of any data replication. 
Furthermore, a versatile and secure arrangement of user roles is an essential point for data management, meaning that only workers with access to certain data have access to it. It is a general law for the storage of confidential data.
Conclusion
The foundation of the HealthCare compliant app begins from the initial stage of growth preparation by developing a potential framework blueprint with a team composed of market analyzers, tech engineers, and QA experts which can be easily achieved by a healthcare app development company or a mobile app development company. Then, it's just about commitment and experience.