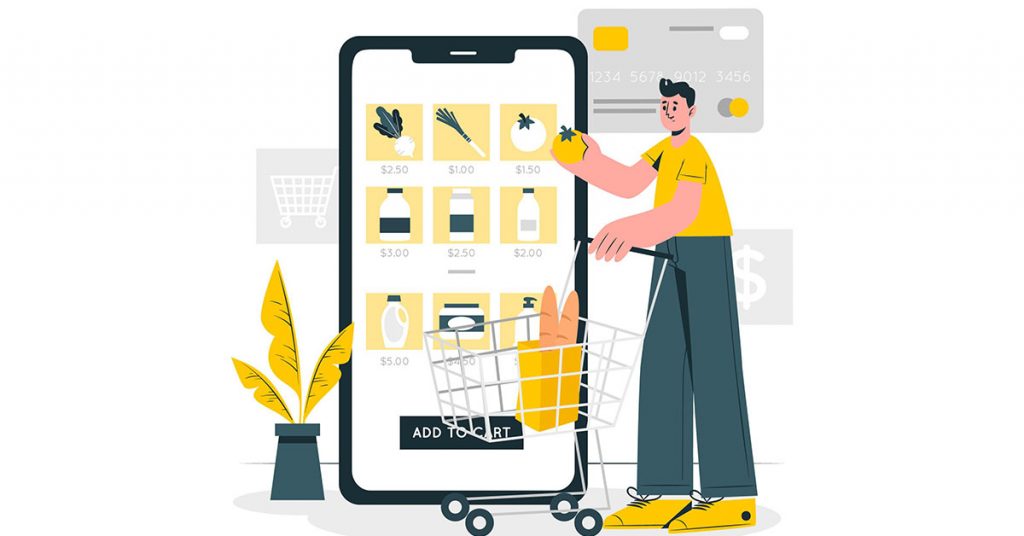 Amid the COVID-19 pandemic, the online grocery shopping platforms have emerged as champions in recent times. With the recent push towards social distancing and lockdowns prevailing in the various parts of the world, developing a grocery shopping and delivery app might simply be the best idea.
With a cutting-edge app development company that provides grocery app development services, it has become enormously easy to get on-demand app development. With players such as BigBasket and Grofers taking up the lion's share in the Indian grocery market, new entrants have emerged and now Swiggy and Zomato to have plunged into the grocery shopping and delivery domain.
If you own a grocery business and are looking to develop a grocery shopping & delivery app for your customers, this post might clear a few things up for you. Let's have a look at the steps involved in developing a grocery shopping & delivery app developed by an on-demand app development services.
Points To Remember In Grocery App Development
Mobile grocery shopping will take a prominent place in the modern world. The demand for convenience is strongly on the rise and this will push the grocery app development further. Today, we will be looking at a few points or features to remember while developing your very own grocery shopping & delivery app.
Rich UI/UX: Customers love apps that have a beautiful UI and are easy to use. Moreover, apps that have a rich user interface find more adopters as well as returning users. An app development company that provides on-demand app development services can also provide grocery app development services for your business. These development firms can build a perfect app for your grocery business and make sure that you witness a significant increase in revenue.
Product categorization: Having the ability to view products by category is very helpful for customers. This adds immense convenience and makes shopping effortless. Consumers too want seamless shopping experiences and an on-demand app development company can provide you with all the resources that are critical for grocery app development. The product categorization feature is immensely beneficial for users and not having this feature might make your app look unpolished.
Different payment modes: Your grocery app must ensure that it provides a plethora of payment options to suit your customers' needs. If you are pursuing grocery app development, you must ensure that your app needs to provide a credit card, debit card, net banking, UPI, or cash on delivery payment options to your customers. An on-demand app development company can integrate all the features required for carrying out effective grocery app development and have all the features integrated into the shopping app.
Smooth and bug-free user experience: Grocery app development carried out by a reliable on-demand app development company can build an efficient app that is not only bug-free but provides the users with a smooth experience. Everybody likes bug-free apps and they are more likely to be return shoppers and add more value to your business. A bug-free app is highly attractive and improves the overall appeal for your business.
A robust backend for the app's services: An on-demand app development company can ensure that the back end of the app is robust and runs completely in sync with the front-end, the app in this case. Firms that provide grocery app development services can design and maintain a robust back-end that helps your app in functioning effectively and providing an excellent experience for your users.
Push notification services: Android & iOS grocery app development empowers an on-demand app development company to integrate the push notification functionality in their grocery apps. Push notifications can alert your customers about new sale events and even help them in catching up with the latest deals. Moreover, push notifications can notify your users when their favourite merchandise goes out of stock and when it be back for sale. Aside from these, there are several ways through which notifications can benefit your grocery business.
Flexible delivery options: Your customers must have the ability to get delivery dates as per their requirements. This is a convenience feature and empowers your customers to get some flexibility while placing their orders. If a customer is not available at home at the apps forecasted delivery time, the customer needs to have the ability to schedule their delivery to a time of their convenience.
Final Thoughts
The grocery app development sector has grown by leaps and bounds in recent years and there is a huge potential for further growth in the coming years. If you own a grocery business, it crucial that you hire an on-demand app development company and get started with your grocery app development.