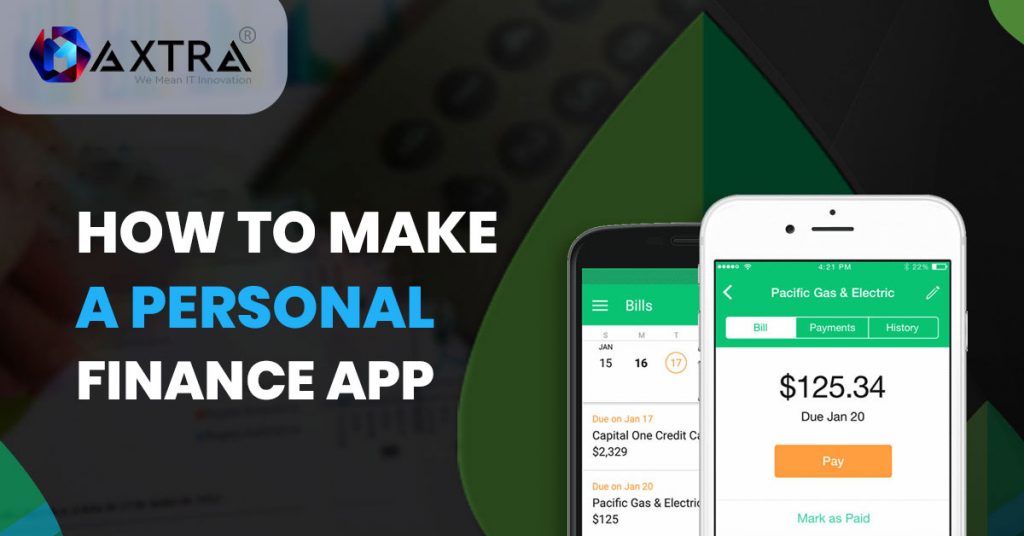 Have you ever analyzed why do you need Personal Finance App? Don't you think that sometimes you cross your expense budget and end up with a financial crisis?
Money management is not an easy task for most people. In this article, you will find information about the Personal Finance App and how does it help users to stick to your budget.
Today, the Finance App development company India has greatly contributed to monetary management by introducing a personal finance app. By using this particular app, you can easily get insights into all your expenditures at one platform.
It offers a system to synchronize your credit cards, bank and investments account to let you find accurate details of the expense. This application displays your expense records in the form of graphical representations through which you can easily track spending and earnings.
Personal Finance App plays an important role for those people who are not aware of tips to manage their budget. Generally, the mismanagement in the monetary aspects is likely to give rise to financial issues. This is why it is significant to have a source that may let them track their daily expenditures and their deposits into their bank account. So people can better their financial status in a hassle-free way.
Read More :
 How Finance App Development Company builds Personal Finance App?
In the current time of futuristic technologies, most Finance App Development Company is following easy-to-implement strategy to create finance app. Their main objective is to build a trouble-free platform for their customers.
Finance App Development Companies prefer to execute these steps to develop a convenient personal finance app.
 1.First of all, they focus on design and prototype: Usually, they start with planning and creating the attractive design of the finance app. They choose the micro animation elements to build appealing UI and UX design with customizable graph-based statements. On the other hand, prototyping is a cost-effective approach in the app development process. 
 2.Secondly switch to the MVP process: This process includes the coding part where developers add relevant features to the application. They work to create a platform to allow users to track and manage their monetary budgets effectively.
Finance app development organizations believe in working with professional app developers who know how to make robust finance applications for their customers.
 3.The third step of app development includes the integration of advanced security: Security is the most important factor of finance app. Thus, app development companies instruct their developers to follow some of the crucial points like:
Including the two-authentication and bio authentication features.
Use of protected connections and rules such as HTTPS and SSL.
Keeping data away from the access of unauthorized people.
Implementing the bank-grade data encryption factors.
4.The fourth step includes the testing process: It is one of the most important steps of the app development process. Testing is the process to ensure the successful development of the app that is now ready to serve the purpose at a personalized level. Thus, every finance app development company must carry on testing work to make sure all is good. 
 5.Launching initiative is the last process of the app development: After the testing process gets over, the app Development Company may immediately launch the app for the introduction.
However, it is crucial to keep the app updated to keep users satisfied with the functionalities. With the help of professional strategies, any finance app development can achieve its business objectives efficiently.
 Explore essential features of the Personal Finance App:
A personal finance app is developed basically to track expenditures. Since everyone is not aware of the significance of managing their budget. The application educates people on how to handle their extravagance and become frugal.
The appreciable aspect is that the application holds various essential features that are required for users' convenience. You can seek out these features in Personal Finance App:
Examine the economic statistics and generate the analytical statements of a specific period.
Inspect all activities and focus on previous records as well.
Offers the option to search for some required data of finance through category and description.
Provides users with the facility of restoring data on Google Drive, Cloud, and Dropbox.
Have the section to track expenses over food and other essentials.
The availability of the user's permission and account login interface.
Presence of the specified profile section.
Categorize the investments such as mutual funds, real estate investments, and stocks.
Easy to sync to the bank account and account cards to track all finance information at one place.
Holds the security factors like protected passcode.
What are the advanced features of the Personal Finance App? 
Finance App development company in India encourages the inclusion of advanced features with personal finance app for the best experience. You can find some of the amazing features in this section:
 AI-driven financial coaching: The use of AI-driven technology is the most efficient aspect of the personal finance app. It enables users to analyze data through which they may receive relevant insights.
Apart from these, AI-driven financial coaching lets users realize the real-time storage of money. Thus it makes the personal finance app unique from other applications related to money management.
 Gamification: Customer engagement with the application is the most crucial aspect. Therefore, app development companies believe in adding Gamification with the financial budgeting app. It motivates users to focus on saving their money.
 Personalization: It is another important factor to make users happy with the personal finance app. These specific features allow users to use their app as per their needs. Since everyone has different needs and hence people want to have a platform where they can easily customize the system.
 Takeaways:
Bank account tracking provides you with a concrete idea about your budget maintenance. People like to invest their hard-earned money to make profits. Therefore, they need to have a system that may offer them accurate data of their financial investment and their other expenditures.
Personal finance app does not only makes users familiar with their expenses but also teaches them to control over unnecessary spending.