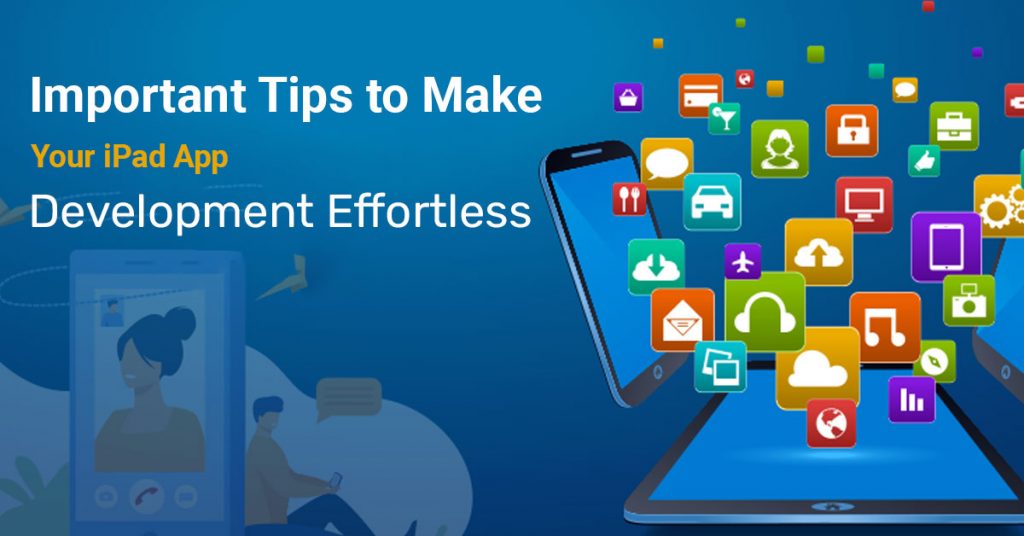 Providers of effective and skilled mobile app development services are no longer a complex chore, but they still need competency and expertise to deal with. It's getting more difficult for iPad app developers to transform a unique idea into a business-oriented software. In this post, we've shared some useful advice that will help you design an iPad app quickly and easily. A few helpful hints might help you get started on the development process without any more alterations or uncertainties. 
Make Sure You're Abreast of The Latest News 
It is essential to include the most recent features in your app if you want to make a good first impression. However, in order to do this, you must be up to date on the current news. Make your app fun, dynamic, and user-friendly by following the current Mobile App Development trends. 
Consider your app from the point of view of your customers to see what more you can provide to make it more appealing and useful. In order to draw in customers, businesses must constantly update their products and services with the latest innovations. In order to win the competition, it's important to keep up with the latest trends. Stay up to date if you don't want to miss the train!
Read More:- Things You Need To Know Before Hiring a Mobile App Developer
Make a Plan For The Creation of An App. 
When deciding to build an app, it's critical to consider the app's purpose, scope, theme, user interface, and any other relevant factors. If you want a profitable iPad app, start from scratch and devise an effective plan. 
Determine the purpose and scope for features and functions of an app, as well as the attractive and appealing theme associated to the idea of an app by defining the goals and scope for features and functionalities. Having a well-thought-out strategy for an app's design and development is essential before contracting an iPad app development company India.
Understanding all the elements that support your app's goal is critical to ensuring that the demands of your company and customers are met. There are several considerations that must be made when establishing an app for a company's internal or external procedures as well as when designing an app for its clients, such as how to provide them with better services in a more efficient way. 
Select The Most Recent Release of The Platform. 
Always use the most recent version of the development platform. There are several factors to consider while developing a new mobile app. The most current features will be incorporated in your iPad app as a result of this. Your app's overall speed and functionality would improve as a result of a collaboration with an iPad app development company India. 
To prevent any misunderstandings, be sure to address this issue with your iPad app development company in advance. You'll fall behind the times if you don't prioritize using the most recent platform. It's unlikely that you'll be able to utilize your app effectively to develop your company, even if you have one.
Take advantage of The Finest iPad App Development or iPad Mobile App Development Company Available. 
Depending on whether you're developing for iOS or Android, everything from the coding languages to the testing methods and tools will be different when it comes to mobile app development. 
Consider hiring an expert iOS app developer or iPad application development company that has a thorough understanding of the operating system, programming languages, utility tools and software required for deployment so that they can provide you with a successful app in addition to a variety of other value-added services. 
When it comes to developing an iPad app through an iPad app development company India, it's best to work with a business or developer that has a proven track record in iOS development and offers reasonable prices.
Make Sure You're Up To Date On The Most Recent Innovations And Tools. 
It's essential to be well-versed in the programming language's accessible features and functions if you want to create an app with cutting-edge functionality. It's also a good idea to think about how you might make the app more user-friendly and convenient for its users. 
In order to avoid seeming antiquated, your app should provide more than the most basic functions. You must do extensive study on the latest mobile app development trends, as well as the expectations of the end-users. Advanced functionality must be made beautiful and inviting in order to encourage your customers to utilize the service on a regular basis. 
Consider The Compatibility of The Devices You Want To Use. 
In order for your app to look well across many platforms and devices, it must have a consistent look and feel. As a result, clients lose interest in your app if your software appears different on iPads with various versions, since they are used to seeing the same appearance on all devices. When developing an iPad app through an iPad app development company India, interoperability with a wide range of devices and operating systems is critical. 
Identify and Connect With Your Ideal Audience. 
Apps may only be considered successful if they have gained a following in the app store. As a result, your high-end iPad app development project through an iPad app development company India will only be beneficial if it reaches your intended audience. 
To make an app successful in the app store, app optimization and marketing are essential. Your app will have a better chance of attracting new consumers if it ranks well in the app store's search results. Your app's marketing must be done with proven plan and competence to keep up with the ever-changing search engine trends. 
Read More:- Mobile App Development Trends 2021
Conclusion 
Expertise and experience are required to design an iPad app that is lucrative. Choosing a mobile app development business that offers a wide range of services, from app creation to marketing, is essential to making your app development process simple and efficient. 
It becomes critical to be knowledgeable about the platform on which you want to build your app. The ability to master complex programming methods, in-built features and other software, bug-free testing, and the prerequisites for an app to be released on the app store are all important considerations. If you keep these helpful hints in mind, you'll be well on your way to creating an iPad app that's both entertaining and lucrative.