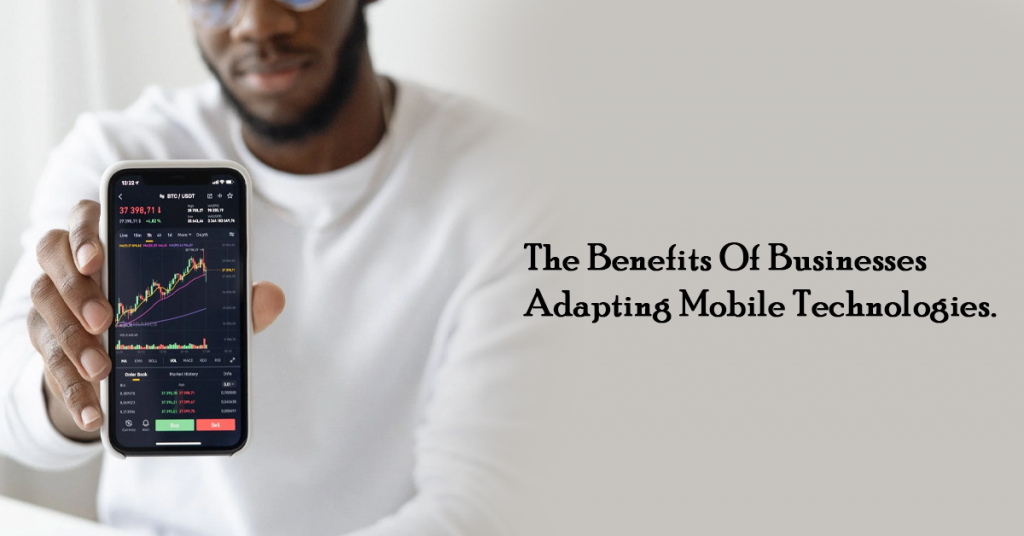 Mobile technology, and the cloud-based applications that support it, has emerged as one of the most transformative forces in modern industry. Despite its status as an industry disruptor, mobile technology backed by mobile app development company has also assisted companies in adapting. Mobile technology is expanding market opportunities, from seamless messaging to expanded access to business resources. 
However, not all company has been able to take advantage of these programs, and some who have adapted to some of them may not have completely realized their benefits. Here's where to begin if you're curious about other ways you might achieve a competitive advantage by using mobile technologies.
Read More : Is Mobile App Mandatory For Your Business In 2021?
Benefits of Mobile Technologies for businesses
Mobile networking system advancements have had a profound effect on how companies collaborate, work, and connect with consumers. Here are ten ways that mobile technology is transforming the industry as denoted by a mobile app development company.
Faster Scaling Enabled By Mobile Technologies
To run properly, mobile technology often depends on cloud-based services. When users interact with one computer, the data they generate is immediately uploaded to the cloud. This frees up available space on mobile devices, allowing them to operate more efficiently. 
This dependence on cloud-based computing, on the other hand, makes it much easier for companies to grow rapidly. When data is stored in the cloud, expanding capacity may be as easy as updating a subscription plan—no expensive hardware or infrastructure expenditure is needed. When such investments are made, they would necessitate fewer local deployments so most of their data and resources are cloud-based.
Read : Top-Rated Mobile Application Development Companies in South Africa
Less Reliance On Paperwork
A growing variety of applications are aimed at reducing paperwork. Mobile technology has now advanced to the point that it has rendered paper obsolete in nearly all areas of industry. Mobility aims to minimize paperwork by allowing organizations to view and exchange files and records at any time and from any place without copying, faxing, or mailing documents.
Enhanced Work Flexibility
It's wonderful to be able to access your services from anywhere using your laptop, but doing so also necessitates signing in to different cloud apps, some of which may not be suitable for your needs. Cloud applications have limitations, one of which is that they often have to run lighter web services with fewer capabilities. Desktop applications, on the other hand, have a more versatile feature collection without opening up browser tabs. 
These advantages are combined with a remote workspace, which creates a private cloud platform for specific enterprises. Employees will log off their workstations in the office and log back into their home machine and see all of their files exactly where they left them.
They may, of course, do the same with their laptop. In reality, a remote desktop hosted on a private cloud environment is the ideal option for field workers who need computer access in harsh working environments. With a remote desktop, an employee could drop their laptop into a river and get their whole desktop up and running on a new laptop in a matter of hours.
Ability To Work Remotely
About 95% of American employees claim they would like to work from home. In response to the increasing demand for telecommuting, more than 40% of American employees say their employer has some kind of work-from-home scheme, including up to once a week. 
This current concept of job has been fuelled by mobile devices. Employees are no longer confined to their workplaces to connect workplace programs, records, networking equipment, or even the company's network as a result of the effect of mobile devices on business.
Seamless Business Communication
Workforces became more dispersed than ever before. Getting in touch with others while they are operating in various time zones can be a big obstacle for teams working from offices in different cities around the world. 
Mobile chat applications built by cutting-edge mobile app development company like Slack, WhatsApp, and Google Hangouts, as well as heavy-duty conferencing platforms like Join.Me and GoToMeeting, have helped teams keep in contact and from far-flung corners of the globe. These collaboration strategies keep organizations running at optimum productivity while simultaneously strengthening department and team teamwork.
Enhanced Customer Experience
With the and value of mobile devices in our lives, companies have built mobile technology strategies to establish and sustain partnerships with consumers and future clients. Retailers now have access to a different market thanks to mobile applications. Customers will also provide reviews on goods and services in an easy and convenient manner. These immersive approaches aid in maintaining a contact platform with clients, which improves service and productivity.
Operational Optimization
The smartphone trend has made company processes more efficient and faster than ever before. Mobile technology backed by a mobile app development company has made it easier to get around. For example, a critical file saved in the cloud may be accessed from any location. This enables customer service executives to view this data at any time and keep up to date with any customer needs, allowing them to deliver optimal solutions to customers. As a result, mobile technology backed by a credible mobile app development company aids in the acceleration and improvement of operations.
Leveraging of The Advertising Revolution
Customers can be approached at any time and from any place. Your consumers can learn about your new deal no matter where they are. Smartphones can also be used to import coupons, browse for goods, compare costs, and do a variety of other things. Remember that 80 percent of consumers want to see product content that is tailored for their devices. 
That is why it is important to ensure that the website is mobile-friendly. To capitalize on mobile technology, you just need to consider how it impacts your industry to apply innovations to enhance your operations and services while increasing sales and revenue.
Read : Reason Why Maxtra like Convert All Excuses To Execution
Conclusion
One thing is clear about the current state of mobile technology: at the current pace of transition, we should expect more technologies to appear next year. Businesses should be mindful of the most recent industry choices so that they can determine whether to be early adopters. 
Mobile technologies will assist companies in becoming adaptable as the market evolves. Although chasing after a new trend will rapidly deplete capital resources, investing in the right cloud solutions can reduce these costs in the long run.