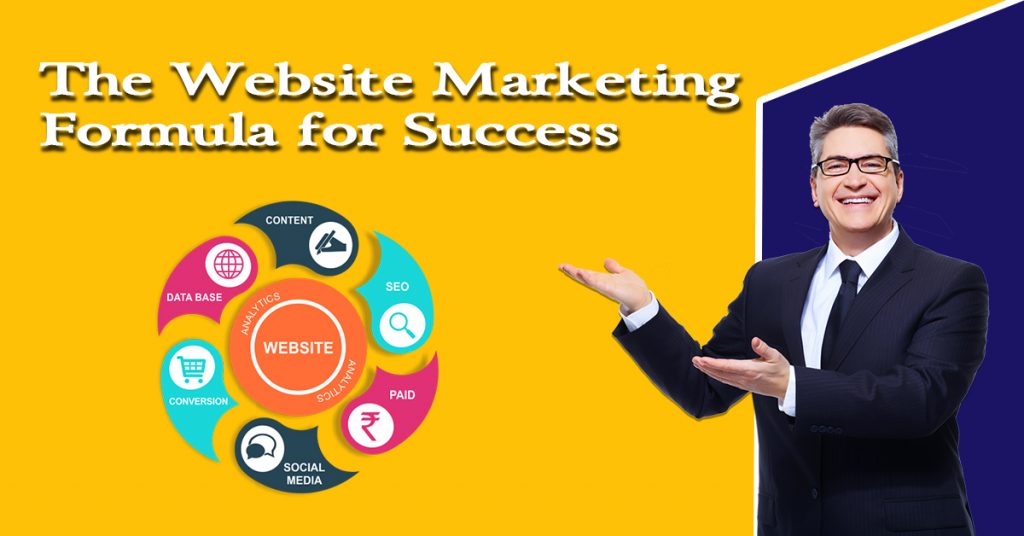 In digital marketing, goods and services are promoted by means of digital channels such as search engines, social media, and apps as well as websites and other IoT devices such as TVs, radios, watches, and other gadgets. 
Website marketing is the process of strategically promoting a website in order to raise awareness of it and get targeted visitors to it. To effectively market a website, you must first determine what your target audience wants and needs. There's no denying it. 
Customers are looking for answers to their issues on Google and digital marketing service can help them in this regard. With interactive dashboards and reports, a digital marketing service provider that provides search engine optimization service gives you the keys to your data's potential. 
You have an incredible chance to build relationships with prospective consumers and convert them into purchasers (and fans who become loyal to your brand). The good news is that this is the case. The bad news is that you'll need a web marketing plan, and coming up with one that's effective may be difficult. 
How to Create a Winning Online Marketing Strategy in Seven Easy Steps 
The simplest definition of a website marketing strategy is a road map for achieving your company's objectives. As a starting point, a SWOT analysis marketing framework may help you gauge how well your company serves its consumers and competes with its rivals. 
Creating a website marketing plan certainly involves a lot of moving pieces, and a lot of the information available on the subject is confusing or contradictory. A digital marketing service provider that provides search engine optimization service is the spot for you if you're feeling overwhelmed. By the time you've finished reading this, you'll know a lot about the steps involved in developing an effective website marketing plan that can help you expand your company. An attractive, engaging, and customer-converting website. 
Step 1: Get To Know Both Yourself and Your Target Market. 
What do you do differently than your competitors that offer the same or comparable products? Another way of putting it is: Why should people choose you? What are the desires of your clients? What are they hoping to gain from it? What do people hope to discover when they look for your service on the internet? What are they trying to stay away from? Consider this for a moment. 
If you're not sure how to respond to the questions above, talking to a neutral third party like a digital marketing service provider that providers search engine optimization service may be very beneficial. The ability to understand branding as well as digital marketing. 
Step 2: Take a Close Look at Your Website 
Take off your rose-colored glasses, it's time to see the reality. Take a moment to reflect on your morning quest while you were looking for something. When you arrived at a website after clicking a link in the search results, you almost certainly had an opinion about it. Did it dawn on you straight away that you had made the correct decision? How well did you understand this page based on what you saw, read, and felt? 
If you're unsure if your website portrays you in the best light, consider hiring a professional search engine optimization service to take a look. The appropriate questions will be asked to discover what your website needs to become a magnet for your target market if they are reliable. This includes your site design, psychology of color, the way your information is presented to your audience, the technology on which your site is based, and how you rank in search engine results. 
Step 3: Use Google To Your Advantage 
Following the completion of Steps 1 and 2, you can start using the amazing traffic-generating potential that comes with Google AdWords through a search engine optimization service. Traffic. Is there a better term to describe what I'm feeling? No, but only if the kind of traffic is the correct sort. Targeted traffic, as the professionals would say. 
Step 4: Produce Engaging Content People Will Want To Read and Share 
You'll recall that in Step 3 I said that your visitors are there to view your content. Things really start to heat up at this point. Visitors to your website are filled with optimism, you see. To gain their trust, they want you to provide them with useful and interesting information that is also simple to comprehend. Content that assists people in finding solutions, resolving issues, and generally feeling better. 
Step 5: Develop a romantic relationship with social media platforms 
Many people think that in order to profit from social media marketing, you have to be active on all of them. The platforms where your market collects and distributes information are where you want to be engaged. Take a look at the return on investment you're getting from your current social media efforts if you're currently active on them. 
Step 6: Embrace Email's Power 
Email isn't going anywhere, despite what you may have heard. An email is still a powerful tool for fostering long-term, mutually beneficial connections with customers. It's often one of the top channels for a wide range of industries and businesses. That is if you approach it thoughtfully and with the desires of your readers in mind. So, when you write an email, you're invading someone else's personal space, and you should treat that with respect. 
Step 7: Use Pay-Per-Click Advertising to Increase Traffic 
Why are there sponsored advertisements? Some say it takes months to see benefits from content development and marketing through a digital marketing service provider. This has been well worth the wait, don't you think? These techniques produce a lot of traffic because, like compound interest, it increases at an exponential pace. However, it's possible that you'd like to see results sooner rather than later. Buying advertisements may be very profitable if your typical client spends a lot of money with you, and if acquiring that consumer costs you a lot of money.