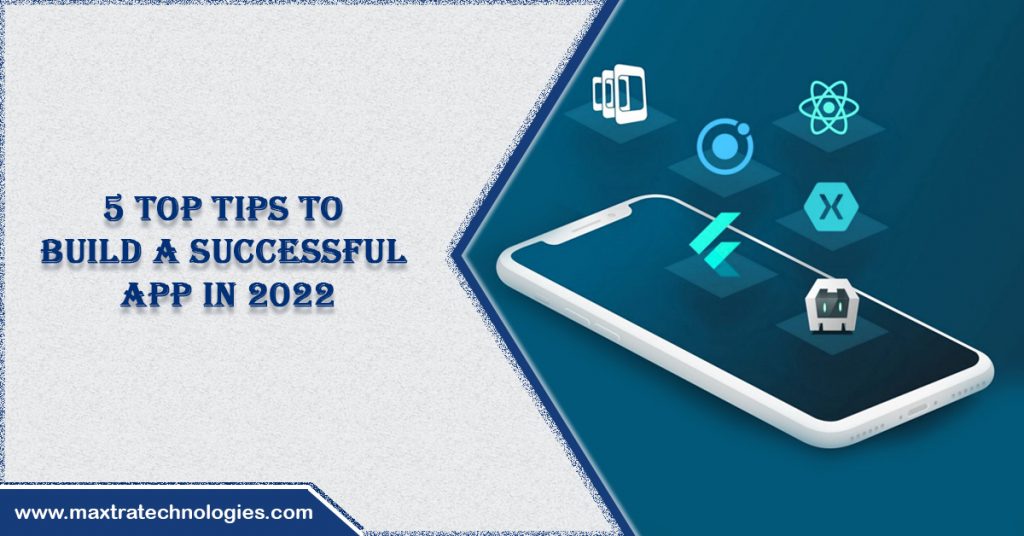 Developing a mobile app from the ground up takes a considerable amount of time. When it comes to applications, we have high standards. We want them to load quickly, be enjoyable to engage with, and be simple to use. 
Mobile application development through a mobile app development company is no exception to the rule that businesses are constantly on the hunt for the newest technological developments to remain ahead of the competition. While this may be the case, experts will always disagree on whether or not business mobile apps should be used against the download rate. 
There's no denying it: the mobile age has here. The number of mobile users has surpassed desktop users, according to the Communications Market Report. These figures indicate that if you don't have an app, you may be missing out on a significant portion of the market. The group of people that just enjoy doing business in this manner. Here are 5 tips for mobile app development through a mobile app development company in 2022.
Don't Try To Create Something That Has Already Been Done. 
Seriously. Yes, there were a lot of individuals with the same issues. App templates developed by industry professionals will decrease your development time even if you are not an expert in building mobile applications. Using a template for a mobile app is a great way to jump-start your coding career. 
With just a few lines of code, it's possible to have an app up and running quickly. Particularly when it comes to templates that follow the most recent user experience and user interface (UX/UI) trends. Nowadays, the only thing that separates applications is the level of satisfaction they provide to their users (UX). 
Create a Prototype As Quickly As Possible. 
Time is a valuable commodity. There are several stages involved in developing an application, including development, design, business analysis, and testing by a mobile app development company. Finally, you may find yourself in a terrible situation if your customers simply do not desire your app. It does happen from time to time. In my opinion, you should be ready for anything. That's why a prototype has to hit the market quickly. 
Waiting for a fully-featured app is a waste of time and money. You'll soon find out if users are ready to buy if you focus on the app's core proposition only. You'll get a ton of valuable feedback from your paying customers once they do so. Many applications may be required to succeed and stay ahead of the competition. You'll save a lot of money by purchasing a template once and using it for many applications. 
Don't Try To Do Too Much With Your App. 
It's wonderful that you've finally built your own app through a mobile app development company, but if you expect it to be your sole app, you may be setting yourself up for disappointment. An application's effectiveness is maximized when it concentrates on one or two key aspects of a problem or task. And getting actual consumer feedback is the only way to find out. 
Gather Feedback For Future Enhancements 
Always be on the lookout for ways to enhance your app. Know your audience, pay attention to what they have to say, and keep an eye out for anything that may be of importance to your target audience. Resolving issues raised by customers will increase trust in your brand and increase customer loyalty. If you want to improve your mobile app, be open to outside input and take it into consideration. 
Create A Single App For Both iOS and Android Devices. 
What are the chances of getting your prototype sooner if you use this method? React Native is a Facebook-developed technology. A lot of people these days are utilizing it, and there are many, many more. Large companies like Facebook, Airbnb, and Uber are now using React Native to create new mobile apps. 
Most people are familiar with the rise of cross-platform programming, which lets programmers use the same code on various mobile operating systems, saving time and money in the process. Now you don't have to create two different applications, one for iOS and the other for Android devices and you can utilize your mobile app development company effectively.
Future Prospects of Mobile App Development
A multi-experience approach to app development is predicted by Gartner. Developing apps is no longer enough for businesses; they must think outside the box in order to satisfy changing consumer demands. 
As businesses look to the future for new solutions, conversational apps may be the best option they have. In order to provide a seamless user experience, mobile app development must be supplemented by other technologies like artificial intelligence (AI), cloud, wearables, and the Internet of Things (IoT). 
However, the enterprise skill gap is growing, and developers must acquire new talents to ensure the success of businesses' diversified development plans. With Google indicating that business websites should adopt a mobile-first strategy, demand for mobile apps is on the increase, but in a different manner from how they were created a decade ago. 
The following tips will give you a better idea of how well-known companies handle corporate mobile app development. 
Increasing income and improving the customer experience by focusing on productivity-based applications 

Taking into account the input from users while creating new software 

By investing in the creation of low-code applications,
Conclusion
According to estimates, the global mobile app industry would be worth $63 billion by the year 2021. As a result, developing a mobile app is no longer optional for today's business. 
Mobile apps often increase a company's income in two ways: first, since most individuals have a mobile device with them at all times, applications enable consumers to place repeat purchases while they are out and about. 
Using an app instead of visiting a website or a web app makes it simpler for customers to make purchases. Additionally, an app can provide a company with a new source of advertising revenue. 
Without the need to converse with anybody or place any calls, smartphone users may read basic information, make a decision, and make a transaction.