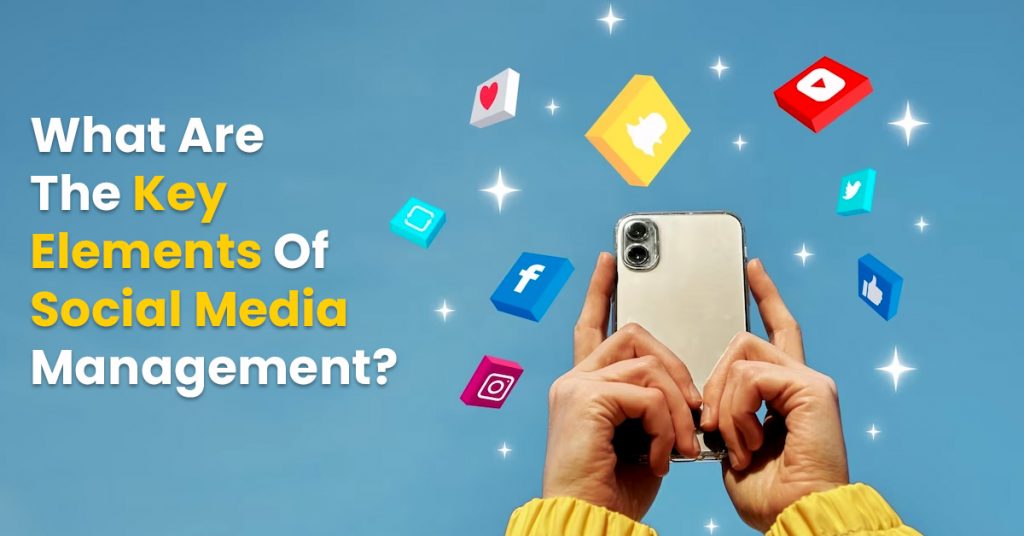 Social media is becoming an essential component of every company's marketing plan. The use of social media is a fantastic opportunity to engage with your target audience and develop your brand, with millions of users on sites like Facebook, Instagram, and Twitter. However, maintaining social media accounts may be difficult and time-consuming. It's crucial to have a clear social media management plan if you want to make sure that your efforts on social media are successful. The essential components of social media management can support in becoming the Best Digital Marketing Company. 
However, if you are looking to find key elements of social media managements, you must refer to the guide below. Here, we are going to explain some effective and dependable elements so that you can achieve a great success in the industry. So, it is a request to keep reading the blog post in order to fetch every essential piece of information about the same. 
Top Ten Key Elements Of Social Media Management
Plan & Strategy
A well-structured strategy is one of the initial components of social media management. However, you will have to define your social media objectives, target market, and key performance indicators. Furthermore, this will enable you to target the appropriate demographic and help you develop a social media plan that is in line with your overall marketing objectives.
You should analyses competitors and market trends to develop a successful social media strategy. Furthermore, this will assist you in finding market openings and gaps that you may use to your benefit.
Creation of Content
The next step in the process of social media management is content generation after you've established a social media strategy. To establish a strong online presence and draw followers, you must produce interesting and pertinent content. Your material should be customized for your target market and express the tone and principles of your company.
However, you should build a content calendar and schedule your posts in advance if you want to consistently produce high-quality material. This will guarantee that you continually post pertinent material and maintain audience awareness.
Community Control
Community management is yet another crucial component of social media management. Engaging with your followers and answering comments and messages are all part of community management. Further, this demonstrates to your audience that you appreciate their views and opinions and helps to establish trust and credibility with them.
Setting up clear rules for responding to comments and messages will help you manage your social media community with greater effectiveness. In addition, keep an eye on your social media sites frequently to make sure you're promptly answering all questions and comments.
Reporting and Analytics
Analytics and reporting are another essential component of social media management. However, analytics may help you make data-driven decisions and can give you useful insights into how effective your social media approach is.
Furthermore, you should monitor important metrics like engagement, reach, and conversion rates to accurately assess the performance of your social media initiatives. To enhance your effectiveness, you should also constantly evaluate your social media analytics and modify your plan as necessary.
Top Digital Marketing Firm:
Maintaining your social media presence may be time-consuming and staying current with the latest techniques and emerging trends can be difficult. For social media optimization services, many businesses turn to the top digital marketing agencies. However, the top digital marketing agencies have the knowledge and tools necessary to design and carry out social media campaigns to your company's objectives.
Optimization For Social Media
:
Services for social media optimization are available to assist companies in managing their online presence. However, these services frequently include developing social media strategies, producing content, managing communities, and providing analytics and reporting. Furthermore, the best social media optimization services can help businesses increase their online visibility, interact with their audience, and drive sales and traffic too.
Brand Observation
The management of social media must include brand monitoring. It entails keeping an eye on social media discussions about your company, its goods, or its services. However, this enables you to respond to any negative comments and helps you be aware of what others are saying about your business.
Furthermore, you must use social media listening tools that will keep track of brand mentions, sentiment, and engagement if you want to properly monitor your brand on social media. A procedure for promptly and professionally responding to criticism or complaints should also be established.
Worker Advocacy
A rising trend in social media management is employee advocacy. It involves providing your staff the authority to share information on social media and advertise your business. However, this can broaden your social media audience, enhance engagement, and strengthen the legitimacy of your brand.
Further, you should create a social media policy outlining rules for employee participation if you want to utilize employee advocacy. As well as training, you want to give your staff the tools they need to properly distribute material on social media.
Crisis Control
In order to control undesirable publicity or brand crises on social media, crisis management is a crucial component of social media management. It's essential to have a plan in place for an immediate and effective response because a crisis can easily get out of hand on social media.
However, you should create a crisis management strategy that details the actions you'll take in the case of a problem if you want to manage a social media crisis successfully. A specialized crisis management team that can act fast in the event of any negative press or crises on social media should also be in place.
Mobile Optimization
It has become a crucial component of social media management as more and more people access social media on mobile devices. To guarantee that your audience has a consistent experience across all platforms, your website and social media content should be mobile-optimized.
However, use mobile-friendly images and videos and make sure your information is accessible on small screens if you want to make sure your social media content is optimized for mobile devices. Furthermore, you should also use a responsive design for your website and make sure that your pages load rapidly in order to optimize it for mobile devices.
Wrapping Up: 
In conclusion, you will surely find that social media management is an essential component of any successful digital marketing strategy. In the blog post above, you will come to know the key elements that you have to pay attention for. Furthermore, you also have to keep in mind that you can make use of the Best Social Media Optimization Services in order to prioritize social media management.