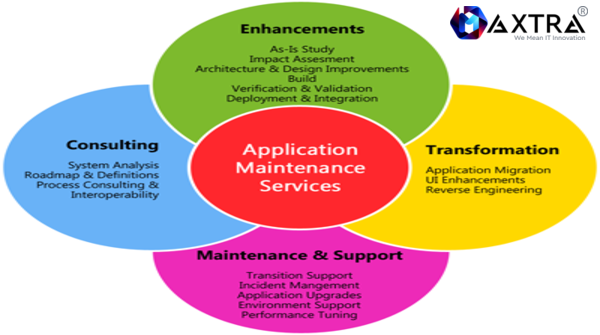 Maintenance, an essential aspect of software applications. No matter, how much robust the mechanism is. Still, possible threats loom around which may alter user's experience. Maintenance helps in combating malicious activities.This is the reason a huge chunk of investment is inpoured into maintenance process. Suddenly it becomes an inevitable process. A decade ago, talking about any app seemed like an alienated thing. But nowadays, it is difficult to envisage life without mobile apps.
"If Internet is the fuel, smartphone the vehicle, then apps are the expressway to drive business ahead in tech-laced business environment."
Apparently, maintenance process helps to do away all potential glitches. For firms, mobile app development is a key generator to meet tangible business needs. Citing the trend and strategic requirement in the market firms endeavour to produce apps not susceptible to bugs.This is the reason App Maintenance Process become a critical part in providing end-to-end user experience. Yet, results are not satisfactory, they must put one's best foot forward.
Application development and maintenance go hand- in- hand -to enable software development project.
Design to Coding, to testing improvements and debugging of software -in most effective manner.
Key facts why maintenance process is essential:
Quick Redressal of Bugs
Testing phase is the key which test bugs on a template wise form.This involves tracking the errors in the application.But sometimes, the nature of bugs is undefined, and you can't predict. This requires logging, tracking, feedback recruiting and other things.
Operating System Updates
This takes place regularly. Android adopts the same policy.You just need to update system upgrades iOS and Android are two most popular – to provide user with flexible opportunities.There may be issues. Regular app maintenance process is the key to ensure optimal performance of apps.You just need to release system updates to work in an optimal state.
Enhancement of app UI/UX
Speed matters and matters a big way— when it comes to software apps.When making any project live one should work with a sensible approach.
Need to change design, update and enhance
Do away with obsolete design—Periodically upgrading the apps helps in meeting modern demands.

Colours, text matters the most. For instance, LOGO is the brand identity so there shouldn't be any double measures during enhancement process.

Interface is the mirror of app/website the app be designed keeping user-friendliness in mind.
User Feedback
Feedback is golden as it helps in upgrading the existing software or app.These days before using something subscription is important.Retaining customer service is important.It is the user experience which invents concealed glitches. Ignoring a few of them work in short duration may but in longer run this is demanding. Though it attract some investment. So App Maintenance Cost is a critical factor –to withstand occasional glitches .Therefore, regular updates bring noticeable changes whether it is design, layout or interface to make a significant difference.
Besides, updating apps help in bringing new things via pop-up notification.