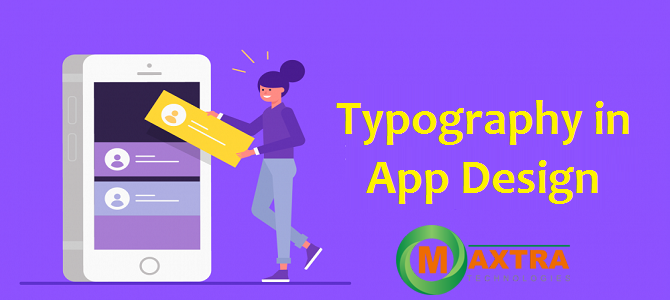 The beauty of every design that we create for mobile depends majorly on the details added to it. It is also considered as the work that needs critical attention to details. Every single element needs to be chosen thoughtfully and precisely even its typography since a minor mistake could lead to success or failure of UI/UX design.

You must be wondering how typography can be a game-changer in mobile app design, but it actually is. If you write something like ENTER YOUR DETAILS – it's more like you are commanding the users. For that matter, even if you put it like EnTeR YoUr DeTaIls – you will not sound credible to your customers especially if you are in a product-based firm.
The gist of the matter is "Typography gives life to your text".
This post will talk about the fundamental principles of typography that you should know even if you have outsourced your mobile app project to a UI/UX development company.
Those principles are:
Typography should be Legible
Legibility is all about the clarity of the text so that the user can easily read it. Even the cursive fonts are avoided to keep the app text readable and legible for the users. You can also ask the UI/UX development company to maintain legibility for your app.
Font size actually matters
When it's about mobile devices, font size matters a lot. Some people think like small screens should be complemented with small fonts, but that only makes the text difficult to read. It should be, in fact, large enough that users can read it easily.
Space is important – be it for the life of relationships or the life of your mobile app. If the right spacing will not be given, your app may look messy or cluttered to the end-users. And, you will only end up losing your potential audience. Maintain right spacing.
Content length should be minimum
Some people often confuse the content length required for desktops with the length required for mobile. You have space limitations in the mobile devices; make sure your content length is optimized accordingly to make most of it.
Cleanliness is the trend these days. You must keep your app typography aligned well with the white space to ensure maximum cleanliness and subtleness for your users that can grab their attention from the first glance itself.
Simplicity is key – we have all heard this so many times. Here, you also need to implement it. Simple fonts in your typography will add to the cleanliness and legibility of your mobile app. You can convey the same to the UI UX design company to avoid rework.
Keep the contrasting light
Just like fonts, you should also be clear about keeping the colors and contrasts light in your typography so that it looks visually appealing to you as well as your users. Would you like to see a mobile app in bright and shining colors?
This is the most-talked-about thing in the context of designs as well as typography, but many companies still didn't pay much attention to it. Make sure you are not one of them.
Blocks of app design should be appropriately designed to bring the best out of the typography and images used. The inappropriate arrangement will make it look unorganized, convincing your potential customers to change their choice.
These principles might not make you an expert designer, but it will surely help you figure out the mistakes you should avoid at all costs making your app user-friendly by all means. If you already have a mobile app, check the typography mistakes that may be keeping you away from your potential audience.
If you want to get a mobile app development with good typography, you can contact Maxtra technologies. They offer the best UI and UX design services. Get in touch with their team to discuss in detail.