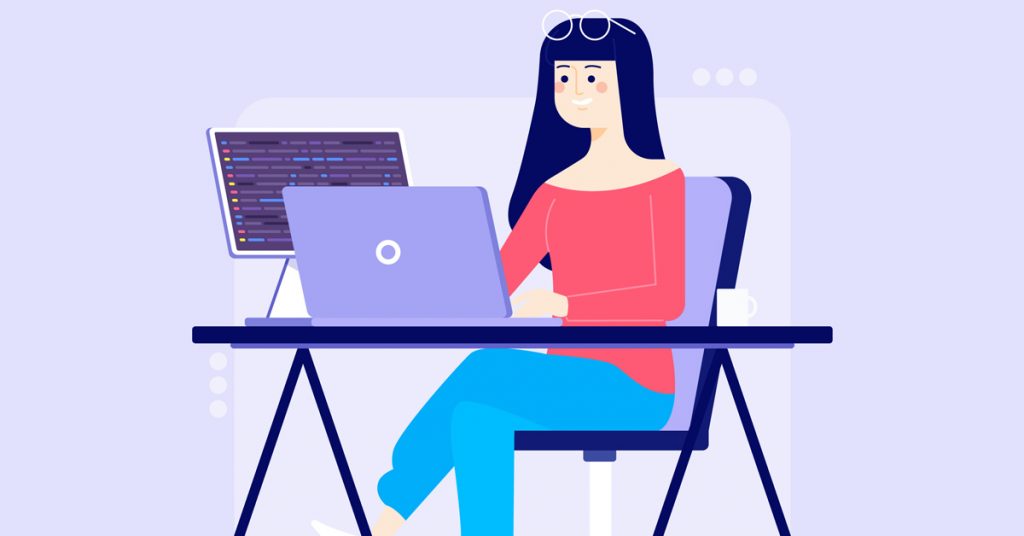 Before we proceed further, what do you understand by a Digital Workspace? Is it a space that is published digitally and allows users to work on the platform? Let's decode this concept first. A digital workspace is a new way that tech-savvy employees use to access their working environment from any device, be it a laptop, tablet, smartphone or desktop.
In other words, a Digital Workspace is an extension of the physical workplace that allows users to work from anywhere. This greatly enhances the productivity of the workforce and enable work from anywhere capability that allows firms to save costs on office space and ensure enhanced productivity.
Mobile development services were the first in line to make the switch to Digital Workspace and improve productivity. Despite the variety of definitions that are put forward, let's understand what exactly is a Digital Workspace and what are its advantages and disadvantages.
What is Digital Workspace?
A Digital Workspace broadens the idea of remote working by leveraging the already established technological infrastructure. It enables employees to work from home with the same digital resources available to them as if they were working from the office. A mobile application development company can benefit tremendously from a digital workplace implementation.
Since a Digital Workplace allows easy operational access to essential tools by leveraging cloud-based management systems, developers can seamlessly work from remote locations and boost productivity for the entire organization. Mobile development services are becoming more agile with every passing day and Digital Workplaces are the primary contributors that ensure this agility.
Advantages of a Digital Workspace for a Mobile Application Development Company
Digital Workplaces are becoming seemingly common across industries. There are numerous benefits experienced by companies that have adopted Digital Workplaces and they have become the defining factor in the success of the companies. Let's have a look at a few advantages that deploying a workplace has:
Revenue growth potential: According to statistics, adopting a Digital Workplace has numerous positive effects on the revenue stream of the company. A Digital Workplace allows developers to save time and make education more efficient. A mobile application development company can provide its developer with the flexibility of working on projects from anywhere and this is where efficiency & productivity kicks in.
Enables better service: Mobile application development services work on projects that require constant backend operations. A Digital Workplace enables developers to access the project framework from anywhere, allowing 24×7 service provision. This helps companies in ensuring that their clients are covered all the time and issues are solved seamlessly. Advanced mobile development services are already working with Digital Workspaces to provide excellent client support.
Better Employee Engagement: A Digital Workplace allows employers to gamify the training process and promote a workforce that looks after the day to day operations more effectively. This creates an atmosphere which is defined by success and since all the employees are available on the platform, it eventually leads to better engagement.
Pandemic proof workforce: In the wake of COVID-19, the whole corporate sector has deployed a work from the home strategy. A Digital Workspace can provide immense help in these trying times in ensuring that the productivity of the workforce does not take a hit.
Digital Workplaces are the way to move forward and they have numerous other advantages for a mobile application development company. Mobile development services are already well underway adopting Digital Workplaces as it leads to an effective increase in productivity for employees across the board.
Disadvantages of a Digital Workplace
Although the benefits of a Digital Workplace are immense for a mobile application development company, there are a few disadvantages that come with a Digital Workplace. The integration of technology in any sector has its own pros and cons. We already know the advantages that a Digital Workplace provides, let's have a look at a few of the cons:
Increased technology dependence: A mobile application development company may run all its operations on a Digital Workplace, there are no guarantees that the software infrastructure will run smoothly. Every aspect of employee working is technology dependent which can become a weakness in the long run. If there is an error or a glitch on the server-side, it may lead to a loss in productivity.
Increase in IT costs: As the hardware and software evolve, mobile development services will need to keep upgrading the software and maintain the IT infrastructure. The constant upgrades may also require additional training to operate the Digital Workspace and the employees too need to constantly keep up with the changes. These steps require an ample amount of time investment which may be unsuitable for an agile mobile application development company.
Risk of data theft: However robust the IT infrastructure of a mobile application development company may be, there are bound to be data breach instances that may lead to an unfortunate loss of critical data. Although mobile development services are constantly enhancing their security algorithms, there is no guarantee that the infrastructure will be hacker-proof.
Lack of Interpersonal communication: The integration of technology adds another barrier to human communication as all the interactions are now shifted to chat messages and e-mails. This has the added disadvantage of hindering interpersonal communication growth among employees. The employees may feel isolated and start losing their skill set of face-to-face communication.
Conclusion
Adopting a Digital Workspace for your organisation can tremendously benefit your company in enhancing its revenue stream and productivity. Although there are a few disadvantages of that a Digital Workspace entails, the benefits fairly outweigh the disadvantages. If you are looking to deploy a Digital Workplace solution for your mobile application development company, it is crucial that you choose the right platform that supports a wide range of working styles and ensures robust security. A Digital Workplace helps in making the organisation more agile, and high performing that directly affects the income and productivity levels of a company.