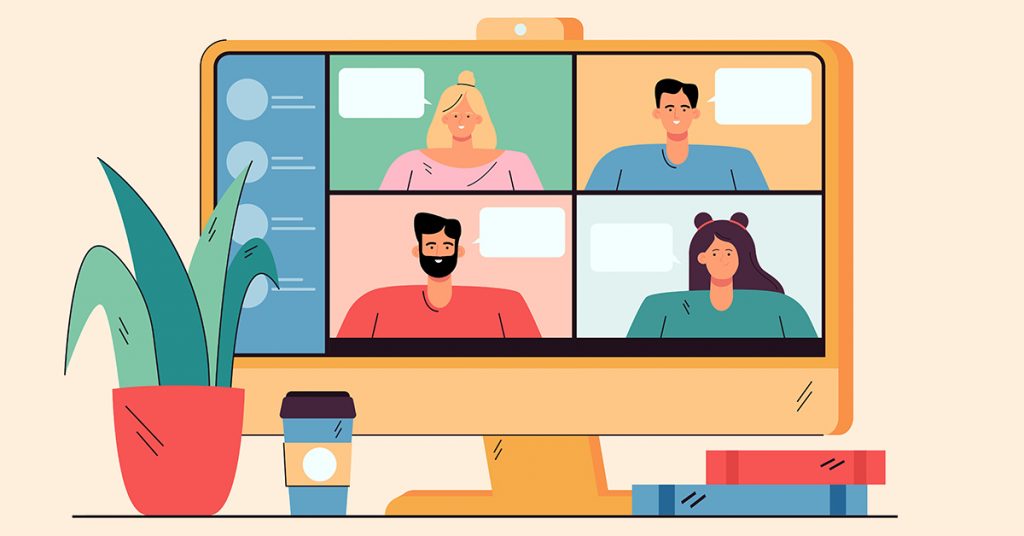 The lockdown has begun. We'd been on a voluntary lockout since the previous week, and we're still getting used to the new normal. However, leading online teams in this day and age is not the same as creating a virtual team in the usual course of operation. To deal with the case, you'll need a mobile app development company. These days, the keys to success are different. 
You must think about these aspects when handling the remote team during the lockout. A mobile app development company can help you in effectively managing your remote team in these trying times. Let's have a look at the assistance that a mobile app development company can provide in managing remote teams more efficiently in this pandemic-induced lockdown.
Read: Which Mobile Platform Should Startups Choose in 2021: Android Or iOS?
Inspire your team 
Online teams are fantastic to work with and the time saved on commuting and other problems will increase productivity, but working at home for an extended period of time is difficult. Although we discussed how to do it efficiently, the fact remains that constant distancing from the team will lead to boredom, lethargy, and inevitably lack of motivation. 
As a boss, you must keep your staff focused through these trying times. Remember that each of the team members is battling a personal war, whether it's coping with problems at home or worrying about friends and family around the world. Finally, the increasing financial difficulties at these periods will cause tension and a lack of motivation. 
Deploy effective communication techniques 
The only thing that has been confirmed is how common the virus is. Every evening, there are more figures – new patients and deaths. We appear to lose sight of those who have survived – the positive news – in the midst of all of this. When the general situation seems to be unclear, offering clarity to the staff is critical. 
There are several topics that we are still ignorant of, but let us begin with what we do know. If your business is going to be severely affected, begin developing alternative strategies and communicating with your staff about how this will affect them. These are never straightforward and have instant ramifications if the news is negative. 
Proactively communicate with your staff, and emphasize to them that you are receptive to everyone listening to you. Choose the right way to contact them based on the size of the business – a virtual town hall, mail, or easy one-to-one calls. Employees can need reassurance about the company's future and their role in it. 
These conversations require precise and clear responses, and you should never promise something you are unsure about. It is easier to err on the side of caution and refrain from speculating than to make a vow that cannot be kept. A mobile app development company can develop new communication channels for your company to facilitate seamless inter-communication.
Remember that operating remotely means you no longer have the luxury of nonverbal contact, so anything must be said loudly and clearly! Maintain clear lines of contact and set aside time each day to communicate with your extended teams. 
Make use of technological platforms 
How much do you check in with your teams? If you do anything more than twice a day, you are most likely not allowing them enough room to work. Technology leverage by a mobile app development company has aided in bridging gaps, and there are several free resources available that allow video chats and calls. 
Popular applications such as Skype, Google Hangouts, Zoom, and others make it easy to make calls and add people from all over the world. 
Most businesses employ various means of communication, including one for chat, one for audio conferencing, and one for video conferencing. I choose Slack for day-to-day communication and one video call at the end to tie things up. Our plan for the call is straightforward, and there are no deviations, ensuring that we finish on schedule and have clear action points for the next day. 
During the day, chat messages may be irritating, but I find them more helpful than emails. Email is used to communicate a topic that will have a long-term effect that will need to be retrieved in the future. 
There are many project management resources available to monitor development. Version control and code distribution were made possible by tools such as Github. You no longer need to send back and forth or wonder which version is right thanks to shared and multiuser apps like Google Sheets and storage options like Google Drive, Evernote, and others. 
Evaluate your results 
What do they have to say about goals? That it should be quantifiable. The versatility that remote working provides makes it difficult to keep things running within the constraints of time, expense, and commitment. 
As previously discussed, using tools to track project progress improves efficiency. To keep on track, one must set measurable goals. It is up to each manager to identify and assess these observable qualities, but having fixed monitoring criteria brings in the discipline required to make remote working just as effective. 
Again, communication of these priorities and metrics, as well as how they affect overall business efficiency, is important. Meeting budgets is important for sales departments because it sets the tone for the rest of the company. It is important for the technology team to execute goods within the deadlines agreed upon with the consumer in order for the activities associated with the launch to run smoothly. 
Select the appropriate metric for evaluating each team member. Be particular about achieving these goals and lead them in the right direction. Be realistic as well. Those goals cannot be feasible in a locked-down situation – embrace the facts. 
Read: How IoT May Impact On Mobile App Development?
Conclusion 
Working from home needs a lot of self-discipline. You must set the tempo of operation, tone of communication, and punctuality as a team leader, boss, or CEO of the group. Set a good example for others to emulate – the correct demeanor when coping with complex situations, how to interact with people from other backgrounds, and how to use the right vocabulary.