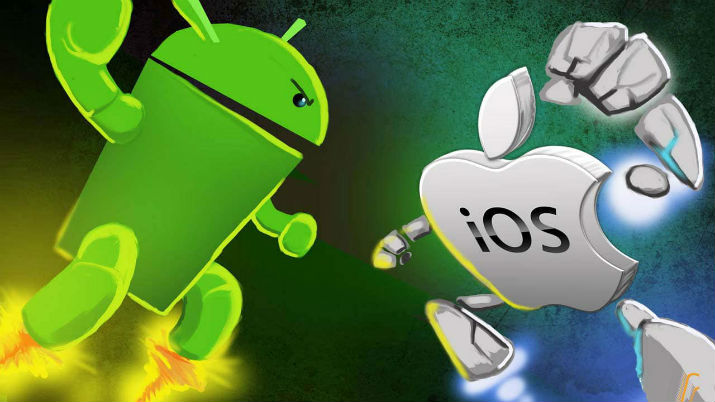 Android and iOS are mostly used in smartphones. According to latest statistics, Android dominates iOS by occupying 86.2% market share worldwide while iOS takes up 12.9%. This doesn't imply major downfall of Apple. Well, you might have got a question as to how Apple survives even with low market share. The simple and effective answer would be pricing.
The price of iPhone is probably five times more when compared to any mid-range Android mobiles. iPhones are faster, slim, stylish and secured. Android may match most of the features of iOS but not with security. Hacking and stealing data from Android mobiles is easier compared to iOS. Android is open source, and that leaves the door open for development as well as exploitation. Google is making efforts to fixing bugs and improving security standards.
Project Analysis:
Business success depends upon its audience. Almost everyone uses smartphones these days. Android and iOS ease the accessibility of business applications. Project Analysis is the basic foremost step to keep the focus on. Targeted Audience, user-friendly UI, Revenue generation model are commonly discussed in project analysis phase.
Complexity:
Mobile app developers do face this issue every time whenever they try to build an application. We all know how complex and twisting iPhone and Android development can be. We all do want to choose our fields for building up architecture, but somehow it becomes easier for the future also if you know the complexity of these developments. You all got to do some research when it comes start developing an application.
iPhone App Development: iPhone app developers are more affluent than Android app developers, and they earn around 40% more than Android users. iPhone users spend more on mobile apps or paid mobile apps. iPhone is often popular in the younger generation these days. Plus, it has more market share in the user group from 18-24 years.
When it comes to developing an iPhone app, there is a lot of learning to be done for the initial stages because they make you base strong for developing the next architecture. You might be assuming then why should I go for this development first. But, you must know this that a large number of businesses run their application first on iOS because of the target demographics. If you're looking for less viable product and have a tight timeline and budget, then you must go for iPhone app development. Also, there are a large number of startups which initially go for iPhone platform because of its lower capital requirement and more secure than Android.
Android App development: Android App developers somehow make less money than the iPhone app developers, but the market share of Android is quite significant as compared to iPhone. Hence, further job opportunities to work on this platform are more than the iPhone. As iPhone has App store, whenever you're going to build an application it will cost you some money to upload it on App store, while on Android's Play Store it is free of cost.
If you want to choose Android as your first platform to build your mobile application, then you need to target audience first which comprises a large number of Android users.
This platform is good enough to make the apps which are safe and innovative with features. A lot of features in a single application sometimes may not be possible for iPhone Apps. But if you are choosing this platform, you need to collect the right information about all the things you are working on.
Despite all these things, let us talk about the number of users who uses these devices all over the world. Women prefer iPhone over Android, and it has been seen that a large number of users of iPhone are the quite educated lot. If we talk about the security of these platforms, Android is much less secure than iPhone, and hence, a large number of Industrial/Enterprises apps are built on iOS platform.
Revenue Generation:
There might be a reason for which you are developing an Application whether it's for learning or something else but at the end, all things came across that what are the revenue goals or do you have App Monetization?
If you know, iOS apps downloads are fewer as compared to Google Play Store, but it still generates the twice the revenue of the Google Play store. This seems to be a clear point that iPhone users buy more premium applications as compared to the Android Apps.
Android user's revenue is all the way generated through the ads inside the apps and less likely with in-app purchases. When you surf a bit inside play store, you can find some apps which are free of cost and their developers generate revenue only through the ads. Even if the Android has the most significant market all over the world, still it lacks revenue in Play Store because Android users face no difficulty in using those free apps too and there is no point of buying those premium app versions.
App monetization could be more effective on iOS as they make more in-app purchases as compared to Android. If you want to make a shopping application that would be making more money as compared to the other application because they generate more purchases of the products.
Maintenance and Result:
Whatever platform you choose, you need to prepare yourself for spending more time on its maintenance also. There is the fact that Android app developers are a bit of slow in adopting the newer versions of the Android operating system and hence the development of the Apps is a bit of slow. 50% of the Android users are using the outdated version of Android OS.
With iOS, it's different, the latest version of iOS has been installed in 62% of the devices all over the world, Rest of them uses the outdated but slowly these statistics increase, and most of the iOS users have the latest version of iOS.
We cannot judge these two giants in their process of consideration; each platform has its pros and cons. I have told you just a way to start; it's on you which platform you choose and start building your applications.