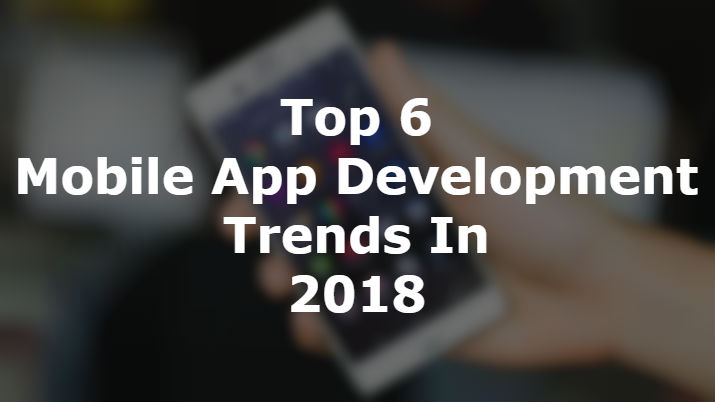 Smartphones have outdated conventional communication to become a leading source of information, marketing, and convenience. To be able to reach to consumers through mobile applications seemed an innovation but today it's a go-to marketing strategy that is carefully planned to achieve desired results.
There are about 7 Million mobile apps that have made even small businesses reach multiple markets at the same time and turn prospects into sales. Higher returns, better customer connection, and focused business plans are some of the benefits of using mobile apps for business development.
Every year thousands of new applications are added to the plethora of applications present on the app stores, some are even updated for more advanced features and better quality and service.
Let's take a look at some of the mobile application development trends in 2018:
Cloud-based mobile apps:
Cloud-based mobile application development trends will grow at an accelerated pace. Last year we saw many big companies adopting cloud-based mobile app development, well, this year we will witness a spark in this technology that almost every business organization will adopt. The cloud-based app helps in enhancing collaboration, streamlining operation at its best, and help in increasing productivity. Such App Store all data over the cloud and allows multiple users to access the same data from anywhere anytime. The ease of access and convenience has made this technology so user-friendly; It's a cost-effective way to increase productivity, cut cost and increase ROI.
Internet of Things:
Internet of things has been a significant technological change in 2017 and this year it is expected to grow even more. The IoT investment is forecasted to reach 120 billion benchmarks by 2020. Gearing up with the new way of using the internet will help your business grow abundantly. Be it iOS Seri or Amazon's Alexa both are an example of IoT, that you may be used on a daily basis. But now such technology is available to every business unit. You can build, customize and use this technology for obtaining value addition in your business leading to success.
Accelerated Mobile Page:
Next on our list is the accelerated mobile page. Yes, it's the most trending technology used to improve searches on mobiles, helping to load search pages faster than ever before, reducing bounce rate and increasing the conversion rate at the same time. This technology is also used to improve the user interface and experience and provide better search visibility to businesses. The AMP is one fantastic development by Google and probable that makes it even more valuable regarding SEO and ranking.
BOTS to the talks:
BOTS are replacing it all! Artificial intelligence has grown over the years, at a smaller scale use of chatbots has changed the customer service and response on mobile applications. The chatbot market is likely to increase at an unprecedented $6 million by 2023. Now, this is a big game-changer. The chatbots are an instant, responsive way of establishing direct communication with customers without actually having to invest a hell lot on employing people. It not only saves cost, time and effort, but the technology also helps in improving communication, productivity, and improving customer relations.
Demand for on-demand mobile apps:
The trend that channelizes your demand, on-demand mobile applications is here to stay and last! Last year we saw the growing popularity of these on-demand apps, and this year they are making it even more significant. So what are these on-demand apps? Well, these apps are custom-made to fulfill the everyday demands of the general public, like food delivery, booking a cab, providing utility services, etc. Although, this technology is gaining momentum and most of the time startups are taking it more seriously and getting better advantage of this technology. With little investment, you get to reach out to the maximum audience and set foot in the industry.
Android Instant app:
Let me introduce you to this revolutionary app that will change the way the game is being played. 2018 brings you the power of innovative technology that will help you view and use portions of apps without downloading them, or download only features you wish you use and when you wish to use. This latest technology update is a single for Android users using version 5.0 – 8.0. So the next time you what to check on a new app on the App Store, use the Android instant App and modularise any app on your mobile phones. You can even load the app in potions that you need, view the content and links on apps without downloading them, and use apps only when you need them. Business is using this technology for their benefits. Many have experienced an increase in their session time leading to an increase in conversion rate.
Profits! Profits and more profits are what you get when technology is used at its best. Every year brings with it new evolutions and revolutions that become the game changer and change the way people have been doing business.
But most importantly to make these applications work for your benefit you need the best mobile app development services. Those who understand the technology and keep themselves updated with the latest techniques and tools are a ground higher than those who keep on using old conventional technology.
Mobile app development has become an industry in itself with more than a million apps being developed every year. But how many do we have on the market? As per 2018 statistics 3.8 million on the Android app market and about  2 million on the Apple App Store. Well, the data is quite clear that not every application can make it to the market. Some are so weak that they are lost in the development phase, some may be able to run a few days or months but are not able to give returns. Only a handful of mobile apps make it to the market and reach you through app stores.
Most apps that fail are caused by a lack of development skills, unsupported formats, and the use of outdated technology. If you want your business to fit the benchmark in mobile applications, get kick-started with the most trending mobile application development services like Maxtra technologies and let your dreams become a reality.