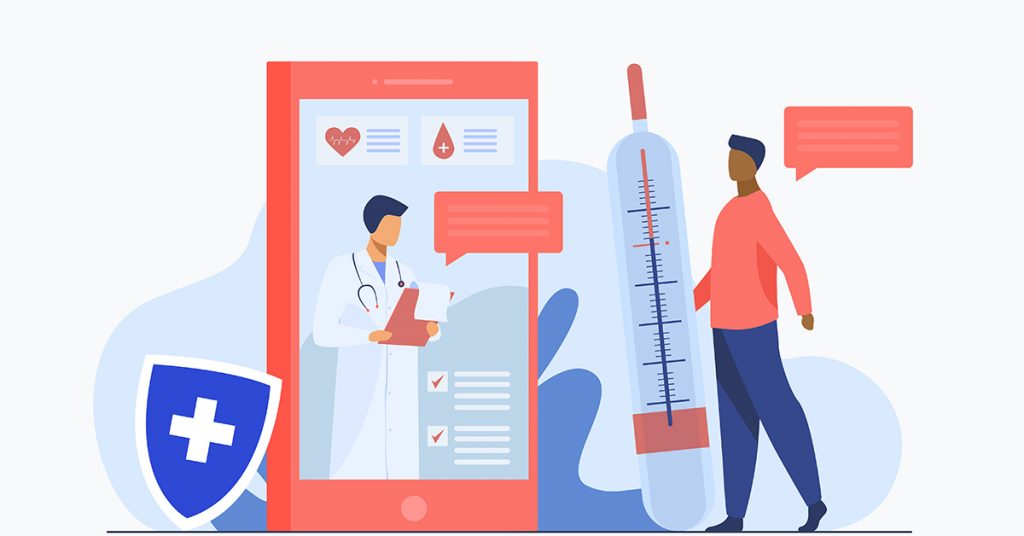 Healthcare has undergone a swift transition, like most other sectors, due to technical developments. Worldwide the use of medical smartphones has expanded, with more and more people depending on them for everything from health and well-being to medical treatments.
Are you aware that the world's medical app industry is estimated to produce sales of approximately 111.1 billion USD before 2025? So now it's time for you to spend your money if you want to build a mobile healthcare app or update an existing application. Here are a few considerations that you must keep in mind before healthcare app development.
 Top Considerations Before Building a Healthcare App
It is still important to consider some aspects of the creation of medical apps before developing health applications. This is a detailed guide for the development of health applications for creative and productive digital applications in healthcare.
Compatibility & Interoperability
Interoperability is one of the most critical aspects when operating on mHealth applications. This applies to the ability to effectively link and organizes applications, computers, and systems. A healthcare app development company can help you in developing the perfect app that has seamless interoperability.
Hospital personnel may use a wide range of tools and devices: functional control systems and EHR solutions, dermatological sensors, programming applications, and so on. You need therefore to ensure that the app you build can communicate successfully with an environment common for your health facility with all current tech applications.
Hosting is another reality to remember. The advantages of the cloud are essential: it protects data from failure by storing them on multiple servers, delivers better performance and 100% uptime. That is why a huge number of businesses focus on mobility technologies, such as planning apps.
 Regulatory compliances & data security
Security at all times, especially in the healthcare world, is a key point in app growth. A trove of personal knowledge and private information can be found in medical applications. Therefore, protection and privacy obligations cannot be disregarded.
It would not be best to retain app data on smartphones in terms of additional security measures. The storing of data on the app server originally designed for speed and effectiveness can also lead to potential data leakage, not for security purposes.
In this case, the option will be to guarantee secrecy by encrypting and using secure contact channels. Consider using end-to-end encryption to provide additional means of securing confidential health records. A healthcare app development company can build a robust app that complies with the highest security norms.
Implement the proper form of multi-factor authentication, where it is most appropriate. This additional safeguard layer will mitigate the authentication risks by securing access to the application. Do not abuse it and for doctors and workers, you don't want to stress the workflows.
Considerations for UI & UX
The user experience and architecture of the user interface are othertopics whose significance is never lost. UI / UX should attract your attention when creating a mobile health app and polishing its information. It plays a significant role in ensuring that the viewer is interested in rehearsal.
Both physicians and patients are now also using medical apps and wasting a great deal of time entering various details. Try to remove and highlight the ease of using complicated interface strategies. Keep transparent. Visuals that include plain aim elements should be appropriate and harmonious.
The most possible consequence is that people using the app has or maybe in a fragile state under care. After that, a calm and relaxed feelis the perfect message style. Choosing fonts, proportions, and colors carefully and taking a good look at overall readability will not be superfluous. Anything that flakes or induces people to waste more time behaving will eventually scare them away.
API Support
The API makes connecting and sharing data convenient for software programs. Imagine there are two banks of the river, which are connected by a bridge or an API, and between which the data flow, regardless of how these apps were first created. A healthcare app development company can ensure that you have robust API support for your healthcare app.
First of all, when you combine a new mHealth app with an existing medical ecosystem and numerous resources and software from third parties, you need APIs. Your aim is to ensure interoperability, streamline processes and ensure a better level of care for patients.
Find the options available – ensure that they are open, up-to-date, and help the developer community. Tooptimize workflows in some situations, remember that you can need to query manufacturers and suppliers for additional APIs. Notice that not all of them are available to third parties.
IoT Support
IoT technologies have been on the rise in recent years. It is not yet a hype or abstract theory that statistics prove. The health sector IoT in Healthcare will cross US$ 411.53 billion by 2026 based on the review of studies and data with a CAGR of 19.3 percent.
Health today is abundant. In the global health and well-being market, more people of all generations are living a healthy lifestyle. Growing awareness of public health means greater demands for health services. A healthcare app development company can help you build an advanced app that comes with full support for IoT.
IoT equipment is a safer option here, quicker, and even cheaper. It leads to time saves and simplifies recovery through online control and healthcare, better chronic illness, or intelligent hospital solutions.
Conclusion
Developments of mobile devices are driving the future of healthcare. By 2020 it is estimated that the CAGR in the mobile health market will hit about 41%. Now is the time to invest the money into the creation of health apps and to build potential solutions, with a greater need for reliable, user-friendly, and safe medical applications. Just remember to opt for a reliable healthcare app development company to build the perfect healthcare app that suits your requirements.