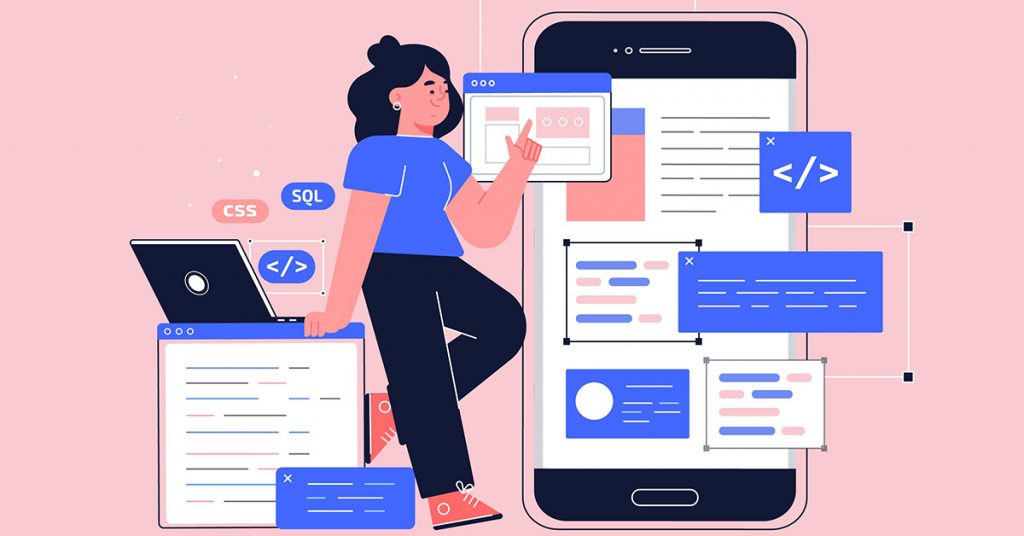 While most companies have been digitising their corporate operations for decades, it showed just how hands-on many firms really are when COVID-19 sent millions of office employees home. A mobile application development company can help you in LCAD & NCAD development.
For people working for the near future from home, it is not realistic, quick, or effective to lean over to ask a colleague for advice on a project or to find out what happened to a plan, even with all the instant digital communication resources at their disposal. 
Many organisations have switched to low-code and no-code production platforms to address this problem. These tools provide non-programmers with the ability to create enterprise workflow applications using drag-and-drop interfaces and then embed them into broader business processes. 
While a stepping stone for innovation and imagination, this increasing emphasis on apps, business and customer-focused, is filled with many challenges. Challenges that no code creation approach tries to solve with low code.
What are Low-Code & No-Code Platforms?
While the development of low code apps and the development of no-code applications work well when put together, there are many underlying gaps between them, making it difficult to use them interchangeably.
No code frameworks are those that enable teams with zero software development and coding experience to use practical, interchangeable building blocks to assemble applications. A mobile application development company can enable faster code development.
Low code platforms require a coding level, but it makes it incredibly convenient for developers to create new applications with the shortest turnaround period. A mobile application development company can help you leverage the power of both platforms.
IT with full governance of files, processes, and features is provided by both no code and low code platforms. They allow rapid application creation while working together, which in turn lets organisations meet their goals with the capital they have yet minimal. Here are a few numbers that highlight the Low Code Application Development (LCAD) and No-Code Application Development (NCAD) prospects as the code for the future. An app development company can help you with all the aspects of NCAD LCAD.
Microsoft PowerApps, Appian, OutSystems, Airtable, Amazon Honeycode, Salesforce.com Lightning Network, Zapier, and Google AppSheet, etc., are some of the best tools for accelerated application growth. A mobile application development company can leverage all these tools for you.
However, the market is continually expanding. In the next quarter, the brands that are at the top today may not be on the chart. However, what stays unchanged are the advantages that organisations can derive from the use of low coding without the creation of a coding app. An app development company can empower you with high-quality development metrics.
The fact that it is ideal for only such types of applications, which typically lie in the ballpark of prototypes, is among the many advantages of low code, no code mobile device growth. Instead of the alternative development direction that involves writing thousands of code lines, low code no code frameworks enable enterprises to build apps with the aid of a visual development approach.
Shortcomings of Low-Code No-Code Development Platforms
Lack of deep customization: The platforms come with their fair share of customization limits, much like any DIY app development platform package. You would be required to work on the boundaries of the platform and give up on those proposed features at a time when the competition benefits those that have a competitive edge.
Security issues: When you operate on third-party platforms, numerous risks emerge, especially those that render the application uncontrollable. You have little or little control over the backend data and operation because you only get accessor function on the frontend or the user interface. An app development company can build a secure app easily.
Key features: Other than code, there is more to the programme creation process. A custom software development firm runs on consumer travel guides, concept sprints, review of apps, etc. Although low-code applications development platforms will not provide you with an update, there is no guarantee that there will be no more applications in stores close to yours.
Benefits of Low-Code No-Code Development Platforms
Multiple deployment options: Low-code production frameworks enable enterprises to concurrently create applications on various platforms. Typically, a dynamic job in itself is the implementation of an interface on one device. With low coding, no coding for mobile app growth, a job that becomes simpler.
Less cost: The expense of designing a low code no code programme is incredibly small at the back of low production time and fast speed, fewer capital requirements. A mobile application development company can ensure cost-effective development. An app development company can also facilitate quick turnaround times.
Fewer bugs: The decreased volume of code often results in fewer instances of errors. And with smaller bugs in the photo, the time of production is further decreased by much. An app development company can build a bug-free app effortlessly. Moreover, you must always rely on a mobile application development company to build effective apps.
Time-efficient development: The greatest pro of the development of low code no coding applications is that the time of production is cut off from months to days. You will not only get the app to the market quickly but also work on customer reviews easily and incorporate additional features and functionality.
Wrapping Up
We suggest using the Low Code Application Development and No-Code Application Development methodology if you choose to build simple applications that need little to zero customizations and come with a low-security vulnerability. But if your business aim is to reach the mobile app industry with a good product of high quality, it will work well for you to create personalised apps. 
Regardless of what your preference is, the future of application development, unlike common opinion, does not lie in a low-code approach to web development. The key to gaining a competitive edge would enable organisations to offer a tailored role in the market while ensuring that backend and consumer data are fully managed.