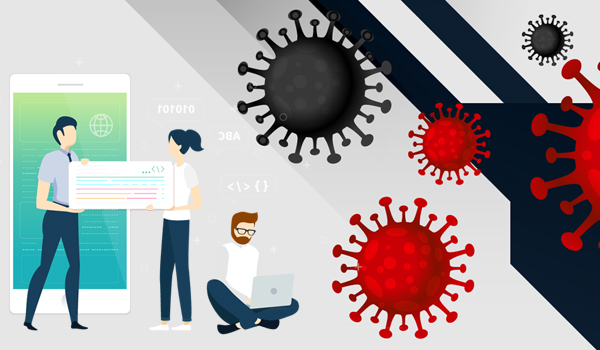 Mobile Apps are holding the fort of the IT sector in this pandemic time. Today, when the world appears to be a screeching halt and business fell flat. Mobile phones became the new handheld server. Yeah, It is! This has further transformed the potential of this world's most popular gadget.
COVID 19 is brutal on not only lives but the economy too. This is affecting the health and economic crisis across the globe. Be it construction or manufacturing sectors there is a scare of temporary closure or complete shutdown for an indefinite period.
Don't worry, this post is not about putting you further in a state of pessimism. However, the crisis losses don't give you a heartening fact. But there are bright possibilities too, which allow you to bounce back and look at the bright side. Being a leading mobile app development company, we are offering top-notch services make us one of the superior brands.
This article is addressing business growth opportunities by winsome mobile app development to make headway. We are discussing top mobile app categories, app download, how mobile app development can skyrocket your business growth. This is the reason mobile app development companies in India are sensing more opportunities than ever before. This helps to revive trade which is badly affected by the COVID pandemic.
There is no easy coming when companies are facing firm hardship. You might be wondering how to rebuild business better.
Is creating A mobile App is touching Gold?
Of course! To be honest, just look around you. In this global crisis, people are unwillingly confined at home. It is a bird in a cage-like situation. Still, a majority of people are feeling comfortable with mobile apps. Mobile apps seem to be the new food, the way we breathe apps from buying groceries to entertainment the world seems to be in the handheld devices. There are app development companies in India and is a major source of app development.
Here are a few statistics about how mobile apps are serving the world.
"The most downloaded apps categories in March 2020 are Game, t, and Entertainment. Workplace Cha" As per Sensortower.
Over 3 billion smartphone subscribers worldwide are completely on mobile apps.
According to Statista, "During Coronavirus, remotely work apps and e-Learning apps are most download app category in the USA".So, shaping a dream idea into a vision mobile apps or creating a digital appearance is the only sustainable thing for rendering business growth.
Top Apps Download Worldwide & Popular Industries (March-April 2020)
TikTok (Entertainment)

WhatsApp (Chat App)

Facebook (Social Media)

Zoom (Remote Work)

Netflix (Video Streaming)

Google Classroom (e-Learning App) 

SHAREit (Productivity & Usability) 
COVID-19 Impact on Popular Industries &  App Development Categories:
When it came to manufacturing no country can confront China, which is the first to suffer from one of the world's most -affected COVID-19. Quite comprehensive that COVID-19 is affecting European countries in a similar fashion. Few countries are leverage data from this global crisis. 
Some industries have been most affected during COVID-19, a few are:
Remotely Work
Before this pandemic, remote work was not considered as a primary working culture, but now every professional is working remotely. It's hard to stay productive during work -from -home for many people, that's why companies are relying on communication tools to keep in high spirits.
Zoom

DingTalk

VooV Meeting 

Microsoft Teams 
 No surprises app category is surprisingly growing faster worldwide. Apps for video conferencing, group chat, productivity, and professional apps are the most favorable during the coronavirus pandemic. 
Did you know?
Many IT companies have been either shut down temporarily or unable to complete the client's projects due to the productivity issue. Only a few top mobile app development companies in the USA such as Maxtra Technologies,as 'WE MEAN IT INNOVATION' are serving and helping client world-across.
Obvious to see people are depending on apps that help remote work, productivity, and usability to make the best out of  Work-From-Home. In short, most of the popular industries are looking for a reliable enterprise mobility solution; thus, it's the right time to put a foothold in the mobile app industry.        
Healthcare Industry:
First of all, Maxtra Technologies would like to say thanks and appreciate all medical workers working with grit & determination to beat Corona. From home. Nowadays, People are more health-conscious compared to the coronavirus pandemic. The health & fitness app genre also recites the same, healthcare apps downloads have increased manifold during this pandemic time.
So, if you have an idea regarding fitness app development, then it is a perfect time to create a healthcare app to woo customers. You just rely on modern innovation to develop something beyond expectations.               
e-Learning Industry:
Learning is a never-ending process. Perhaps, one of the best ways to kill monotony during the pandemic. There is not much to do when it comes to learning something new when you stay at home as many students and professionals are using e-Learning apps to sustain productivity in a global crisis. 
On-demand Industry
The on-demand industry is the talk of the town. Customers are loving the one-tap shopping experience at their doorstep. In this pandemic, few on-demand services are affecting and few are relishing this unforeseen situation.                     
Top On-demand Services in COVID-19:
On-demand food delivery 

On-demand grocery delivery
Gaming Industry: An Unlimited Source Of Fun, Amusement & Leisure Time
When nothing works only entertainment catches your interest. And nothing can replace a soothing gaming experience. The online gaming industry is like gold that doesn't seem to be affected by the pandemic situation. The game app category is the most popular in the app store for the decade, therefore, the game is always there for investors. Games are the ultimate option to kill the boredom that allows you to spend leisure time as users are more actively playing and downloading games in coronavirus pandemic. Therefore, it's always considered profitable to invest in-game app development. One presumes this in high spirits, we hope this piece of content help business to survive and defeat economic distress. If you've got a dream idea and plan for app development, then stop thinking and start investing!
We are a leading mobile app development company with a rich team of experienced developers. Maxtra Services is working remotely to help client's requirements in this global crisis without compromising on productivity & quality parameters.
Well, many claim, this is not the right time to discuss business when the whole world is facing a global crisis but we need to look on the bright side when pessimism has taken a space in the subconscious mind. We must help stakeholders by producing breath-taking apps, after all, hope can even shake mountains.
 We discussed popular industries such as healthcare, on-demand, entertainment, and e-Learning that are doing well in this crisis. All you need to do is create a strong digital appearance for business and be available for customers when they look for service