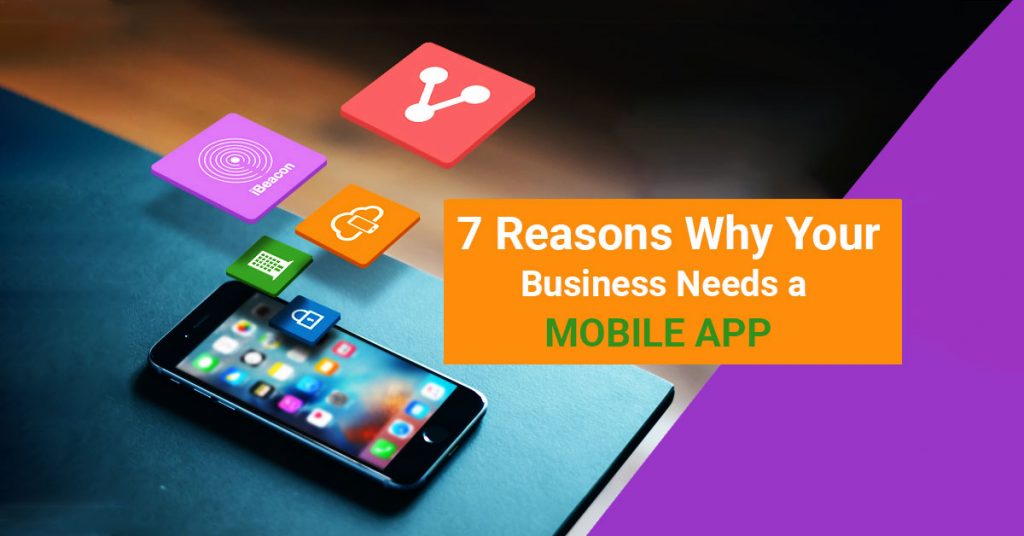 You'd be incorrect if you assumed that only major corporations like Walmart and Bank of America used mobile applications. Businesses of all sizes are catching on to the mobile trend, realizing that a successful mobile strategy requires more than simply a mobile-friendly website and that their company needs a mobile app. 
When it comes to your favorite local coffee shop or beauty parlor, you'll find that many of them have their own specialized mobile app. When it comes to digital marketing, these firms have a head start on the competition. 
If you're not convinced yet, here are the seven most compelling reasons to start building your own mobile application through a mobile app development company.
Read: Mobile App Development Trends For 2022
7 Reasons Why Your Business Needs an App Right Now
New Opportunities For Income 
Physical storefronts and offices are the most common locations for sales. Websites that allow you to order items or services online have replaced these brick-and-mortar locations. Door-to-door sales aren't a feasible method of reaching customers directly. As a result, the best way to connect with a consumer is via a mobile app. 
Customers may use a pre-set procedure and a single button to access products and services via a mobile app. A whole new source of income for the company becomes available as a result of this. Businesses may access a wide range of clients, across borders and at low expense, by using mobile applications. 
Develop a Personality For Your Business 
In order to reach a wide range of potential customers, your company has to engage in marketing activities. There are two critical components in the process of developing a strong brand image: delivering high-quality services and maintaining a presence in the marketplace. It's important for clients to know that you're the one-stop shop for their needs. Having a presence online is a result of your organization's accessibility and reachability. Having a mobile app built by a mobile app development company on their phone gives the consumer a feeling of presence. To establish a brand's image, this propagates the notion of an accessible, approachable, and regularly contacted entity in the market. 
Get Consumer Feedback 
Passive tasks such as analyzing client behavior and soliciting feedback are the most effective ways to learn about your customers' preferences. To the clients, it is laborious, time-consuming, and an additional expense. Consequently, either it is ignored or the organization needs to make a concerted effort to accomplish it. Using mobile applications, this input is gathered on a daily basis. Identifying a customer's search habits, particular needs, and feedback are all accessible via a single point of contact. Mobile applications, when paired with Machine Learning, may give you forecasts of the market's future direction. Recommendations might be made to the client depending on their search history. End-user behavior and trends may be easily gathered via mobile apps developed by a mobile app development company.
Read: 5 Top Tips To Build A Successful App In 2022
Customer Service That is Better 
Customers anticipate a rapid answer to their questions and efficient service. It seems that the client is the driving force behind attempts to contact the firm through websites, helpdesks, or phone centers. Using mobile apps, users may contact assistants and obtain a solution to their questions in a matter of seconds, reducing this wait. Using the company's FAQs, Chatbots may be used to automate these operations. Apps that simulate human speech are known as chatbots, and they may be used to assist customers in resolving their problems. In order to improve customer service, mobile applications that operate as helpdesk assistants may give fast answers to issues that arise. 
Applied To Marketing 
A firm is always looking for new ways to attract customers and keep them interested by coming up with innovative concepts. A mobile app serves as a single point of contact for clients to get alerts, information, adverts, and offers. It is possible to make numerous evaluations based on the client's reaction; feedback might also be triggered, and the consumer patterns can be assessed thus supporting the advertising plan. 
User Satisfaction is Improved 
There is a constant evolution in the customer experience. Any business can't depend on a set of predetermined guidelines to determine what the end user would find attractive and enjoyable. Shortly after these encounters, they've changed dramatically. If you want to provide an enjoyable experience, you need to make it easy for the user to access your services and meet the needs in the most efficient manner. Because it is tailored to the specific requirements of the client, a mobile app built by a mobile app development company offers a superior user experience than websites or any other kind of online engagement. It is seen as an easy and convenient alternative for end consumers because of its portability and seamlessness. 
Technological Advancements 
For a firm, technological transformations don't happen all at once.. When the firm takes incremental steps, it moves toward improved interfaces and better offerings. Developing a mobile app is a stepping stone to implementing innovative procedures, technology, and views for improving the services offered. This shift from mobile apps to IoT is taking place right now in the industry. This brings the business to everyday gadgets, where services may be incorporated and delivered as a bundled product, making the service delivery seem to be seamless. Wristwatches and refrigerators may help you keep track of what you've bought, while a voice-activated assistant can help you manage your household appliances. An app for your company might serve as a gateway to more sophisticated service delivery options. 
Read: How Much Does Mobile App Development Cost?
Wrapping Up
Many smaller points of view support and underline the importance of mobile applications for businesses, even if this list seems to be comprehensive. As the most extensively utilized tool, applications are now an essential aspect of every company's growth strategy if it hopes to develop and reach a large audience. If you're looking to get an app on the market quickly, you can get in touch with a mobile app development company. In this day and age, you need to get your mobile app needs in order and find a team that can get your services up and running at a reasonable rate.