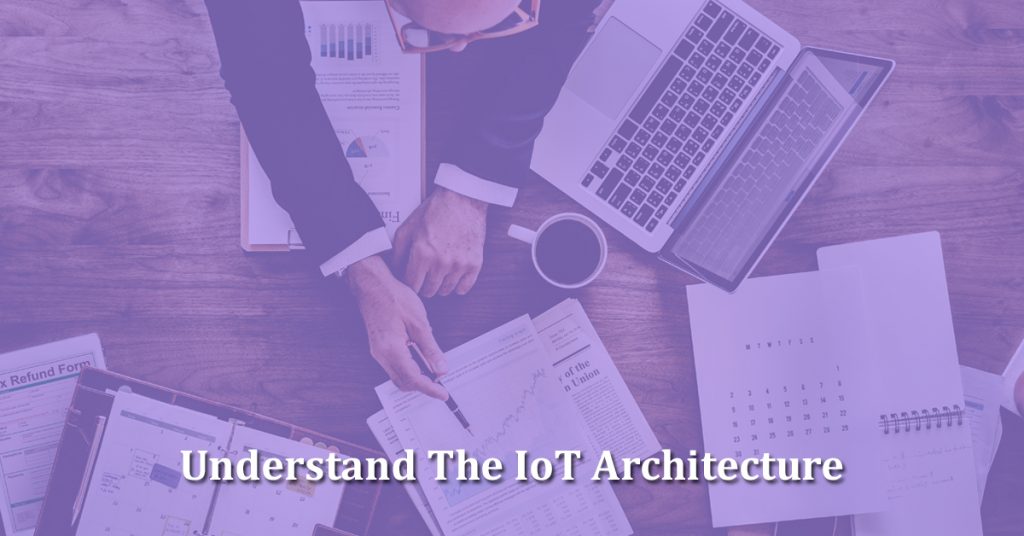 Have you seen a USB bus that you can use to connect multiple devices and which serves as a medium to transfer charge from one point to various points? Well, the Internet of things is not a new technology but a mix of all the technologies already present in the market, And probably that's why it has a defined architecture for defined purposes, therefore the reference, IoT architecture.
Internet of things has growing implications in the field of Automation, Healthcare, Retail, assembly line Automation, and more. If you need an example to understand the IoT development then look at the Retail units where data gets entered into the system flow using a thing like a sensor or a scanner, such data is then transferred to the cloud through channeled gateways and communicated as useful information for end-users.
So let us understand the entire architecture of IoT to make this convergence of multiple technologies as a promising trend.
Architecture is simple to understand; it's those 'things' or mediums that are used to transfer data using Internet-based technology and converted it into meaningful decision-making details.
Things ___gateway____cloud = meaningfully interpreted data
The first thing that comes in the IoT architecture is the 'things' that are used to collect information. These things are called sensors.
Sensors: sensors are like a sniffing machine that digs out all useful information across varied parameters like location, movement, specific object identity, essential health parameters, etc., and transmits them as optical signals. These sensors are known as the nods in IoT architecture. Simply put they are used to collect information and transfer them through communication channels like Bluetooth, Z-wave, Wi-Fi, etc. that are called the nodes. The nodes transfer the data to Gateway.
So our next big thing in the IoT architecture is 'the gateway.'
IoT Gateway: these are technically designed devices that act as a bridge between the 'things' of IoT and the internet 'cloud'. The gateway is a medium of communication or transfer of collected information onto the cloud-based servers, where such information is fed, stored, and processed. Such gateways provide a secure passage for the transmission of data. Usually, the portals work on RTOS or the real-time operating system, or they can be in the format of Linux. Strong encryption is built in both hardware and software of the gateway to supply a safe and secure medium of communication.
A level higher than the IoT gateway in the IoT architecture is the Cloud platform and data analysis.
Cloud: The data level at the IoT is so massive that the only medium that can support it is the cloud; therefore cloud computing becomes extremely necessary. The cloud platform provides unprecedented flexibility, access, networking, and storage to users.
The use of cloud in the IoT architecture helps to analyze massive data over it without having to store it in any hard drives, thus solving a lot of problems. It also helps to use data and study patterns and understand the behavior of humans and machines for use in business decision making. With the convergence of data into a valuable business input, business predictions can be made to counter the increase in demand, shift in preferences or deploy additional resources.
The use of cloud computing helps businesses, organizations, even big industries to study the shift in patterns and make the right decisions. Even irrelevant information is marked separately and sent to uses to identify discrepancies, thus making the cloud a critical aspect of IoT.
The internet of things has become the most happening technological accumulation that conjointly delivers value-added inputs.
Hopefully, you would have understood how the internet of things works. Here are some groundbreaking benefits of the use of this technology:
Better and quicker decision-making.
Helps in the real-time marketing of products and services
Assists in generating more revenue by providing better ROI
Requires minimum human intervention thus saving both cost, time, and efforts.
Optimum utilization of resources
The quality of data is incredibly increased as well as the analysis is prompt and accurate.
It's not about how beneficial the use of IoT is but to understand the criticality of not using it. The IoT app development services are here to take care of small to medium and even large size business needs. While the industry is moving ahead are you ready to face the challenges of real-time computing? If not, it's time to buckle up your seat and take off to land at the periphery of IoT development, Because It's the next big and the best thing for any business to stay in business.
GE has been a primary developer of the IoT trend, but of late many more service vendors have started channeling this concept to provide their customers with the best IoT architecture to skillfully craft business success for them. One of them taking the charts high is Maxtra Technology which effectively visualizes the requirements and effectively foresees the uses before conceptualizing the best channels of IoT for business users.
Data challenges have driven this technology and there seems to be no end to the uses you can put IoT, to work in your favor. A market prediction by Gardner presumes that IoT will be able to provide economic benefit close to $ 2 trillion in the next two years.
The prediction of the scarcity of data analytics and scientist by a survey in 2012  created a fear in the industry, but with IoT taking the front seat this fear is wiped out, creating more benefits than imagined.
Another study puts a fantastic figure in front of us; it says that the use of sensors in the IoT network can be approximately 40 billion, which is massive almost amount to 30 devices per user of the social system. A simple example can help you imagine this. A single sensor on a Boeing airplane has the capacity to generate about 20 terabytes data per hour. Now that is ginormous!
But about all these numbers lies the delicate detailing and utmost technological challenges that are needed to craft an IoT architecture. Of course, it is enormous, connecting extensive data, almost billions of IoT and M2M devices and interlinking the network fabric. Each has to be carefully planned and fabricated to tailor the incredible use of technology, the IoT.
Smartphones are becoming one great medium of gearing up with IoT. There are mobile app development services that utilize IoT to help scalable business units to benefit from this tremendous technological advancement. Internet of things for mobile applications is a big arena with iOS and Android devices supplementing their own IoT architecture that is easy to customize and use. Android IoT has even started shaping up so many businesses, So why are you not in the line?