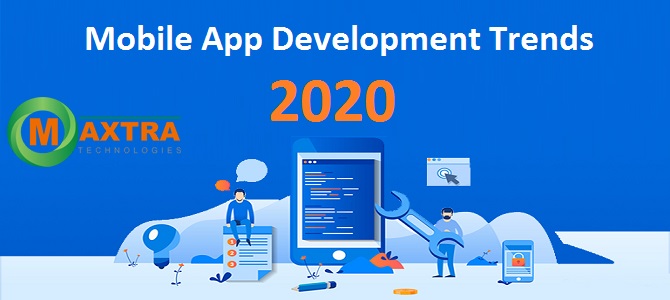 2020 is approaching and with it a number of novelties, or at least major trends that are being confirmed in the digital world. So, before thinking about your end-of-year gifts, and other delicacies, it's time to keep up to date with the latest news for your future mobile application developments.
Since mobile apps have gained tremendous traction in every aspect of life due to digitization. Mobile apps have also changed the way the business was done. No matter which industry or business you belong to, it is insanely important to have a mobile application to experience maximum growth through expanded customer reach.
We cannot deny the existence of mobile devices as an indispensable part of the world going digital. Every passing year witness some new technological trends that take mobile app development to a whole new level. Let's quickly have a look at the top mobile app development trends that will rule in 2020:
Predominant Blockchain Technology
Chatbots
Augmented Reality and Virtual Reality
Personalized Mobile Apps
Voice Searches
Increased Emphasis on Security
Cloud-Based Apps
Dependency on Predictive Analytics
The Surge of Wearable Devices
Beacon Technology will Continue to Gain Traction
Enterprise Mobile App Management
Mobile Payments
Cloud Storage will be Common
Expedited Mobile Pages
App Performance Management
Introduction of 5G Wireless Services
These are the trends you can expect to see dominantly growing in 2020 for the mobile app development sector. However, they reflect technological advancements. They could mean a lot of considerations for mobile app professionals from a concept to its final development – be it for Android, iPad, iPhone, or Cross-Platform apps.
All these trends will continue their momentum in 2020 and promise to surprise more than one! If in 2019, some studies say that 40% of companies use artificial intelligence, everything suggests a large increase in this percentage for 2020. The best part is every year the mobile users can expect a unique experience the way they interact with their mobile devices.
The mobile app development has also allowed the birth of new trends, so much so that we are now talking about the blockchain technology, Internet of Things, Augmented Reality, Virtual Reality, etc. It won't be wrong to say that we are finally coming out of the digital world to extend the Internet in the real world, and to design connected objects with unique uses.
What is interesting with these trends is that – you can now make very large transactions very quickly without intermediate costs, you can use digitized data to manage processes that involve multiple companies, with more visibility and trust, you can leverage more security. Each trend is expected to make a valuable contribution to improve the performance of mobile apps and make them even more compatible.
With the promise of higher throughput, app developers will be able to exploit new possibilities in their applications with the emerging new trends. Also, in 2020, mobile applications will have to be designed, with the challenge of being able to "communicate" and exchange information efficiently with connected objects. Have you ever imagined such a huge development before?
Now the question is – are you ready with a mobile app that can survive the challenges that arise with the upcoming mobile app trends 2020?
If you want to get your business mobile app upgraded or get a new app designed, you can get in touch with Maxtra Technologies. They have a team of dexterous professionals to give your business app a boost of looks and functionality in the minimum possible time, coping up with all the latest trends of mobile app development.