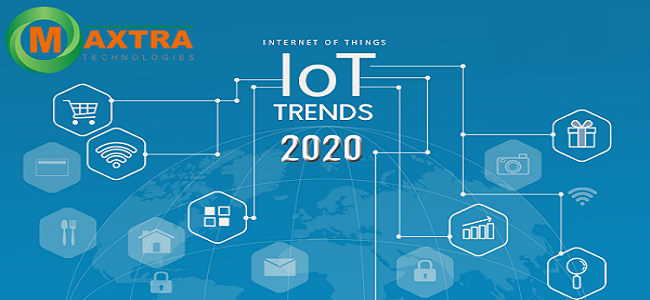 IoT had experienced progressive growth in recent few years and this will continue to expedite in 2020. As predicted by Gartner, there will be the addition of 20 billion devices in the IoT. There will be an addition of 300 billion dollars of revenue in the IoT business.
Let's have a quick understanding of the term IoT before we move ahead with the trends that will dominate the market in 2020.
"Internet of Things," basically refers to the connected system wherein multiple computing devices or digital equipment are interconnected and serve various purposes including data transfer, etc. The best thing about IoT is that it does not require any manual interaction. It works based on the data and preferences stored. We can call this another amazing gift of technology that simplifies human life to an amazingly large extent.
Today's connected world adds more pace to the growth of the Internet of Things. Every techno-canny wants to know the upcoming IoT trends that will impact our lives. In this post, we will quickly look at the 21 IoT trends that are going to rule in 2020.
Smart Home Devices Will Gain Popularity
Edge Computing Will Dominate Cloud Computing
Healthcare Industry Will Adopt IoT
Security Will Continue to be a Priority
Big Data Will Take a Lead
Blockchain Will be Adopted for Improved Security and Scalability
Analytics Will Significantly Improve
Smart Cities Will Improve with IoT
Retail Experience Will be Personalized for Improved Experience
Predictive Skills of IoT Will Boost
SaaS Will Become a Norm
Unified Frameworks Will be Integrated
Energy and Resources Will be Optimized
Adaptability for Customer-Centric IoT Changes
Cloud Computing Will Gain Prominence for Personal Information
IoT Training and Awareness Will Gain Traction
A Major Shift Towards Voice Control
Machine Learning Will Gain A Competitive Edge
Big Data Convergence Will be on Large Scale Mode
Personalized Data Processing
Personalization Will be Carried Smartly
These are some of the IoT trends that you can expect to experience in 2020. For the companies, IoT is like a magic trick that will help them to get more customers, brand growth and development, and improved user experiences.
These trends will often dominate the world of IoT app development in the upcoming year. Whether you talk about the consumer IoT or the industry-specific one, you will get to see major advances with a powerful series of connected devices. Moreover, people will become increasingly more aware of technologies than today.
There isn't any doubt that new technologies will continue to evolve, which will make the IoT more user-friendly yet easy-to-use. The only industry that may have to struggle a bit with the IoT expansion is manufacturers. They will have to go an extra mile for keeping their connected devices protected from any kind of data security risks that can lead to bigger business risks in the future.  No matter what the trends and predictions reflect, one thing is sure that the future is going to be truly promising with such worthy technological advancements.
If you are looking for reliable IoT application development services, you can get in touch with experts at Maxtra Technologies without any second thoughts. We are a leading web and app development company to offer you the best feature-packed solutions based on your preferences.
We also offer customized solutions to serve individual preferences. Our objective is to make your business techno-friendly so that it can comply with ever-changing and growing customer expectations without any hassles.
So, are you ready to evolve with the IoT trends mentioned above?