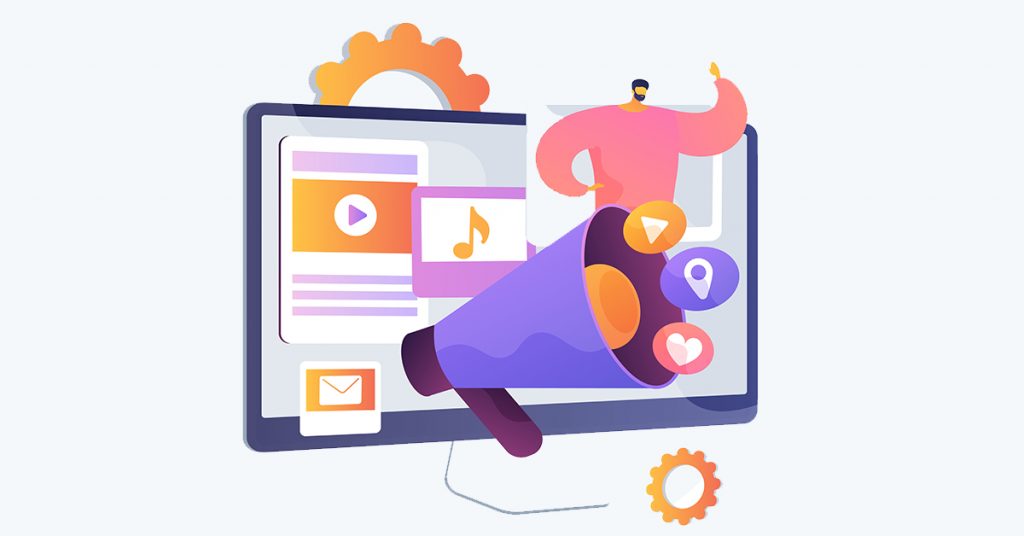 In today's world, if the company does not have an online presence, it does not exist at all. People are increasingly drawn to a variety of goods and services because they invest too much time online – on social media and e-commerce pages. As a result, if they don't see you, they won't know who you are or what you have to say. 
Since billboards and pamphlets are no longer effective methods of advertising, you must use a digital marketing service to promote your business. Going online can help you improve your marketing campaigns, promote your brand, and better understand your clients.
Digital marketing refers to all marketing campaigns that use new channels to advertise a company's products or services. Social networking outlets, emails, search engines, videos, and directories are also examples of this. 
Paper advertising, banners, hoardings, pamphlets, telemarketing, and physical marketing are examples of conventional marketing techniques. Digital marketing service, on the other hand, is achieved digitally. 
The digital marketing service industry in the United States is expected to be worth more than $330 billion by 2021. According to a TechCrunch survey, almost 80% of people buy online. These figures demonstrate how important digital marketing has become for businesses. In this post, we'll look at how digital marketing benefits businesses.
Read:  10 Ideas To Promote Your App For Free
Business Growth Through Digital Marketing Service
Acquire new customers through search engine optimization service
If you have even a rudimentary knowledge of digital marketing, you've also used the term and acronym SEO. SEO is an abbreviation for search engine optimization service. The aim of using a search engine optimization service is to improve where your content ranks in search engines. 
The higher you rate, the more likely it is that your website and other content will be used by prospective buyers. A digital marketing service provider that provides search engine optimization service can help you immensely in acquiring new customers.
From your view, more visits to your website mean more opportunities to grow your market. Each new visitor to your website that is not a current user represents an opportunity to expand your database. This visitor can end up joining your mailing list or making a purchase from your eCommerce store that day.
Though your current customers are important, any brand has to expand its customer base to succeed. Search engine optimization service allows you to do just that. Another explanation why SEO is critical is that it increases the site's reputation with Google. 
The more Google views your blog as an expert on its designated subject matter, the more valuable it would be. This further increases the likelihood of the website being visited by more web users. Work on building quality backlinks as one of the ways to improve the authority to assist with this.
Read: SEO Trends 2021
Identify high revenue business channels
If you launch an ad campaign and see an increase in revenue, you can attribute the increase to your campaign. There are also apps available to help you determine which platforms and advertisements get you the most traffic. 
Both of these are useful in determining where to place the next ad buy and how much to spend. If you've determined your goal, it'll be far easier to produce an ad that will achieve it. If you want to increase revenue, you can watch how much your ad converts viewers into consumers. 
If you want to increase brand visibility by gaining more followers on your social media accounts, keep track of your numbers until your campaign goes live. To make it easier, use a marketing program to help you manage all of your analytics and control your ROI. 
There is software designed specifically to manage individual platforms, or you can use a completely developed CRM that can accommodate all of your digital marketing needs.
Establish a robust online presence
In today's world, if you're not online, no one can find you. To see the effect of digital marketing on business development, you must first create an online presence. 
The current consumer does not browse at a phonebook; instead, they use Google, Facebook, or query their social media peers. 
You are losing out if you are not here. Per day, the average user spends more than two hours on social media. When a person decides to look into a product or service, you must be present where they will be looking. 
When attempting to spread the effect of digital marketing on business development, the first thing a brand can do is create social media pages. One of the first ways an individual would search for a business is on social media. 
Only so you know, you don't have to be on any social network. Join just the outlets that the clients will be. Conduct extensive analysis on all existing networks and compare them to your ideal customer base.
A future buyer may believe your brand has something to hide if it lacks a social media presence. Your corporation would therefore be seen as untrustworthy.
Brand personalization
If a news item about your brand is published online, you will be unable to respond to any of the reader's responses. However, if you share criticism of your brand, along with any thoughts or rebuttals, on your social media, you have complete discretion over what you say and how you react to it. 
Individuals are free to share anything they like on a company's Google Reviews. Smart brands make it a priority to respond to these reports, either as a way to move on any problems a client has had or to refute an unwarranted or misleading review.
Read: Digital Marketing Trends 2021
Conclusion
Digital marketing has fundamentally altered how companies engage with their clients and how customers find a firm to do business with. As more and more products go digital, the effect of digital marketing on business growth can only increase. 
A company's ability to connect with potential clients and find new ones is severely hampered if it lacks a robust digital presence. The absence of a digital presence often results in a loss of confidence in the brand. 
However, if an organization executes a good digital marketing strategy that includes fields such as social media and content marketing, it may have a positive effect on the bottom line of a brand.