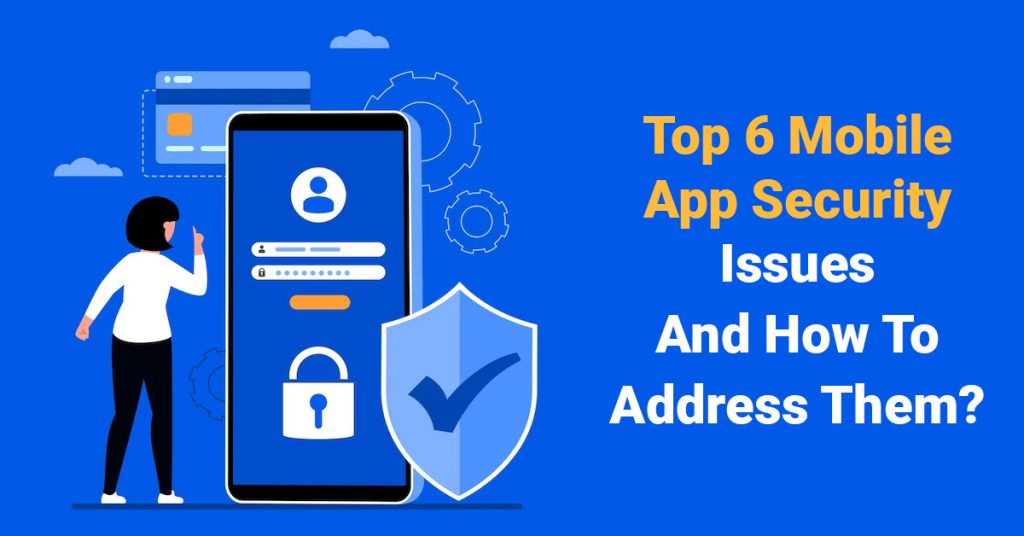 The mobile app is the most efficient way of offering convenience to common folks. But do you have an idea about what security issues you are likely to face? Why is it important to address those security issues in the very initial stage? 
You may find these concerns as disruptive factors in terms of your purpose management. You know that today is the era of technology to reduce stress and workload as well.  Thus, most businesses tend to work with the leading Mobile App Development Companies to ensure quality services to their customers.   
However, it is also crucial for you to realize what kind of security threat you may have to face. Mobile app based on updated technologies help users to create authentic platform communication. But on the other hand, you also need to remember that online threats have the potential to affect the security aspect of the app. Therefore, users must know how to deal with any kind of issues related to the security system. 
Businesses need to take care of security at the highest level as they keep on exchanging even confidential data through the app. Apart from these, common people also share personal information and hence any loophole in the app's security may cause troublesome circumstances. Thus, you must try to be aware of the possible threats that may steal your online business data.
Read More:-Which Are Top Ten Mobile App Development Companies in India?
Find The Possible Security Issues:
Security issues are the most disappointing kind of aspect. It affects the app without any prior notification. Usually, mobile app users may end up with unexpected changes in functionality. This is why; having information about its intrusion is important. However, the App Development Company focuses on building the mobile app with security features to provide its clients with strong security.
But it is not possible to guarantee the applications based on different frameworks. You must know every day; cyber hackers try innovative methods to occupy your mobile app. You might come across unknown links or messages. 
Therefore, you need to avoid those as they may serve as a connection source between your app and hackers. So you may keep some of the possible security threats in your view that may leave you with massive loss:
Malicious Apps & Websites
:
You need to remember that mobile apps also have software and Internet access. Therefore, cyber hackers may easily access your app to have full control. They initiate such evil activity to steal your data. 
This kind of situation always leads to financial loss as hackers may demand a specific amount to give your stolen data back.
Mobile Ransomware: 
Further, you also need to be familiar with the way ransomware or Trojan intrudes into your app. These are the popular techniques of malware authors to hack your app for their purposes. You may experience it as the specific kind of malware that ask for ransom payment to provide you with a decryption key. Since such malware encrypts files on a mobile device intending to steal your data. 
Generally, ransomware appears on an app or PC in the form of some important message where you get aware of protecting your app from unexpected threats. This is why you may find it as legitimate information and you may proceed with instructions available on your mobile screen. 
Read More:-How Much Does It Cost To Develop An On Demand E-Scooter App?
Phishing:
 This is another way of infecting your mobile app with malicious components. You may receive emails that may have an attachment containing malware. As soon as you click on it, you are likely to install malware on your mobile. This is why; you should never interrupt an email that comes as either spam or from an unknown source. 
Phishing attacks have emerged as one of the smart tactics that have the potential to affect the functionality of your mobile or particular app. therefore; you need to learn the impact of those attacks so that you may protect your device. 
Man-in-the-Middle (MitM) Attacks
:
With the help of such attacks, cyber hackers usually intend to modify data that is available on the internet for transmission. This kind of method uses encrypted HTTPS for communication. Further, you will also observe that it comes with SMS messages that have the potential to get intercepted easily.
Usually such kind of security issues arise when you connect to public Wi-Fi or cellular networks. Thus, you need to be aware of this kind of threat that most people become a victim of it. You should be focused on avoiding public WIFI as it may prove malicious for you.
Device and OS Exploits
:
Usually app development companies focus on the security of the top layer of the app. But they need to realize that lower levels might consist of high vulnerabilities. 
Thus, it is imperative to make the other layers of the app or software more secure as well.
Advanced Jail Breaking and Rooting Techniques
:
These refer to the techniques where hackers take administrator access to iOS and Android mobile devices. 
It allows hackers to access your more sensitive data and leads to damage to the device, making it more vulnerable.
How To Protect Your Mobile App From Threats?
The most important thing is that you should learn about protecting your mobile app from unexpected threats. You may ask the mobile app development company to create an app enriched with threat defense features. 
This kind of feature will allow users to detect a possible threat that takes preventive steps. Since having the app with complete security features can only help you keep using the device as per your needs.
Read More:-What Are The Most Useful Hidden Features of Android?
Conclusion:
Varieties of threats make the app worthless and also you may end up with an unexpected loss. Therefore, app developers should create a secure app with a feature of full visibility into the risk level. 
This kind of mobile app lets you have an optimal user experience for better management of the device. Apart from these, it would also affect the security of the data that you have stored in your mobile app or just the mobile storage. The app with highly secured features will provide you with a hassle-free platform to keep going with your online business.