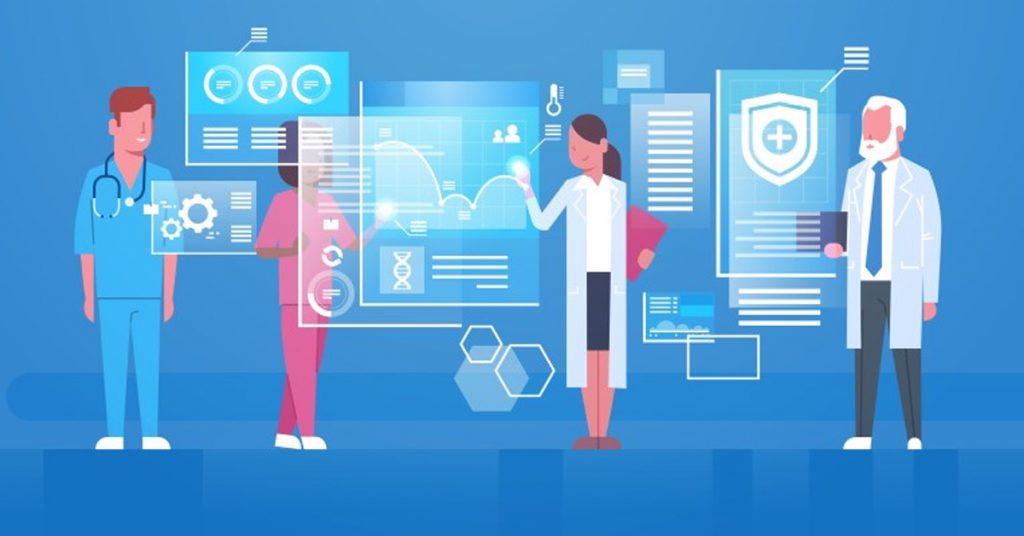 The year 2020 rocked the planet. The pandemic had a devastating impact on many markets, but health information systems continued to advance. Demand to deliver better care while lowering prices drove savvy practices to embrace smart systems and technologies. 
In 2020, the global healthcare app development company (or industry) is expected to be worth USD 74.2 billion. Furthermore, the industry's market size will more than double by 2027, to USD 147.3 billion. This area of the healthcare industry is now focused on expanding access, reducing mistakes and wait times, and increasing customer loyalty, participation, and results. 
You have the option of adopting these sunrise developments or watching your rivals sprint by. Health information technology is evolving at a fast pace. About every day, there is a new development that can make health care safer and quicker. 
Remote patient management and electronic health reports are now advanced forms of healthcare information technology. Now, we'll look at the healthcare technology innovations that will transform the way people treat and receive treatment in the near future.
Read : How To Create Telehealth App With HIPAA Policies
Telemedicine & Remote Care
Telehealth/telemedicine is not a novel concept. Many of the infrastructure, applications, and techniques were already in place. However, the Covid-19 pandemic has accelerated the use of telemedicine. 
Patients are now receiving treatment from the convenience and privacy of their own families, and caregivers are being adequately compensated for remote visits. However, telehealth is not a passing fad. It is a tool that will continue to revolutionize the healthcare industry in the coming years. 
According to estimates, the global telehealth and telemedicine industry is projected to hit USD 191.7 billion by 2025, with a 37.7 percent CAGR. The opportunities for providers are numerous and genuine. Telehealth would help them to accommodate more patients into their already hectic schedules. 
Furthermore, they can save a substantial amount of time by delivering regular treatment such as post-discharge follow-ups remotely. Since the rules have been changed, doctors can consult patients from far away without needing to travel.
Read : Trending Healthcare Apps in The Healthcare Industry
Patient Engagement Tech
Patient experience apps and gadgets are another kind of health information technology that will be common in 2021. Patient involvement is described as patients' informed and active participation in their own treatment. It leads to increased adherence and better results. 
Patient education is clearly quite successful. Wearable and home-based gadgets that track chronic diseases, SMS alerts for appointments and medication doses, and disease-specific applications built for smartphones are also useful. 
In 2021, expect even more gadgets and innovations to boost results and make your and your patients' lives simpler! A healthcare app development company can help you integrate patient engagement tech into your healthcare app.
IoT in The Medical Domain
The use of IoT in the healthcare sector will grow by 2021. The Internet of Things, or IoT, is now a reality, with smart homes and computers being used on a daily basis. As part of the Internet of Medical Things, healthcare information management integrated by a healthcare app development company is now investigating this technology for use in healthcare (IoMT). 
There are now medical devices in use that monitor, register, and distribute health data and alarms. Temperature, blood pressure, ECG, and glucose levels may be recorded by sensors incorporated into them. 
These instruments enable physicians to assess disease control without the need for repeated visits or hospitalization. Many of these machines with greater functionality will certainly emerge when we reach 2021.
Read:- 5 Reasons Why Your Hospital Needs a Website
AI & Chatbot Integration
Another big hit in 2021 will be the use of AI and chatbots by healthcare providers. The vast volumes of population and patient data that are regularly gathered can be processed and exploited by artificial intelligence (AI). 
Artificial intelligence integrated by a healthcare app development company will begin to rise in value as we reach 2021. Planners would be able to estimate and therefore distribute money more efficiently. Insurers will be able to foresee who needs extra treatment. 
AI is now assisting in the discovery of new cancer therapies and the improvement of patient care in hospitals. Researchers are now looking at ways to automate imaging diagnosis. Preliminary medical diagnosis and prescription dosing error reduction.
Privacy Mechanisms
Last but not least, one of the most significant healthcare developments in 2021 would be the protection of patient privacy. Privacy is becoming more impossible to protect. Physicians must take appropriate measures to safeguard PHI. PHI (protected health information) covers a patient's complaints, diagnosis, and care. 
This was easy enough in the days of paper and filing cabinets. However, electronic health records (eHR) or electronically protected health information (ePHI) need far stronger protection mechanisms. Although regulations such as HIPAA (1996) and HITECH (2009) exist, they only refer to healthcare institutions.
Conclusion
The healthcare sector experienced widespread upheaval in 2020. The pandemic revealed flaws in our healthcare infrastructure and compelled us to embrace better technologies to address these challenges. These scientific advances aren't going anywhere very soon. Healthcare technologies will continue to evolve in order to improve patient care and experience.