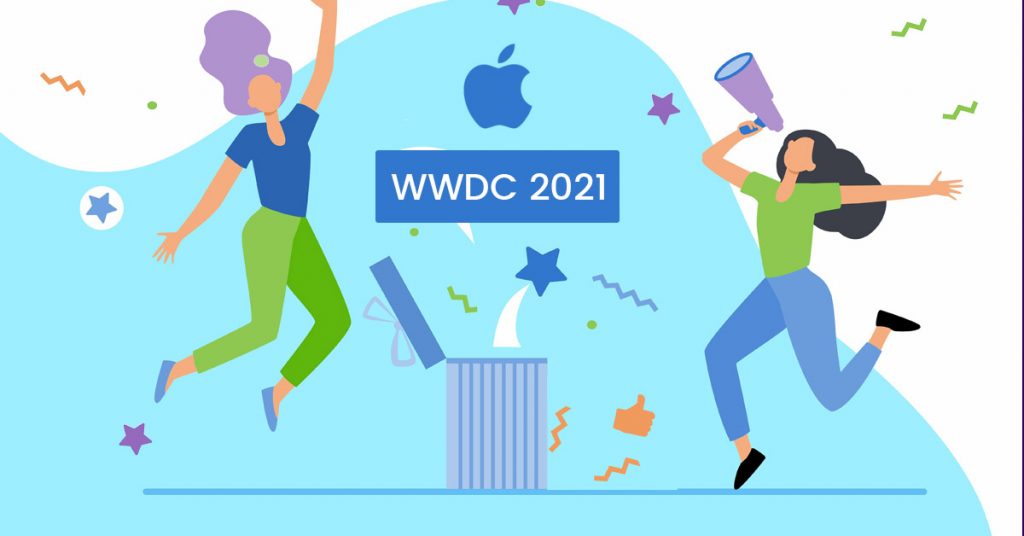 Apple started the 2021 edition of WWDC, its annual weeklong developer conference. The presentation kicked out with a keynote talk that doubled as a product launch extravaganza, with a sneak peek at new software features and upcoming updates to Apple's several services. Today's announcements come a little over a month after Apple introduced its newest batch of new gear at an event. 
Right now, things are a bit tense between Apple and app developers. Following Apple's legal battle with Epic Games over the destiny of the App Store, all eyes (OK, many eyes) were on WWDC to see how the firm would portray its position as the app ruler. 
Of course, the App Store saga was scarcely addressed during today's keynote talk, which focused on all of the various ways Apple applications would be able to connect with other Apple devices, other Apple applications, and the increasing array of Apple services. The following are the highlights from today's presentation. 
iOS Upgrades 
As predicted, iOS was the star of the show at WWDC. Every autumn, Apple updates the software that drives the iPhone, and today Apple provided the first glimpse at the top-level upgrades coming in iOS 15. 
FaceTime has proved to be a key function of the iPhone in the previous year, with most people living in solitude. Apple said today that the next version of the video chat app will seem a lot more Zoom-like. A new grid display for group calls emphasizes the individual speaking, and new spatial audio and voice isolation capabilities make distant discussions seem crisper and more realistic. 
FaceTime will also gain a new feature called SharePlay, which syncs streaming material inside the app and enables users to view movies or listen to music while chatting. Of course, this simultaneous watching and listening work well with Apple TV+ and Apple Music content. Apple will also provide a set of programming tools that will enable developers from other streaming providers to include SharePlay into their applications. 
More Applications for AirPods 
Apple did not release a new pair of regular AirPods, but it did provide further incentives for users to upgrade to the more expensive AirPods Pro or AirPods Max. 
Shortly, both sets of Apple's noise-canceling headphones will get major enhancements through software upgrades. The fact that they may now be used as low-powered hearing aids is perhaps the most interesting aspect. 
Siri will now be able to announce a broader variety of time-sensitive alerts, such as supper deliveries—in a forthcoming settings menu, you may choose which applications to activate. Furthermore, both pairs of premium headphones benefit from Apple's system-wide improvements to the find-my network, including a new proximity view that alerts you when you're getting close and an exciting option that displays a notification if your iPhone detects that you've left your headphones at home. 
A More Versatile iPad iOS
For years, the iPad has been a favorite among artists, with applications for sketching, editing images, and working with audio. However, for so-called knowledge workers—people who spend the majority of their days composing emails and working on documents—the iPad hasn't been a very attractive working environment, with half-baked app switching controls and inelegant multitasking features. 
These flaws were highlighted in our recent assessment of the new iPad Pro. Apple demonstrated today that it is attempting to remedy such flaws. The next upgrade to iPadOS will include a multitasking menu at the top of the screen. With one or two touches, you may take programs fullscreen, create a split view with several applications, or move windows over to the side of the screen to reach the home screen.
Switching between applications in the split view now takes just a few swipes. These activities will also function with keyboard shortcuts, which is great news for knowledge workers who want to use their iPad as a laptop replacement and combine it with a Smart Keyboard. 
WatchOS 8 is a new operating system for Apple's 
When you're experiencing a panic attack, your constant friend, the Apple Watch, can't massage your back and advise you to place your head between your knees. However, it is attempting to relax you with some new meditation elements. The Breathe app now features a more engrossing animation. 
A new Reflect function provides you with feel-good ideas, such as being appreciative for something you like or remembering something that brings you delight (seashells!). The sleep-tracking technology introduced in watchOS last year now includes additional methods to monitor various sleep objectives, such as monitoring your breathing rate. 
Upgrade to macOS
The next edition of macOS will be dubbed Monterey, continuing Apple's recent trend of naming macOS versions after picturesque places of California, however, the name is a letdown for anybody hoping for Buttonwillow or Manteca. Apple is aiming for device synergy with the next version of the desktop OS, which will be released this autumn. 
Apps will sync more effortlessly across all of your Apple devices, including Macs, iPads, and iPhones. Thanks to a new feature called Universal Control, users can place an iPad next to a Mac and use it as an immediate second display. The trackpad and keyboard on the Mac will also operate across both devices, with the pointer bouncing between displays when the emphasis shifts from one to the other. 
Enhancements to Privacy 
Apple, never one to pass up a chance to emphasize the efforts it is doing to safeguard its customers' privacy, unveiled a few new security-focused features that will be available in its different devices. The option to prevent tracking pixels in emails, which might disclose your email activities, is one major feature coming to Mail. 
The same function conceals your IP address from email senders. (Yes, your email address may be used to monitor your activity and location.) Apple customers who pay for the new premium version of iCloud, known as iCloud+, will have access to similar privacy restrictions. 
Updates to HomeKit with tvOS 15 
Apple wants to keep you in its sights even when you're not staring at your iPhone or closing those rings on your Apple Watch. That's where HomeKit and tvOS upgrades come in—two independent software systems, but both aimed toward the house. The most major HomeKit news to come out of this year's WWDC is that third-party gadgets will be able to use Apple's speech assistant Siri. 
Up until recently, you could only communicate with Siri on Apple devices. Because of this new software upgrade, additional hardware manufacturers, such as smart speaker manufacturers or producers of unique smart home locks and cameras, may fully install the voice assistant on their products.